Instantly Elevate Your Backyard With TikTok's Beautiful DIY Water Feature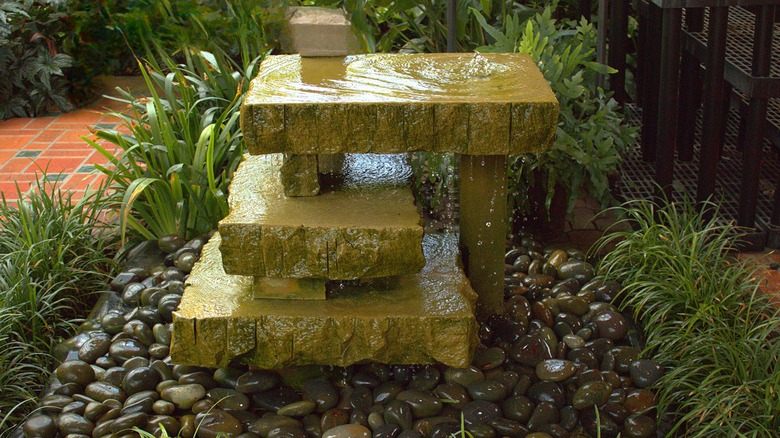 Lawrence Lee Derge/Shutterstock
TikTok user @thecheshiregreyhome_ proves with a simple and beautiful water feature what should be a law of social media: sometimes that easy project isn't really so easy, but it's worth it anyway. What she and her husband create in this 26 second video using "a horse bucket and a pump from Amazon" is, in the end, probably a bit more time-consuming and complicated than you'd guess from those descriptions, but the result is remarkable and absolutely justifies the effort (via TikTok).
The water feature appears to be a stack of three large, flat stones with water burbling from the top stone's center and running over the edge of the rock. In a bed of white marble chips or a similar type of gravel and flanked by a couple of hostas, the effect is both modern and homey. It's a great way to dress up an awkward juncture of two walkways. There is, of course, a little more than that going on under the surface; a TikTok user sums it up neatly in a perplexing but true comment: "Looks easy but difficult!"
Get creative with DIY water features
The engineering behind the little fountain is well-thought-out and well-executed. A livestock feeder bucket is set into the ground. Into that goes a solar submersible pump and enough water to fill it. Atop this sits a grate cut from an old gate, some hardware cloth to keep the marble chips from falling into the feeder, and the gravel itself. The couple drilled holes through all three stones and ran a tube from the pump's outlet through the stacked rock. It's all very easy in the sense that there's nothing extraordinary going on here, but it certainly took some patience to drill through those rocks, even with the best diamond-coated, carbide-tipped masonry bit and a hammer drill or impact driver. And don't get us started on hardware cloth. Just being in the same room with the stuff can be dangerous, to say nothing of trying to cut shapes out of it.
But @thecheshiregreyhome_ and her spouse pull it off perfectly, and they do make it look easy. The lesson here might be that a water feature can be, and often is, just about the simplest electrical mechanism in your home. Better yet, you can have a water feature without the expense and maintenance of an accompanying pond. Take that as encouragement to get creative and come up with interesting ways to add the lively comfort of a fountain or other water feature, inside or out.