The Handy Way To Keep Your Garbage Bag From Slipping Into The Can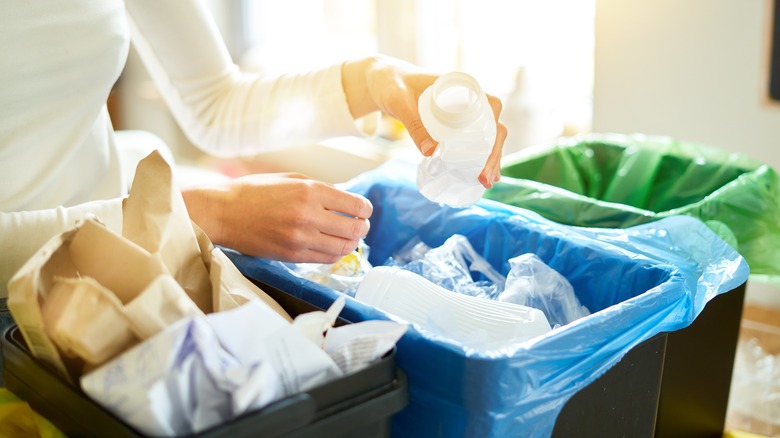 Hakim Graphy/Shutterstock
We may receive a commission on purchases made from links.
Whether it's the tall kitchen garbage or an open basket in a bedroom, study, or bathroom, we've all had the experience of the trash bag sagging down under the weight of the contents. It pulls away from the sides of the can or basket and then, unseen by us, garbage ends up completely missing the bag. It settles in the bottom of the can, and if it happens to be organic material instead of a piece of paper, it can get gross or smelly pretty fast. There's an essential oil that'll make your trash can smell fresh, and this tip definitely helps reduce odors. However, you also want to make sure your trash ends up inside the bag every time you toss something in, so keeping the bag tightly secured to the can is crucial.
If you have any magnets on your refrigerator or spare ones anywhere else around the house, they are a fabulous way to keep your plastic garbage bags secured at the top. This hack works best if your garbage can is made from or contains metal, as the magnets need something to attach to. If it's not made out of metal, you could use a command hook hack instead — or, you can purchase additional magnets that can be added to both sides of the trash can, to keep the bag from slipping down.
How to easily complete this hack
To save money, feel free to use the magnets you already have, perhaps some letter or number refrigerator types that your kids have outgrown. However, for the sake of neatness and optics, consider purchasing a pack of identically-shaped, small magnets. These colorful, tiny Push Pin-shaped magnets are one example, though there are many others to choose from. As you're placing an empty new bag into the receptacle, pull the garbage bag up over the lip of the metal can. A couple of inches should be sufficient. Then, you want to secure the bag by placing several magnets along the top perimeter of the can.
You might consider keeping a small dish nearby, something the size of an ashtray. That way you can pull off the magnets when you're ready to take the garbage out, place them in the dish, and have them standing by when you replace the bag. Pro tip: if your garbage can is made out of plastic and not metal, purchase two-piece magnets. Drape the plastic bag over the lip as usual and place two magnets directly opposite each other, one inside the can and one outside, securing the bag.