Create Your Own Stylish Fluted Cabinet With This Simple IKEA Hack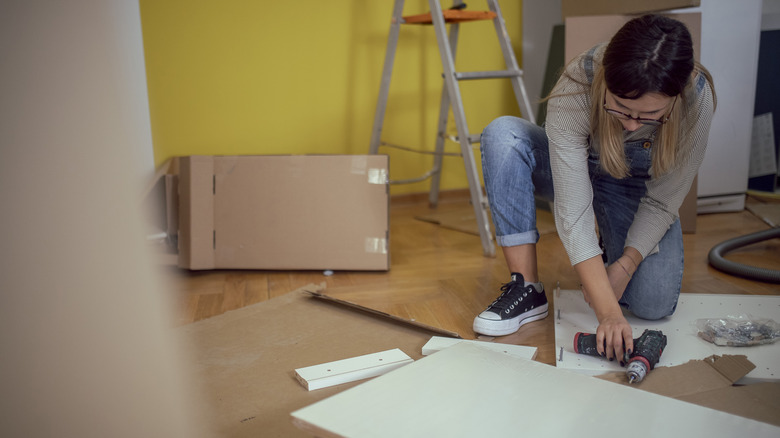 Lukatdb/Getty Images
Fluted cabinets are stylish, but they can also be incredibly expensive. If you love the style of fluted furniture but can't stretch your budget, take advantage of this super handy IKEA hack, which transforms a basic cabinet into a fluted one in just a few steps. To complete this DIY, you'll need two of the IKEA EKET Cabinets, a nail gun (for speeding up the process), wood glue, eight furniture legs in a design of your choice, and 72 pieces of molding (18 per door) that are cut to 26 ¾ inches. When choosing the right legs, keep in mind that different styles will bring different vibes — for example, tapered and hairpin legs will give your cabinet a mid-century modern look.
You'll also need furniture paint in your chosen color, primer, and four cabinet handles if you wish to switch these out too. Before you dive in, make sure to sand down your pieces of molding. This will make the paneling look smooth and assist the paint application. You'll also need to build the EKET Cabinets, but keep the doors off until the end of the project.
How to create a fluted cabinet
To attach the molding to the doors, apply a good layer of wood glue and position each piece vertically before nailing them in at the top, middle, and bottom with the nail gun. Repeat until all the doors are covered. For a smoother look, don't forget to fill the nail holes. Next, it's time to prime and paint. Once the paint is dry, attach the legs. Finally, attach the finished doors to your cabinets, install the handles, and voila! Placing these two cabinets next to one another makes them look like one expensive and chic piece.
Alternatively, if you don't want to buy individual pieces of molding, pole wrap can also help you achieve a fluted look. Cut the pole wrap so that it fits your cabinet doors, then glue and nail it in place. For a more refined look, add it to the sides of the piece as well, and curve them by placing a piece of wood in the middle. Next, add oak dowel legs to elevate the piece. Fill and stain the wood, then cut a new wood top and finish the edges to your preference. You should be left with a gorgeous fluted cabinet for a much lower price than buying one outright. Though transforming this IKEA cabinet takes longer than simpler hacks, we think the results are more than worth it, no matter what method you choose.