The Color Rule You'll Want To Consider When Choosing Paint For Your Fireplace Mantel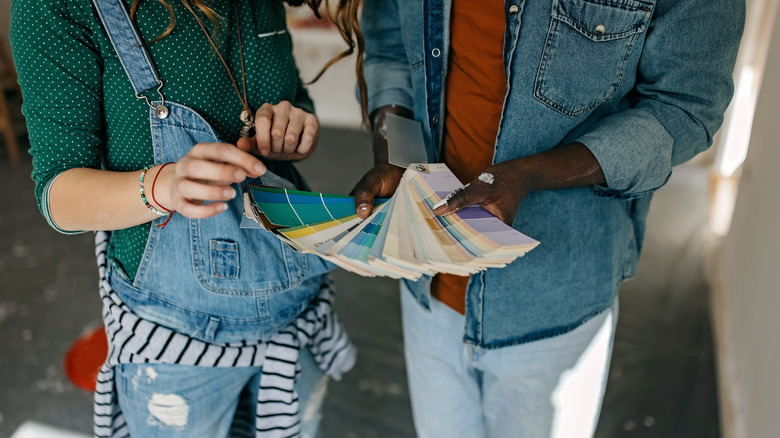 Supersizer/Getty Images
A fireplace mantel adds some much-needed character to your living room and often evokes warm and cozy memories. As such, merely decorating it during the holidays for a festive look isn't enough, as it needs to look right year-round. This is why it's important to focus on its color, and the easiest way to change the color of a mantel is with paint. However, choosing a paint color that ties up your space's design elements, furniture, and walls while making your whole fireplace look great can be challenging. This is where the color rule for painting a fireplace mantel comes in. It states that picking a neutral shade like white or ivory is the safest option, as this would prevent it from looking off-putting in the design or attracting too much focus.
However, if you'd rather not choose white or another similar shade, you have some options. If your walls are a non-neutral color, you could paint your mantel a tone that contrasts with the walls, even if the difference is minimal. Pick a color that's a few tones lighter or darker to add just a hint of drama and to create the illusion of a more open space. Finally, if you really want your mantel to stand out, a bold color could work, as long as it matches the rest of the room's design.
How to choose a paint color for your fireplace mantel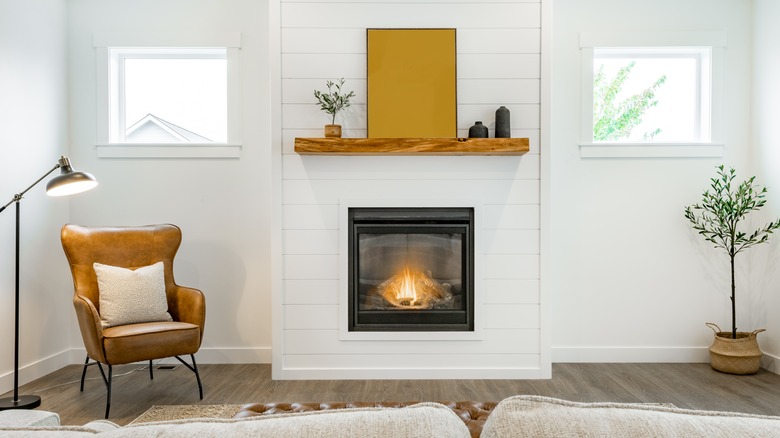 Sheila Say/Shutterstock
Following the color rule for your fireplace mantel, you can confidently choose a neutral shade like white, gray, black, beige, or cream. This is because neutral tones work well with varied interior décor. For instance, white will allow you to show off the intricate details carved on your fireplace while also making it easy to change the design of the room without having to update the color. Similarly, cream will lend warmth to your room. Alternatively, going for a monochrome theme and pairing your mantel with your wall color will allow your artwork, décor elements, and other statement pieces to do the talking.
While a neutral or monochromatic look won't lead you astray, it might not match the mental image you have for your fireplace. If you'd like the mantel to be the focal point of your space, choose a bold color like blue, pink, green, or yellow. Remember, choosing the right color comes down to selecting a shade that matches your personality and delights you. So, if you're a fan of jewel tones or pastels, pick a shade that lies on your end of the spectrum. For instance, you can choose dark green or taupe, depending on your preference. However, ensure you choose a color that's already present in the room, whether on the walls or in the decorations, for a cohesive look.