The Stylish Patio Lighting HGTV's Emily Henderson Swears By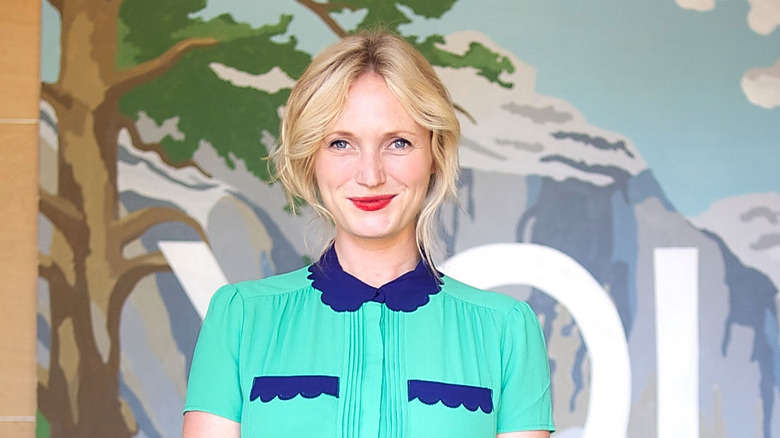 Chris Weeks/Getty Images
Outdoor living is a priority for many people's homes. With outdoor kitchens and living rooms, the patio has become an extension of the home. Being able to enjoy this part of your residence at any hour is the goal for many. Lighting is one way to extend the time you can spend on your patio, as it illuminates the space so you can enjoy the outdoors in the evening and at night. However, installing an electrical outlet outside can often range from $150 to $300. Luckily, interior designer Emily Henderson suggests using candles to light your patio.
Instead of using a traditional chandelier that has to be wired into your home's electrical system, Henderson creates one that uses pillar candles. "It's basically a plank of wood, a handful of pillar candles, and chains attached to the beams of the patio roof," Henderson explained on her blog. The plank of wood rests on metal planters with a flat base to hold the wood. On the plank sit white pillar candles of various heights and widths. The finished look is a magical and elegant fixture that's sure to set the mood while you're enjoying your patio.
Burning candles outdoors
Using candles outdoors can be a great option if you don't want to wire electricity to light fixtures. Candles are a great way to set the mood and create a calming atmosphere when dining or chatting outdoors. Of course, there are some caveats to using candles exclusively for your patio lighting. "We don't suggest lighting this on a windy night for obvious reasons," Emily Henderson noted. Excess wind is sure to blow out your flames and have you sitting in the dark.
One solution to this is glass candle sleeves. These glass cylinders slide over the candles and provide a barrier to the breeze. However, you do still have to be careful as you don't want them to fall and break. The glass sleeves also prevent excessive wax dripping by blocking the airflow that pushes the wax over the edge of the candle. Using these sleeves is also great if you prefer a cleaner look to your candles. It's also important to never leave a burning candle unattended to prevent a potential fire. You may also want to place the candles on a tray so they aren't burning directly on the wood and collect excess wax.
Other ways to avoid wiring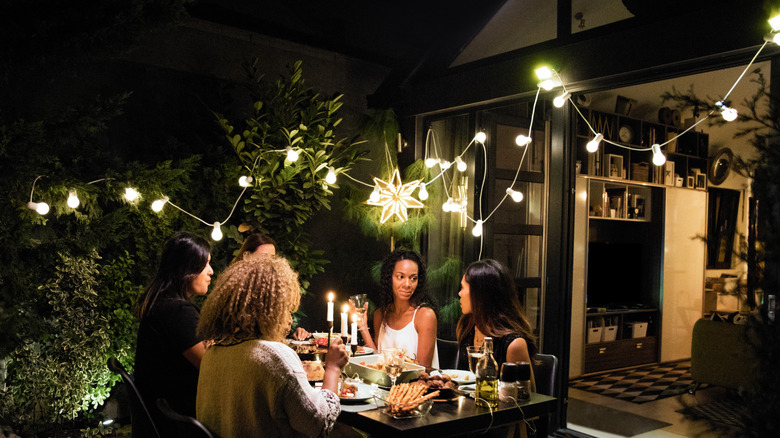 M_a_y_a/Getty Images
If you don't want to have to run the electricity to lighting fixtures on your patio, you still have options to illuminate the space. You can get the look of candles without open flames by using battery-powered candles. These even have fake flames that flicker and edges that appear melted to give the appearance of real candles. However, if you want to recreate the look of dripping wax, you can use hot glue to make it appear that the melted wax is dripping down the side.
Another option is to use puck lights or battery-operated light bulbs to illuminate the space. These can be used in light fixtures that have shades and can work for sconces and hanging fixtures. Both puck lights and battery-operated light bulbs are either rechargeable or work from batteries and can be controlled with a remote. With these, you'll be free to use whatever fixture you want, as you won't have to worry about installing electrical wiring.