Emily Henderson's Simple Trick For Adding Charm & Balance To A Living Room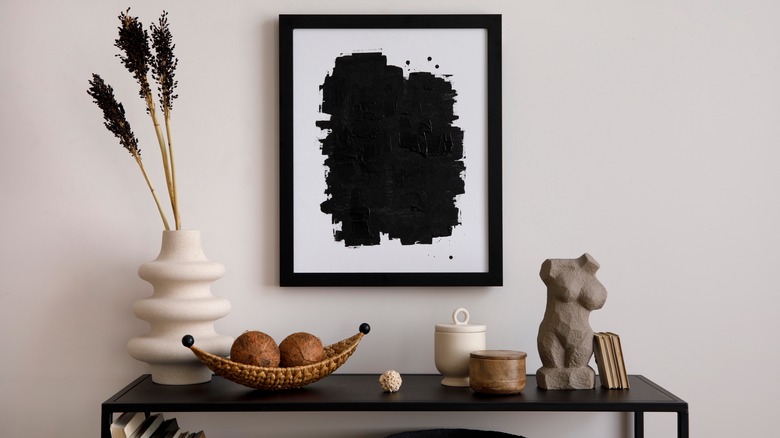 Followtheflow/Shutterstock
Follow the decorating advice of best-selling author and HTGV personality Emily Henderson for any length of time and you'll discover some of her favorite design elements. For instance, she's a big fan of layering accessories to give homes a cozy, lived-in look. Balance is a big deal, too, as it makes a room look more visually appealing. With these two design aspects in mind, you're probably thinking about using the color black, right? No? Then you'll be surprised to know that adding a bit of black here and there is one of Henderson's go-to living room decorating tricks.
In addition to creating contrast and balance, black also makes a space seem a bit more sophisticated and charming. You don't have to go crazy, since a little black goes a long way. In fact, a pillow here and a lampshade there might be all you need. In large rooms, you can think about adding a piece of deep-colored furniture as an accent, but often a vase or two on a shelf or mantle is all it takes to add some dark panache to your space. Exploring how Henderson uses black accents in her own living areas offers a couple of great examples to follow.
How Emily Henderson uses black in her own living spaces
In her own living rooms, Emily Henderson introduces black decor to add contrast to white surfaces. We love the look in an Instagram video featuring her farmhouse living room. From a vase perched on a white brick mantle to an all-black (including the shade!) table lamp, those hints of deep color add a touch of dramatic charm without being overwhelming. She even uses a pair of black and white checkered bolster pillows on matching light green velvet sofas to complete a coordinated conversation area.
Further, a peek into Henderson's English Tudor living room in her Los Angeles home on Style by Emily Henderson reveals more hints of ebony. In fact, the feature shows two looks for the same room that both have black accents. The old version includes a black tray on the sofa table, dark legs on a floor lamp, and touches of the color on built-in bookshelves. These add focal points with color saturation without feeling too heavy. When Henderson asked her staff to redo the room, they left some of the basic furniture and accessories including the floor lamp with black legs. However, one of the most noticeable changes is in the artwork. A classic portrait over the white fireplace was swapped with a modernist line drawing of a table done in black and white. The moral of this story is that any living room can benefit from a charming and balanced touch of this deep shade.