How To Make Your IKEA Hemnes Daybed More Comfortable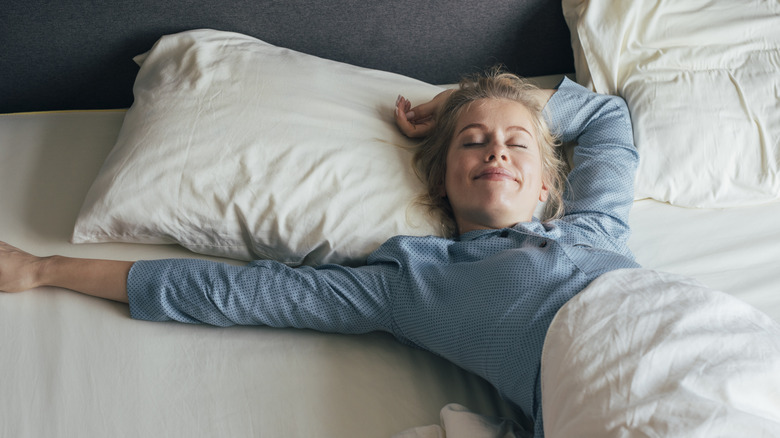 Freshsplash/Getty Images
We may receive a commission on purchases made from links.
IKEA is often the first place folks go when they need affordable and minimalist furniture. Some items are more durable than others, but IKEA products are a great temporary purchase until you have saved enough money to buy something of higher quality. IKEA's Hemnes daybed has been a popular item that folks have used in their guest rooms. It's a twin bed that turns into a double bed when the base is pulled out, with three built-in drawers to store extra blankets, pillows, and sheets. The daybed comes with two simple foam mattresses, but sometimes you want something more comfortable. Adding a memory foam mattress topper to the daybed will provide extra comfort and help turn it into the bed of your dreams.
Lifestyle blogger Ramshackle Glam got the memory foam mattress idea from a friend, and she claims layering a 3-inch memory foam topper makes the bed comfier; you'll be able to sleep forever on it. Memory foam mattress toppers are excellent for providing extra cushioning and body support while you sleep. In addition, they prolong the life of your mattress, preventing it from sagging or staining. They're ideal if your original mattress is too firm, but you can't afford a brand-new one. A memory foam topper will give you comfort while sleeping.
Mattress toppers create unity
IKEA's Hemnes daybed is a fantastic multi-use furniture piece, but if you use it as a guest bed, you want your visitors to get the best sleep possible. The daybed comes with two single mattresses that are meant to be stacked when it's not in use, to create the sofa effect. When the base is pulled out to turn the piece into a double bed, the single mattresses are placed side-by-side, which can be uncomfortable to sleep on. Your guests will feel the separation point when they sleep in the middle. So, adding a memory foam topper in a double-bed size makes the daybed act as one complete bed. One customer who bought the daybed and layered it with a mattress topper stated that it is worth adding since it prevents the bed from "feeling like two singles pushed together," per mumsnet. The awkward separation disappears with the added layer.
On the other hand, another customer on mumsnet said they bought a spring mattress to replace the singles and layered it with a topper, making the bed easier to sleep on even without the topper. If you plan to keep the base pulled out at all times, buying a standard double mattress will work for overnight guests or your kids. Then, you can add the mattress topper for extra support and cushioning. However, if you'd rather have the option of turning it into a sofa, keeping the single pads is best. The mattress topper alone is enough to give anyone a good night's sleep.
Types of mattress toppers to purchase for your daybed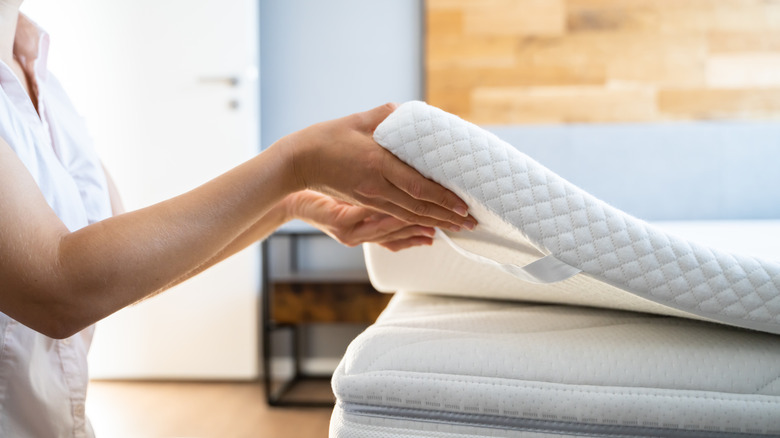 Andreypopov/Getty Images
Buying a mattress topper can take some time, since you'll want to look for one that's both comfortable and within your budget. We rounded up three mattress toppers you can use on your IKEA Hemnes daybed for less than $100 that are supportive, comfortable, and accommodate any sleeping position. The first topper comes recommended by lifestyle blogger Ramshackle Glam; it's the Lucid Ventilated Memory Foam Mattress Topper. It comes in 2-, 3-, and 4-inch thickness, ranging in price from $72.99 to $80.53 on Amazon. (The 3-inch topper was sold out as of this writing.) The topper is comfortable, supports the lower back, and has ventilation that allows air to flow to make you feel cool while you sleep.
Another excellent mattress topper is the Subrtex Gel-Infused Memory Foam Topper from Walmart, which is also available in 2-, 3-, and 4-inch thicknesses. The 3-inch topper is $68.98 for the full bed. It regulates temperature like the Lucid topper and has a plush, soft feel that offers pressure relief.
Lastly, Slumber Solutions' 3-inch Full Memory Foam Mattress Topper on Wayfair is on sale for $58.99. It features high-density foam that can accommodate anyone's shape and sleeping position. In addition, it helps relieve pressure from the body and has a moisture-wicking feature to keep you dry throughout the night if you tend to overheat.