The Most Important Questions To Ask Before Hiring A Painter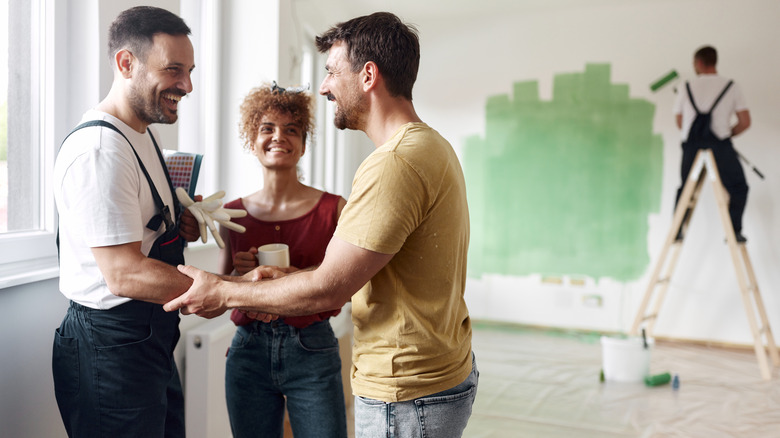 Skynesher/Getty Images
If you don't ask your painter the right questions before hiring them, it can really cost you. Picture this: You have been charged double what you budgeted for, and it's been six months since work started. The painter always seems to call you while you're at work, or texts you in the wee hours of the morning, so you can never connect with them. The paint on your walls is cheap, and you just found out that one of the subcontractors fell off the roof — leaving you 100% responsible for his hospital bills because your painter had no insurance.
While this scenario might sound a little extreme, making assumptions when hiring a painter can really come back to bite you. Without discussing things before signing on the dotted line, you can't be sure the painter will stick to your budget, understand the scope of work you need, or is even operating legally. To protect yourself and ensure the best results for your home, always ask these questions first.
Questions about experience and qualifications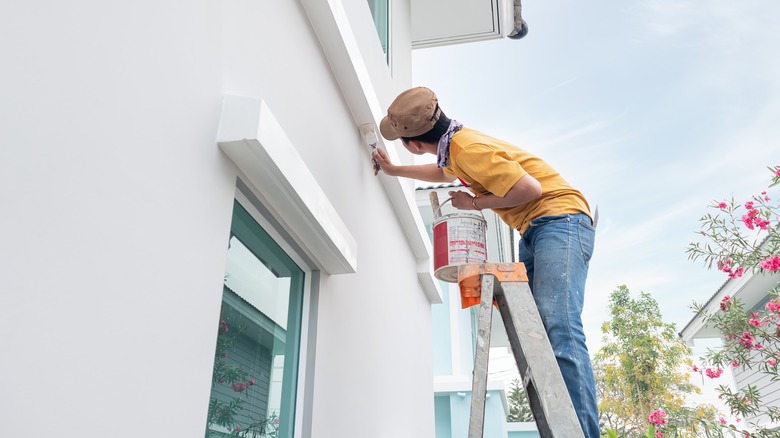 Bself/Shutterstock
Before hiring a painter, you need to understand the person's background in the field. One of the first questions you should ask is about the number of years the contractor has been working as a professional painter. If the person is just starting, you might notice their prices are lower as they are still building their business. If they have 30 years in the profession, prices might be higher because you can be sure you are getting quality work from a seasoned professional. There is no minimum number of years required to be a great painter. Instead, it's all about what you feel is the experience level that those working in your home should have.
If a painter has been working forever or has just opened their business, they should still have references. Even if you are their first paying client, the contractor likely worked on family or friend's homes or even their own home. This means they should have a portfolio with examples of previous work to show you. Even better, they will have testimonials from previously satisfied clients.
Questions about licensing and insurance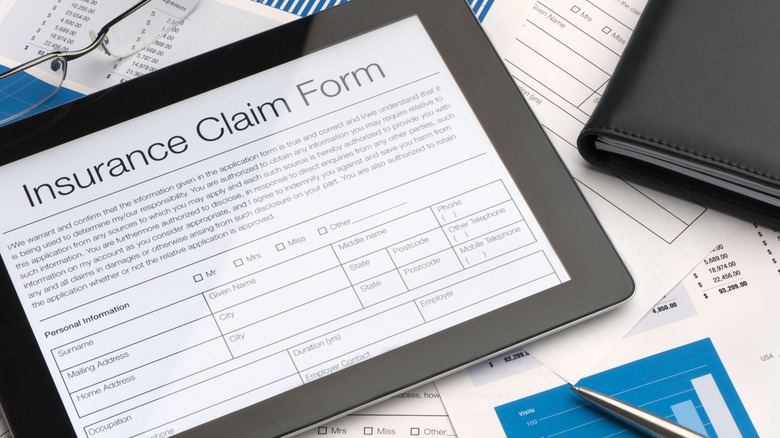 Courtneyk/Getty Images
Hiring a licensed and insured contractor means that should anything go wrong during the job, the consequences are negligible. Some states require house painters to be licensed to operate, like Arizona, California, and Louisiana. Other places, like Colorado or Indiana, don't require state-wide licensing. If your state doesn't require it, your county or city might. Knowing the licensing rules for your home address is in your best interest. That way, when you ask a painter when they are licensed to work in your area, you will know if they hold the correct permits.
In addition to a license to operate, some states also require contractors to carry liability insurance and worker's compensation coverage. This means that if the main contractor gets hurt while working on your home, or any of their team sustains an injury, you are not liable. Instead, the boss' insurance will cover the costs. In addition, this insurance typically covers the bill for any repairs needed because of the contractors' presence. This is for things like broken windows, muddy carpets, or in a less likely scenario, stolen property.
Questions about scope of work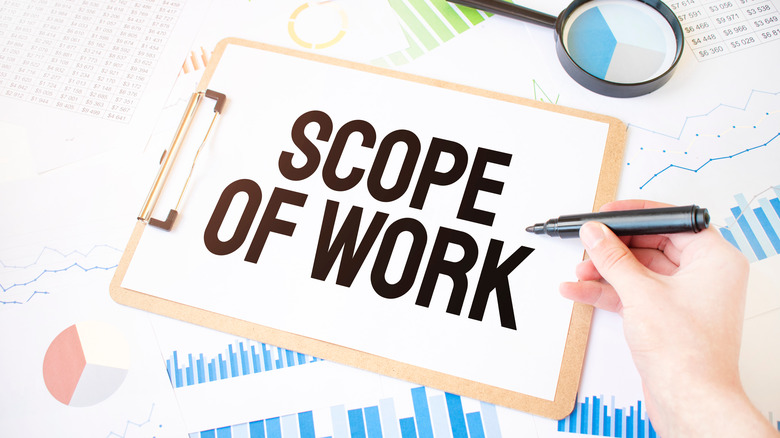 ANDREI ASKIRKA/Shutterstock
Before you sign a contract and hire a painter, request a written scope of work. At the bare minimum, the scope of work should include a written estimate for the entire project. This should have a breakdown of all the costs, including labor, materials, and any additional charges like rush fees or redos. It should also include how long the painter expects the project to take in total, plus when any payments are due.
Make sure to ask the painter to include the specific areas of the home to be covered in the scope of work. For example, the living room will be painted eggshell white and the wooden baseboards will be left alone. In the kitchen, the walls will be painted cream, while the wainscotting will be slate gray. Having everything written down like this allows you to refer back to the agreement should anything go wrong. It protects both you and the painter, so there is no misunderstanding about what will be painted, how long it will take, and how much it will cost.
Questions about contract and payment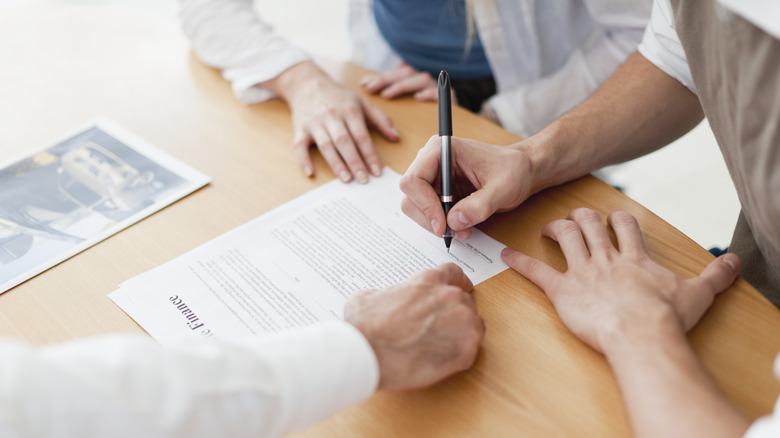 Photo_concepts/Getty Images
After understanding the scope of work, it's time to ask questions about the contract. By signing the contract, you are officially hiring a painter, so it's important to fully understand what you are agreeing to. Ask the painter to include a copy of the discussed scope of work with the contract, so you can officially sign off on that, too.
Next, ask the painter to walk you through their exact payment terms. How do they expect to be paid? Do they prefer cash, a check, Zelle/Venmo, etc.? Do they invoice you for their work later on, or do you pay upfront? Do they require a deposit and installments — or do you pay everything at once? What receipt documentation do they provide? Unfortunately, payment is where things can get tricky when hiring a contractor, so you can avoid surprises and disappointments by asking as many questions as possible. Painters run their businesses differently and can handle payments in a variety of ways. While there is no way that is 100% correct, it's more important that you choose a painter whose method makes sense to you.
Questions about warranty and satisfaction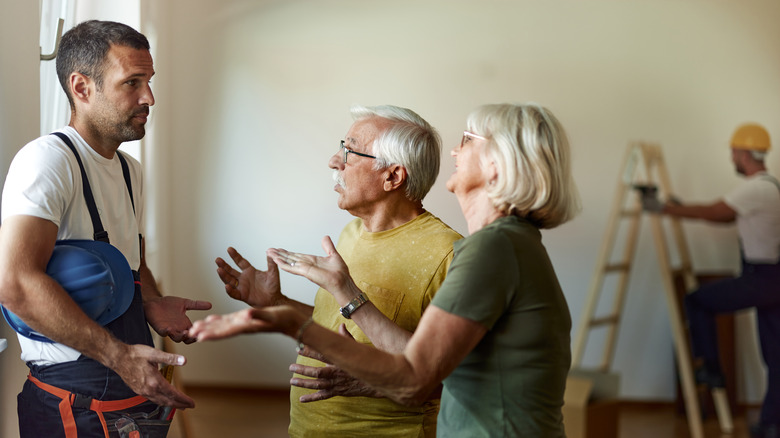 Skynesher/Getty Images
You should ask questions about the worst-case scenario before hiring a painter. That is, what happens if the work is not finished on time? What happens if the work is not up to quality? Discussing the painter's warranties ahead of time will save you lots of headaches. Often, painters will have a small warranty and guarantee blurb in their contracts. This might cover things like the time a client has to make a complaint after work is finished, as well as the number of touch-up visits they are entitled to before paying additional fees.
Be sure to discuss the wording of any such promises before signing the contract. If one is absent, ask the painter to write one up and include it before you agree. This protects you in case of any disputes, but it also protects the painter, as you know what to expect.
Questions about preparation and cleanup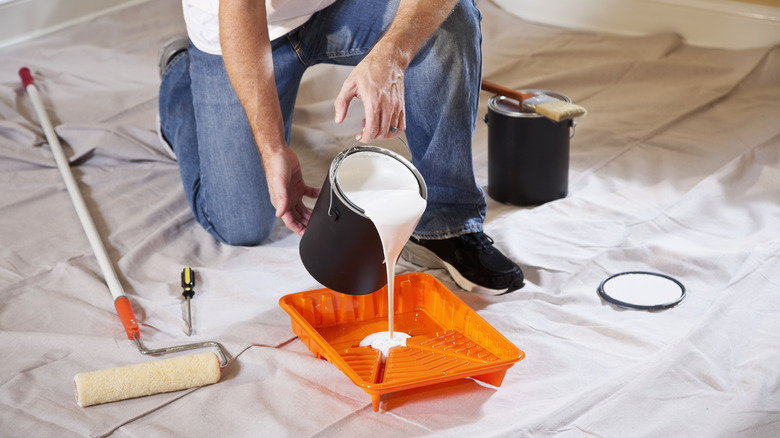 Kali9/Getty Images
While this doesn't need to be written down, it's a good idea to get an idea of how a painter runs their job site before you hire them. Ask them about how they prepare surfaces before painting them. Do they sand surfaces that need it? Do they prime walls before painting them? What about if a wall needs a small patch job before it can be painted — do they do that, or will you? By planning, you can make sure the painter doesn't have to delay the project's start because you are not ready.
In addition, ask about how the painter's team preps the job site for work. How do they protect the furniture in your home? What about the flooring? Every tradesperson might have a different process and expect different things from you. They might remove everything from the space, or simply move it to the middle and cover it with dropcloths. Sometimes, the painter's crew might do this, yet other times you will need to do it beforehand. To ensure the process works for you, ask before you hire them. The same is true for the project's end. How does this painter handle cleanup after the job is complete?
Questions about paint and materials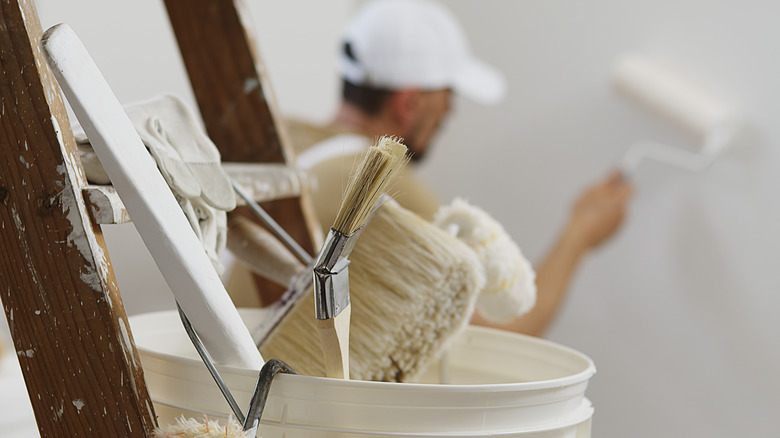 amedeoemaja/Shutterstock
If you hire a professional painter because you don't know much about paint, it makes sense to get their opinion on the materials used during the project. Sometimes, painters will have a brand of paint that they prefer to work with. In their years of experience, they might think that certain brands have bolder colors that don't fade with time, options that best repel sticky fingers, or even just provide the best value for the price point. Sure, you might have seen Behr commercials or have a soft spot for anything with Joanna Gaines' name on it, but be sure to ask about what they recommend.
This is especially true if you are providing the paint. Some painters ask that you purchase the paint and they show up and put it on the walls for you. Others include paint costs in their overall fees and bring it along with them on their first day. Establish which business model the painter operates under before you hire them. The same can be said for other materials — confirm they provide all other necessary items, including brushes, drop cloths, and rollers, too.
Questions about color and finish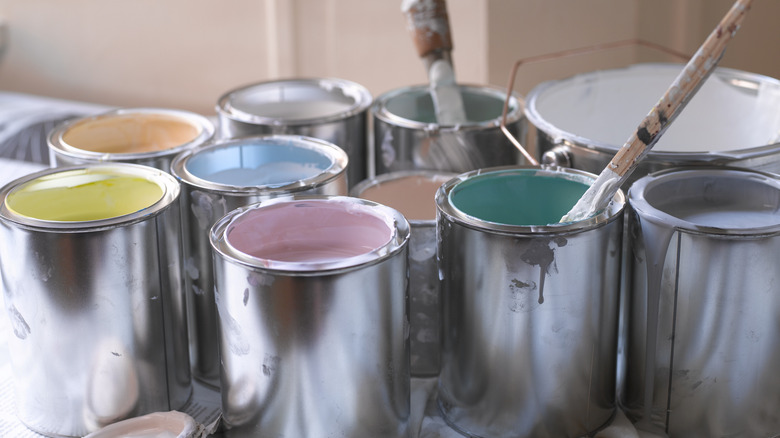 Liquorice/Getty Images
In addition to the brand of paint used during the project, you can also ask a painter if they can recommend any colors to you. This is especially helpful if you are struggling to select the perfect shade of paint for your home. Since they've worked on hundreds of houses, they know which shades work best for dark rooms, which colors might fade over time, and which sheen is best for your lifestyle. So before hiring them, ask your prospective painter if they provide a walkthrough service. Some painters offer this service for free, while others might charge a small consultation fee.
If you think you will need this sort of help, it's best to ask before you sign any contracts so you are not disappointed if it's not possible, or puts you over your budget. Of course, if you already have the paint colors narrowed down to just one or two, most painters are willing to cast the winning vote free of charge.
Questions about timeline and schedule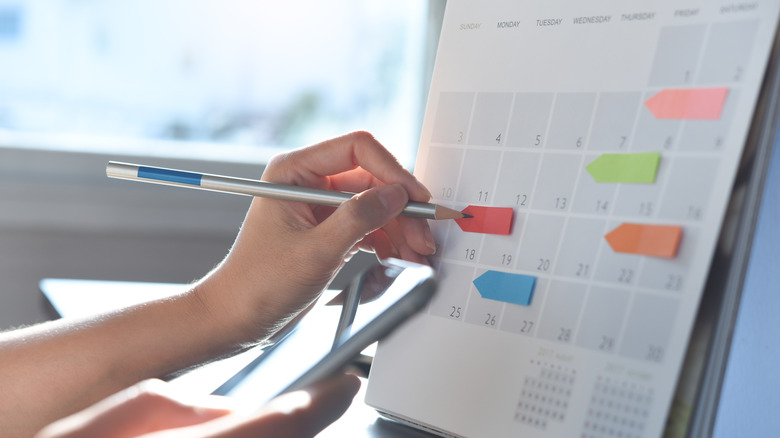 TippaPatt/Shutterstock
Before hiring a painter, you need to make sure their projected timeline fits the schedule you had in mind. There are two main things to think about. The first is whether they have spots in their schedule to accommodate you. It won't be a good fit if you need to wait weeks for your appointment. The second is how long the painter takes for the amount of work you want done. A professional crew can usually finish a home's interior within three to four days. If the outside of the house is also being painted, add at least two days to the timeline.
If you need things done faster, you can ask the painter if you can pay more for a larger crew. You also need to discover the daily schedule of the painting crew. What time do they arrive in the morning? How many hours a day do they work? Do they work on weekends or holidays, if necessary? Understanding the timing of the project before hiring your painter will prevent any disappointment about things not being finished on time. 
Questions about communication
Realpeoplegroup/Getty Images
Before hiring a painter, you need to establish how the painter will keep in touch with you about the project's progress. For example, will you get daily updates from the crew, or will they just be in touch with information at the start and finish of the project? If something comes up during painting, how big of an issue does it need to be to contact you? Some painters might prefer to handle things among their team, while others will ask for your approval on any changes or adjustments.
In addition, confirm the style of communication that this painter prefers. Do they prefer text or email? What about phone calls? Do they have office hours or can you reach out to them at any time? Most contractors tend to be pretty flexible around keeping in touch, but it's always best to understand the process ahead of time.
Questions about crew and supervision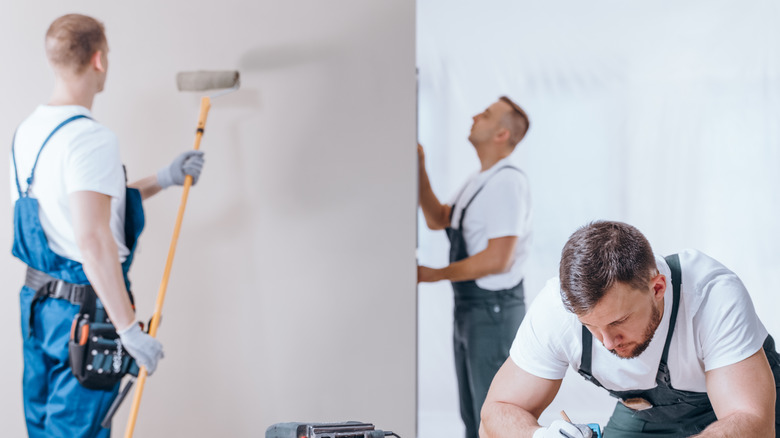 Ground Picture/Shutterstock
Sometimes the painter you talk to throughout the hiring process might not be the person who ends up painting your house. They might just be the business owner, while their employees show up and do the work and they act as the foreman. Other times, they might not come to the paint site at all, preferring to have an assistant manage the painters. If you want to speak to the people doing the work beforehand, be sure to run this by the painter before hiring them.
In addition to this, speak to the painter about whether the people working for them are employees or just subcontractors. In general, work completed by the painter's employees is likely to be of better quality than that of a subcontractor. Employed painters have an established history with the company they work for. They have higher motivation to do well and their skills have typically been better vetted by the boss. Subcontractors might have just been brought on for one job, meaning their skillsets and commitment to overall quality could be less.
Questions about environmental considerations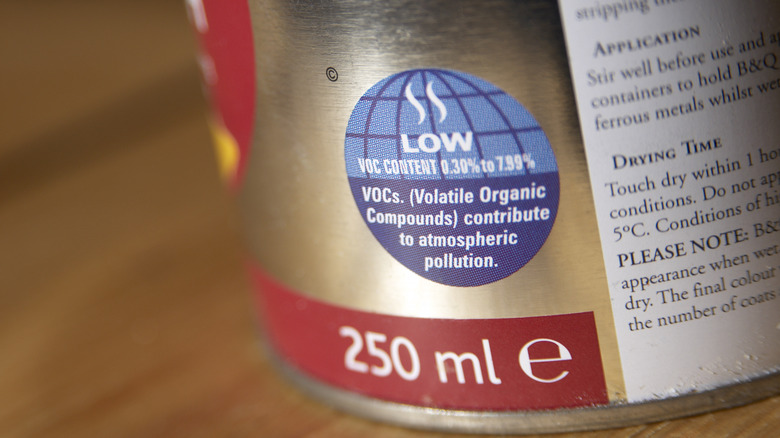 Construction Photography/avalon/Getty Images
If you have any environmental concerns, it is best to bring them up with the painter before hiring them to make sure they can accommodate what you want. For example, if you want to use Low-VOC (Volatile Organic Compounds) paints because they contain fewer harmful chemicals than traditional paints, ensure the painter is open to working with them. Even better, they know how to grab the best deals on eco-friendly supplies. If you have other preferences — like zero-VOC paints and natural paints made from organic materials like clay or lime — bring these up during the hiring process, too.
Regardless of the paint you choose, you should check with the painter about how they handle paint fumes and ventilation during the painting process. You want to make sure you, your children, and any pets on the property are safe from breathing in too many fumes during the process.
Questions about contingencies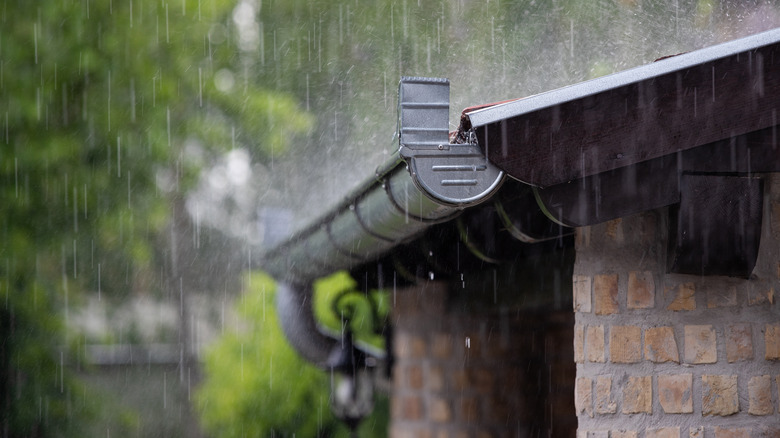 Budimir Jevtic/Shutterstock
The famous saying "everything that can go wrong will go wrong" is always true when working on things around the house. If you can expect the unexpected, you can save yourself lots of stress. The best course of action is to speak with your painter about some of the most common contingencies before hiring them. For example, what is the plan if they discover hidden damage while painting your living room? What happens when the color you want is on backorder, or they have a family emergency and need to postpone or cancel the job?
If you are having the outside of your house painted, it is also a good idea to discuss weather-related issues. If it's too rainy, too cold, or sometimes even too hot outside, paint won't dry properly or can begin to bubble and peel well before its time. If possible, ask your contractor to have a pre-scheduled "rain check" date for you before work commences.
Questions about additional services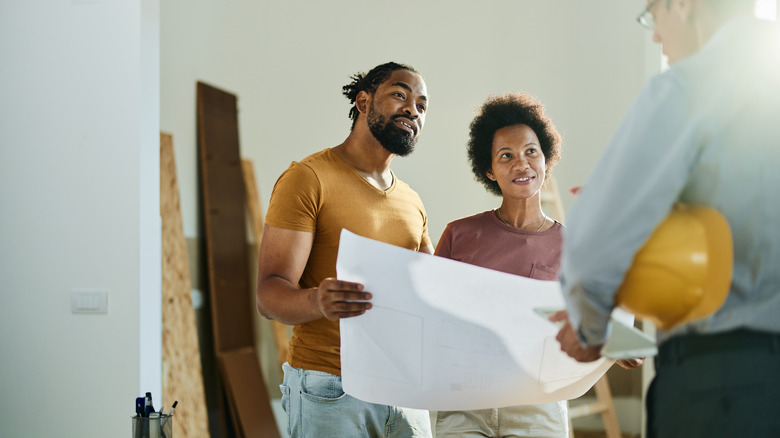 Skynesher/Getty Images
Sometimes your painter might be skilled at more than one area of home renovation and maintenance. They might be a general contractor that also does things like minor carpentry work, partial demolitions in anticipation of rebuilds, and even electric or plumbing work. If painting your home is part of a larger project, like remodeling your kitchen or adding built-in bookshelves to your office, you might be able to save some money by hiring a contractor who can do all the work.
Even if your painter only offers one service, if you do hire them and enjoy their style, ask for their recommendations about who to hire for the rest of the project. Contractors across all disciplines tend to have a network of associates they would happily connect you with, as these people tend to pass work back to them, too. By asking these questions, you can be confident that no matter who does the job, it will be up to snuff.