Give Your Cabinets A Trendy Upgrade With Alison Victoria's Genius Brass Shim Stock Trick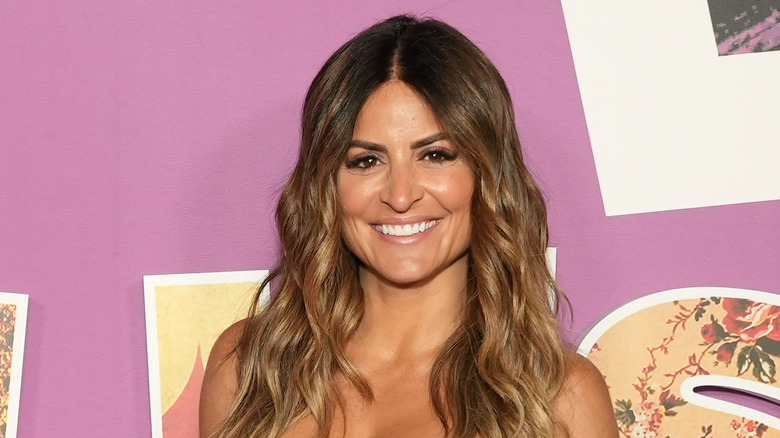 Gonzalo Marroquin/Getty Images
Alison Victoria loves a brass finish. You can see her love for the material on her own HGTV show "Windy City Rehab" and when she competes on HGTV shows, such as "Rock the Block." The gold metal creates an elegant and glamorous look, instantly adding a polished finish to any piece. However, solid brass can be expensive and a little harder to find. But, Alison Victoria has a budget-friendly upgrade she uses in many of her projects — brass shim stock.
Shim stock is a thin gauge metal sheet that can be easily applied to surfaces to create a metallic finish. In a clip from the Rachael Ray Show on YouTube, Alison Victoria explains how shim stock is as thin as a sheet of paper. "So, you can take this, and you can wrap it over anything," the interior designer explains in the interview. "Here's what you do: you take it and you're going to use an adhesive . . . [and] put it onto the brass shim stock. And then you're going to put it on the actual surface."
Alison Victoria then goes on to apply the shim stock to the inset of a cabinet door. She smoothes out the shim stock and the seams between sheets. Once it's completely glued down and dry, the finished product is a stunning and elegant DIY that those of various skill levels would be able to tackle.
Instant brass finish
Brass shim stock is Alison Victoria's go-to way to transform a plain piece of furniture into a statement in the room. The thin sheets are easy to apply to a part of the piece or the whole thing. "This is an inset panel," the interior designer explains to Rachel Ray, "...you can also wrap the entire cabinet with it, cut the corners like you'd wrap a gift." The material is thin enough to use metal shears or scissors if it's thin enough to cut the excess or cut shapes into the shim stock.
Another trick used by the interior designer is making the brass look aged. You can give the appearance of a vintage furniture piece by using vinegar. "After you're done with [applying the shim stock], you can come in and just spray it with vinegar," Alison Victoria explains. "You're going to let this stuff sit for 24 hours and then it patinas." This simple trick makes it look like you found a piece of furniture in an antique store rather than from a simple DIY.