Try This Genius Laundry Hack To Quickly Banish Wrinkles From Clothing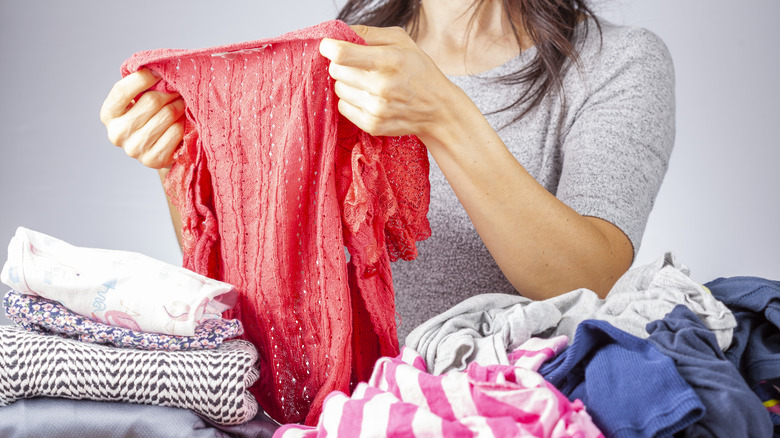 Grandbrothers/Getty Images
Wrinkled clothes don't just make your clothes unclean but also detract from your appearance and make you look untidy. While there are several hacks and tricks on the internet to help cut down the ironing time, what do you do when you don't have the luxury of time? Or, what if you are traveling and don't have your iron or ironing board with you, or you pull out the ironed clothes from your suitcase only to find them heavily wrinkled? Simple — plug in a flat iron and use it to banish wrinkles from clothing quickly.
This genius laundry hack works in a pinch and makes for a great makeshift iron you can use to ensure your clothes maintain their natural shape and look fresh. However, ascertain that the hair straighteners are free of any hair products since you don't want to stain your clothing accidentally. If you aren't sure, just clean the plates when cool with a moist cloth or rubbing alcohol, and you'll be all set.
Hair straighteners are a great alternative to irons
After you clean the flat iron plates, plug it in and let it heat up — however, remember the temperature setting of the straighteners will depend on the clothing you'd like to get the wrinkles out of. For instance, if you want to iron a cotton shirt or thick woolen clothes like sweaters, you can confidently choose the high setting, but if you'd like to banish wrinkles from your silk garments, go for the lowest heat setting possible.
Once you're satisfied, place the garment between the heated plates and move the iron downward, as you would when straightening your hair. Continue flattening the fabric in small segments until it's wrinkle-free. Don't forget to move the iron quickly to avoid burning the cloth. Flat iron works wonders on hems, stiff collars, cuffs, sleeves, and even the hard-to-reach area between the buttons. While you can use this laundry hack to get wrinkles out of almost all types of clothing, including linen, viscose, cotton, and denser fabrics, practice caution when using it on finer fabrics as they might end up with burn marks or holes.