Try This IKEA Hack To Create Beautiful Built-In Storage Under Your Stairs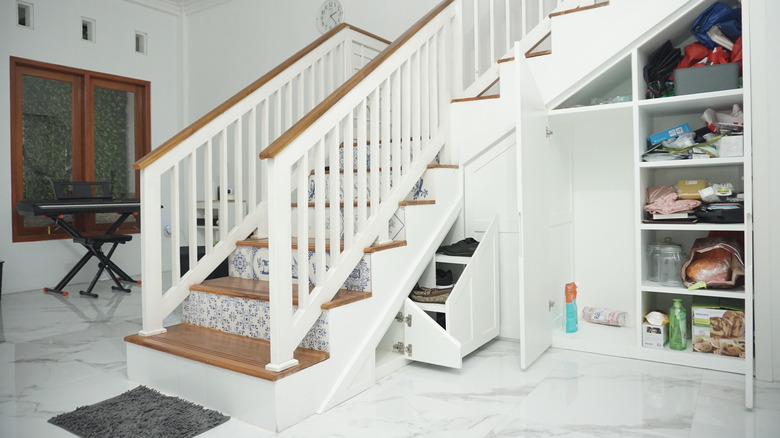 rifky naufaldy/Shutterstock
There are many creative things you can do with the unused space under your stairs. You can turn it into a home office, reading nook, or broom cupboard-slash-bedroom for your orphaned nephew who is actually a wizard, à la Harry Potter. However, options become more limited when that space is smaller. The awkward shape of this area doesn't help either. Finding something that can seamlessly fit often requires customization, which can get costly. But not if you're using IKEA. If you just want to add some simple under-the-stairs storage, IKEA has the perfect solution that can save you thousands. TikToker @houseproject_36 came up with the brilliant idea of using two IKEA Kallax shelves to create a beautiful storage piece for under her stairs.
Adding some extra shiplap and trim allowed this piece to look like it blends in with the staircase. The end result is an open shelf with adjacent pull-out rolling drawers. This piece looks as if it was built and installed by a carpenter. An under-the-stairs storage cabinet on Etsy goes for almost $3,000. But this hack should cost you under $200 for something that looks just as nice, suits your storage needs, and makes good use of this oddly shaped space.
How to build your IKEA under the stairs storage
For this hack you'll need the 16 ½ x 57 ⅞-inch Kallax shelf, at $64.99; the 30 ⅜ x 30 ⅜-inch unit, at $59.99; and four Kosingen insert boxes for $3.99 each. You can also choose a different Kallax accessory instead of the boxes, such as a drawer or basket. You'll also need four caster wheels, a drawer pull, shiplap, trim, molding, filler, primer, and paint. Tools and hardware needed included a jigsaw, a screw gun, and screws.
First, you'll screw your casters into the bottom of the Kallax cube so it's mobile. Place it under the stairs sideways. Create a shiplap panel and screw it into the side of the cube so it is covered and looks like it blends in with the stairs. Next, you'll cut off the top of the Kallax tower so that it perfectly fits in the left corner of the space under the stairs. Place your trim on either side of the tower so that it hits the wall and covers the front-facing edges of the tower. Add another piece of trim between the tower and the roll-out cube.
To finish up your piece, you can add molding at the top of both structures and cover the gaps with filler for a more custom look. Sand your pieces lightly, prime them, and then paint them the color of your stairs for a seamless look. Add a drawer pull to your pullout piece, making sure to install it above the shelf inside. Put in your insert boxes, and you're done!