20 Ways To Turn Unused Space Under Your Stairs Into Storage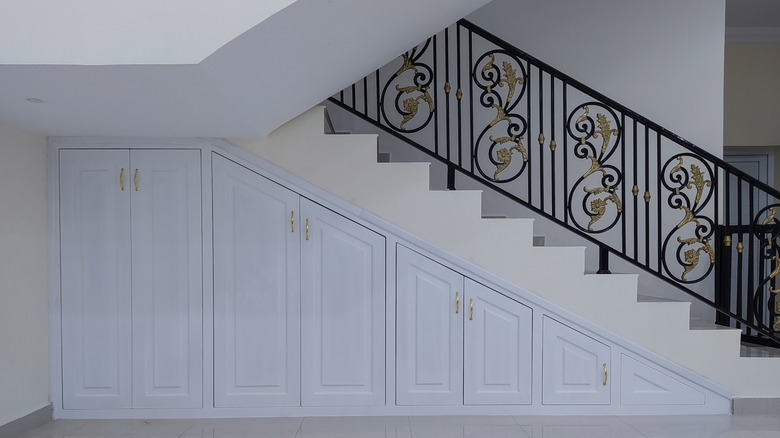 Foiaz Ahmed/Shutterstock
Have you ever thought about the awkward wedge-shaped space underneath your staircase? How well are you making use of this area? It is common for homeowners to completely forget about this space when renovating. However, you can quickly transform this compact space into a functional place fit for several activities with a bit of creativity and imagination. You can never have too much room in your home, so transforming any unused space should be top of your priority list. 
So how best can you use the space under the staircase? To try and answer this question, we present several genius ideas on how you can transform this area in your home into a functional living and storage space. Regardless of the size of the room under the stairs in your home, you can always find creative ways of making it worthwhile to you, according to CoutryLiving. Stick around to find out more!
1. A neat home office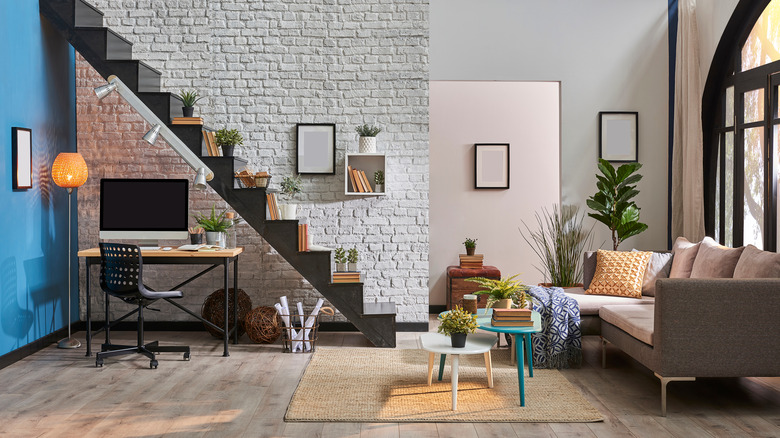 united photo studio/Shutterstock
If you have been looking for a quiet space in your home where you can sit down and get some work going, the area right under the staircase might give you that. Regardless of the shape and size of this space, you can easily install a working surface or a small table, pull a comfortable chair right in, and get to work. If necessary, you could add a standing lamp to your office space if you need extra lighting.
2. Makeshift coat and hat hanger or mudroom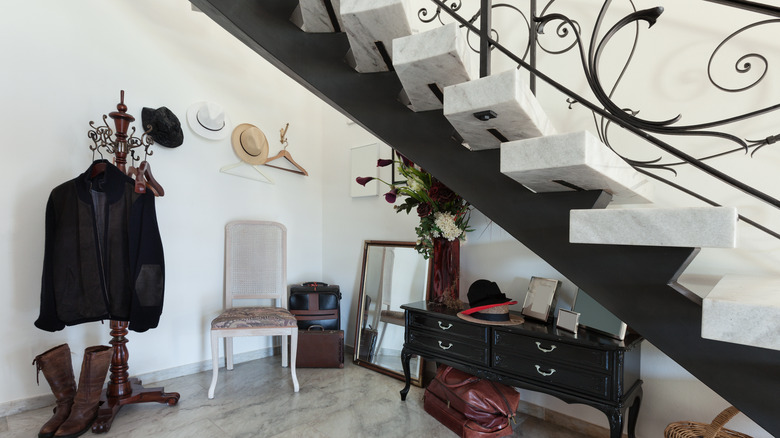 alexandre zveiger/Shutterstock
Where do you keep the boots and coats meant for mud, snow, and other weather elements? If you don't have such a drop zone in your home, then the space under the staircase can be your mudroom. Bring in a small chair and a cabinet for storing other smaller outdoor clothing like gloves and hats. Besides being a mudroom, you can also use this space under the staircase to hang your hats, coats, and backpacks. Converting this space into a mudroom will also serve as a catchall for your pet's leashes and belongings. 
3. A cozy reading place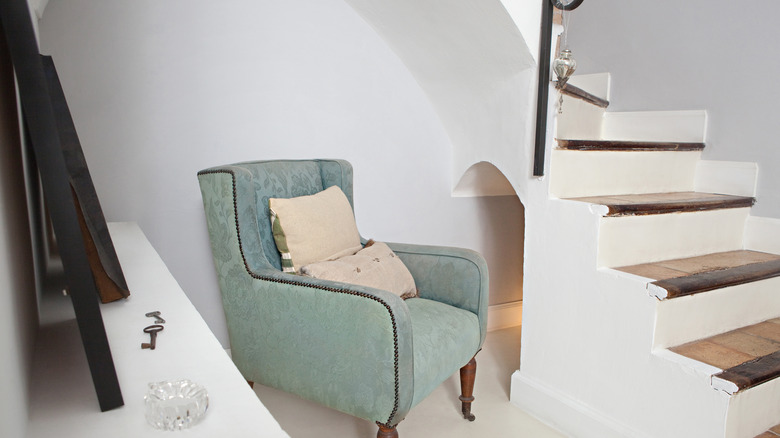 MJTH/Shutterstock
Consider the space under your stairs if you are an avid reader and cannot find a secluded and quiet place to read. It is easy to convert such a place into a comfortable reading room away from distractions. Get creative; install a few hanging shelves on the wall where you can place portraits and flowers. Bring a comfortable reading chair, and you will have yourself a quiet reading nook. For an extra tip, include a rug in this particular space to make it feel more like a room on its own.
4. Extra cabinetry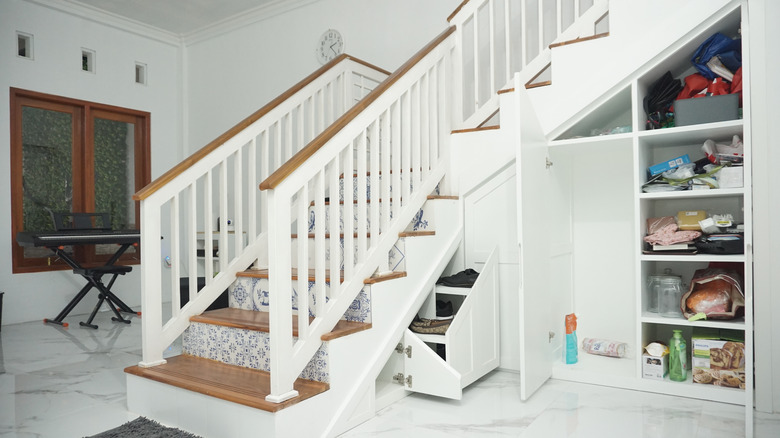 rifky naufaldy/Shutterstock
If you need extra cabinetry in your home, a quick makeover of the area under your stairs could be just the extra space you need. Install cabinets right into this space and get additional storage for your sportswear, detergents, and linen, among many other things. This built-in cabinetry makes good use of this area and provides a hidden storage room for cleaning agents that would otherwise fill your entire house with a chemical smell.
5. Hidden study room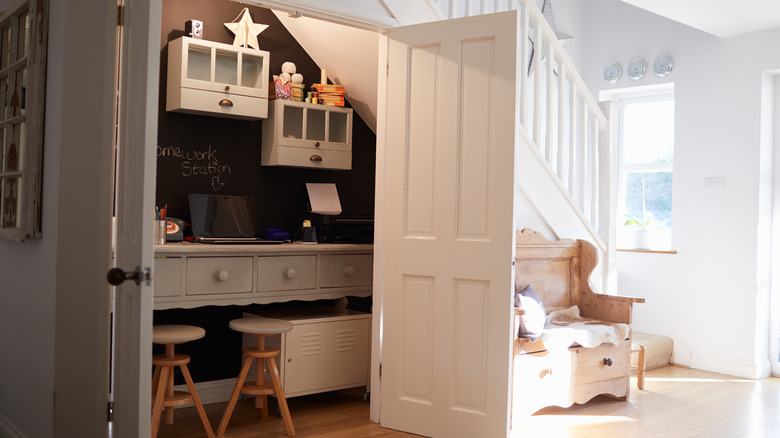 Monkey Business Images/Shutterstock
A suitable studying room needs to be far from distractions. One way of making a private study room in your cramped living space is to use the area right below the stairs. Depending on the actual size, you might be lucky enough to fit in a study table, a chair, and a study computer. To make it more private, install a door where you can lock your study materials away from the hands of small children in the house. You can also include cabinets for extra storage for your study essentials.
6. Mini kitchen under the stairs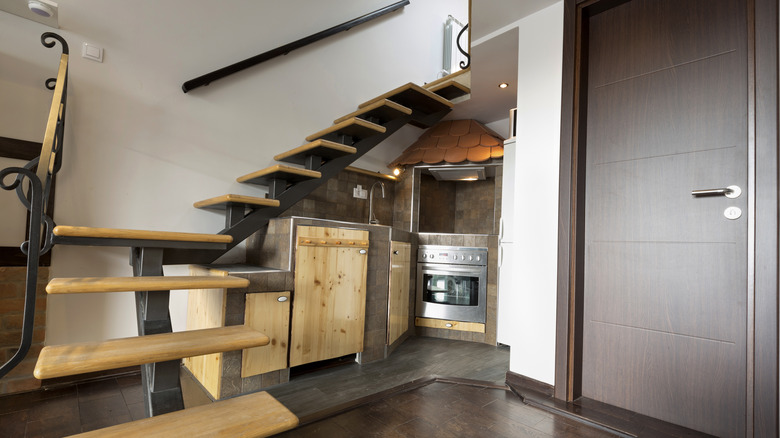 Edvard Nalbantjan/Shutterstock
Another great idea for making the most out of the available square space in your house is installing a kitchen right underneath your stairs. This is particularly helpful for those extra small households with little to no room to spare. The above minimalistic design with a few kitchen cabinets, a single sink, and a cooktop will serve you just like any other kitchen. Converting the space under your stairs to a kitchen will give your home a unique and edgier look. How often do you get into a house with a kitchen below the stairs?
7. Casual dining nook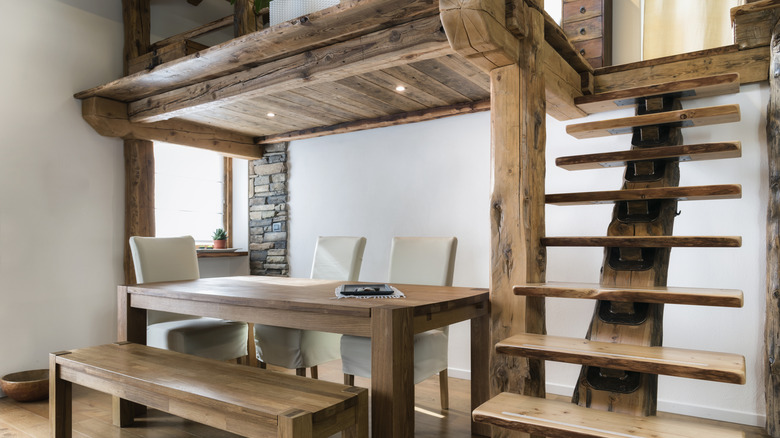 Federico Rostagno/Shutterstock
Are you looking for a casual dining experience in your home? Go ahead and turn the idle area under your stairs into a dining space for two or more. There are no limitations in creating a casual dining area, and you can go all out in your color choices and furniture design. The wooden table, a bench, and the three white seats blend well with the wall and staircase colors in this particular dining area. This dining space is deliberately placed near a wide window to allow as much light as possible.
8. Open bookshelf for kids
Kuncung19/Shutterstock
Providing your kids with storage space for their books is one way of training them on basic organization methods from the get-go. Installing a bookshelf right below the stairs is ideal for children, and the open variety can be accessible even to the younger ones in the home. This particular design is not exclusive to books but could also serve as a toy store. There is plenty of storage space to accommodate the toys and books of multiple children. 
9. An idea for modern homes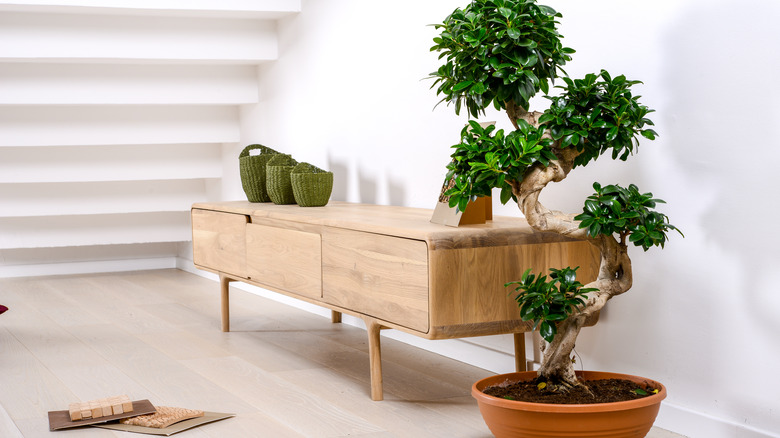 BhFoton/Shutterstock
If you wonder what to do with that awkward space under your stairs that nothing seems to fit, you should consider introducing this modern rustic drawer. It is worth mentioning that this particular drawer serves as an extra storage space and also doubles as a piece of statement furniture that adds style and personality to your living area. The plants are additional details that give your home extra aesthetic appeal. Pull two chairs and have a cup of coffee in this semi-private space whenever you have company in your home.
10. Secret compartments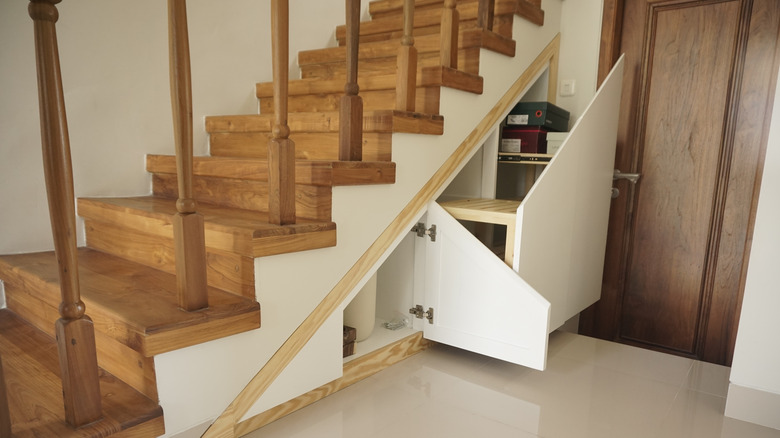 rifky naufaldy/Shutterstock
You can do so much with the space below the stairs, including installing a discrete storage space for your shoes and other items in your home. This particular design offers a set of drawers that are made to disappear from view when closed. Thanks to the discrete design, it will be hard for guests to tell whether or not there are storage spaces under the stairs.
11. Bookshelf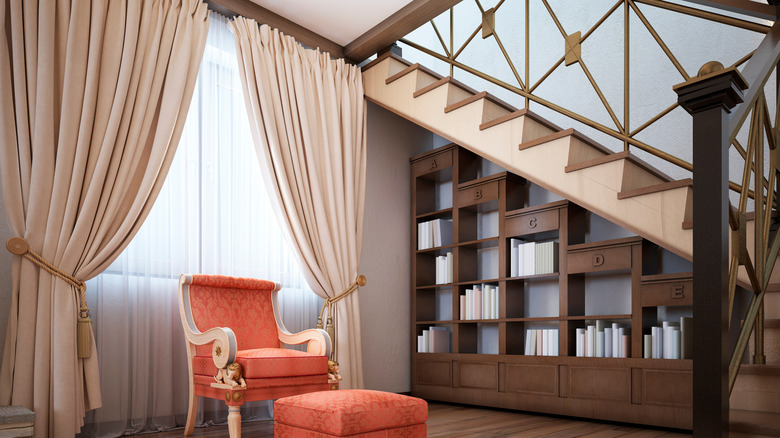 KUPRYNENKO ANDRII/Shutterstock
What better way of using the area under the stairs than installing an open space bookshelf? If you are an avid reader, you can understand the struggles of finding enough storage for your book collection. The space under the stairs provides enough room for installing several open bookshelves for your books. What's more, you can include a chair in this particular place to make it a book nook. This is also a brilliant idea for you to display your impressive collection of books to friends and family.
12. Comfortable lounge area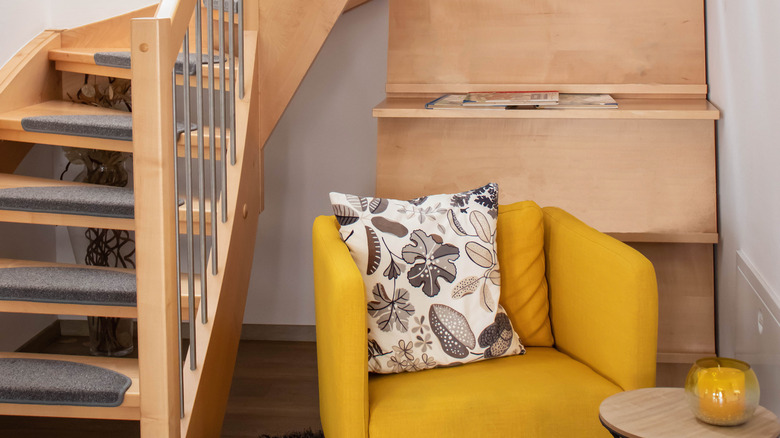 Kovbasiuk Nadiia/Shutterstock
After a long day's work, the space below your staircase can provide relaxation and safety from noise and disturbances. If the particular spot is adjacent to a wall, then you can create a secret hideout where you go to unwind and reflect. Get a comfortable chair and a small, stylish table to place your phone or a cup of tea. You can also purchase a furry rug for that space to make it feel more like home. Alternatively, hang a few paintings on the wall to inspire creativity during your hours of solitude.
13. Under the stairs garden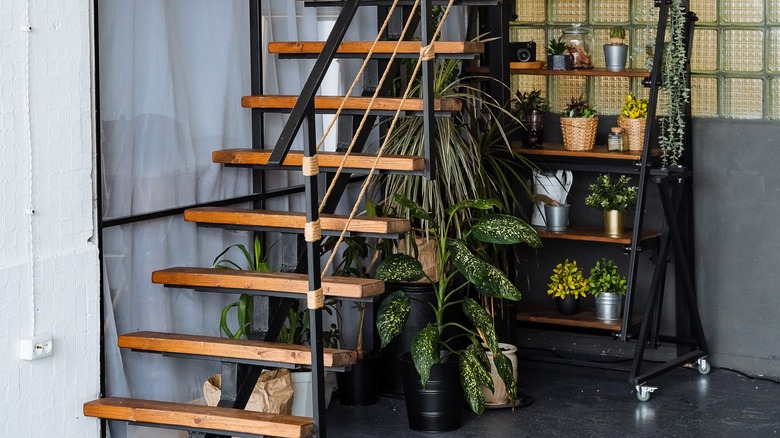 Aleksey Matrenin/Shutterstock
Don't let the limited space in your home stop you from enjoying a beautiful indoor garden. Customize the idle space under your stairs to accommodate a variety of your favorite plants. This design demonstrates how easily you can add a few open shelves for your potted plants. The space under the stairs is ideal for displaying your plant collection and is far away from any possible damage by toddlers. It is cheap to install this indoor garden, and you will be pleasantly surprised by the charm and uniqueness this small addition will bring to your home.
14. Mini laundry room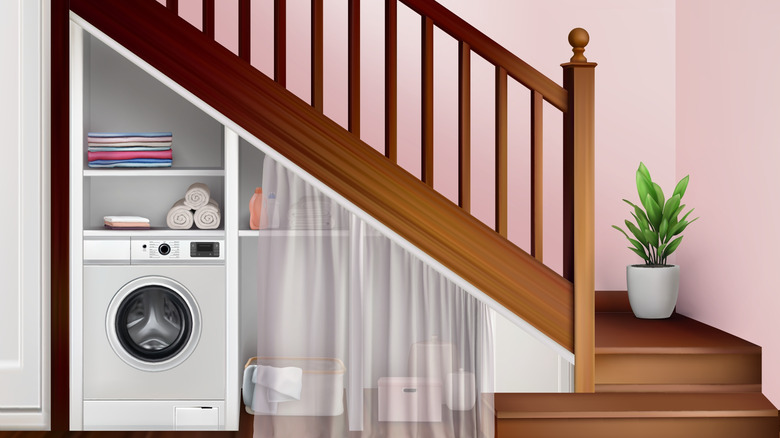 urfin/Shutterstock
Another clever way to use the space under the stairs is to convert it into a mini laundry room. While not every home can accommodate a utility chamber, you can create a makeshift laundry room right below your stairs. Depending on the space, you can include a dryer and a washer without wasting more space around your home. Include a few shelves to give you extra storage for the washing detergents and other items.
15. Squeeze in a washroom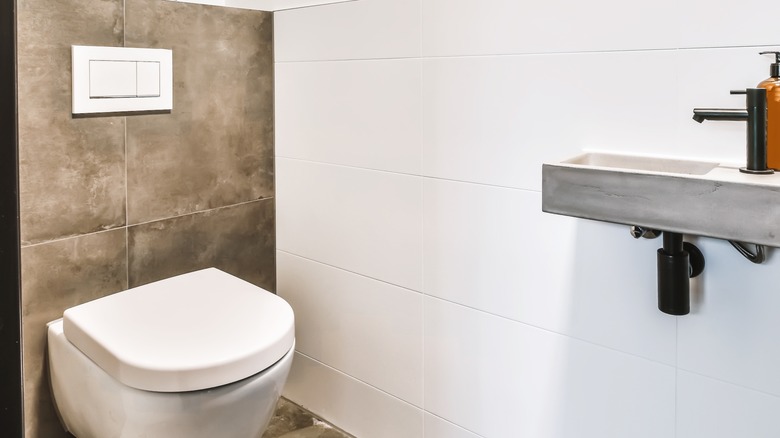 Procreators/Shutterstock
Another great use of the space under the stairs is installing a ground floor washroom. This is reasonably practical if you are short on space and want to add an extra restroom for your visitors or small kids who cannot quickly run to the bathrooms in their rooms. The downstairs lavatory doesn't have to include many functions: a simple toilet and a small hand washing sink will do just fine. If you still have some space to spare, include a few floating shelves for hand lotions and detergents.
16. More open storage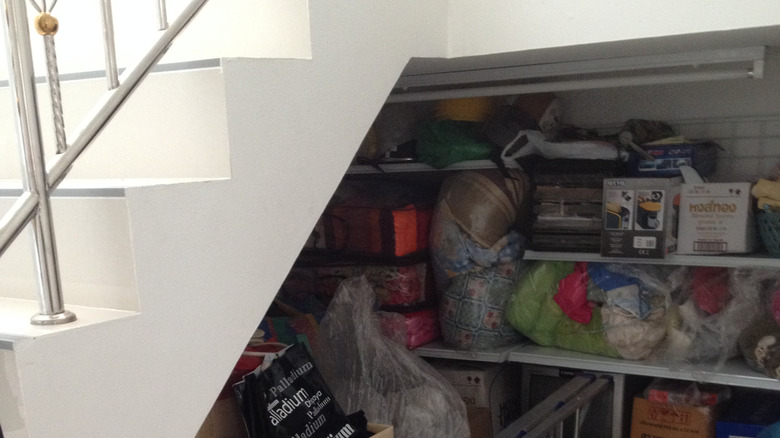 ThanikaThaiPhotoStock/Shutterstock
If the space in your garage is quickly running out and you can't think of a room in your house to store handy items, consider using the cavity below your stairs. You don't have to spend an arm and a leg to convert this space into a functional storage area. Fit a few shelves or buy stackable containers that you can arrange neatly in a pile. Be sure to include a light bulb to make access easier at night.
17. Put an appliance or large equipment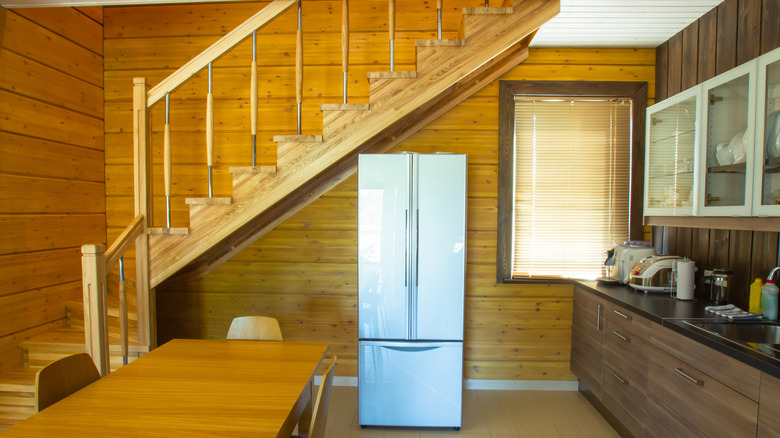 FOTOGRIN/Shutterstock
When a flight of stairs rises, the space left behind is often irregular and challenging to organize. However, one hack for making good of this irregular space is to put an appliance or large equipment right underneath the stairs. This is particularly applicable for an under-the-staircase kitchen, where you can install a refrigerator. But you can also place an arcade machine, pool table, treadmill, and other gym equipment right below a flight of stairs.
18. Wood storage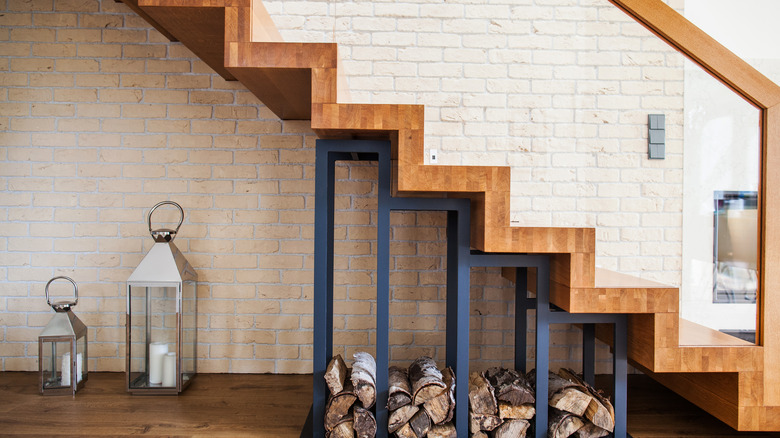 fotokop/Shutterstock
While this might seem unconventional, the space below the stairs is as dynamic as they come. Convert this area into a storage room for your woods during winter. As photographed, build a metallic structure that will allow you to stack the woods on top of each other neatly without falling over. This idea is ideal for staircases that lead to basements.
19. Bedroom
New Africa/Shutterstock
So, how do you make good use of the space under the stairs in your home? Convert it into a bedroom with a work or study station. It is relatively easy and won't cost you a lot of money — all you have to do is find a working surface or a table, bring in a comfortable chair, and you are good to go. If you fancy adding some personality to this space, you can include a few bookshelves that can hold books, photographs, collector items, and one or two potted plants.
20. Bicycle storage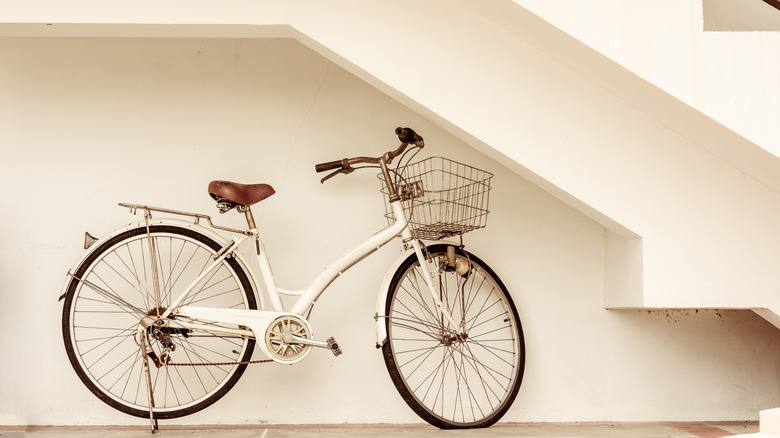 Yanawut.S/Shutterstock
Without a garage, the only likely place to store your bicycle is out in the yard or a shed. But the space below your stairs can be an excellent place to park your bike; it is away from moisture, extreme weather conditions, and possible theft. While it is okay to park this humble mode of transport against the wall, you can go the extra mile and install wall mounts, and it will keep the area organized, clutter-free, and accessible.