15 Bamboo Products To Make The Switch To A More Sustainable Home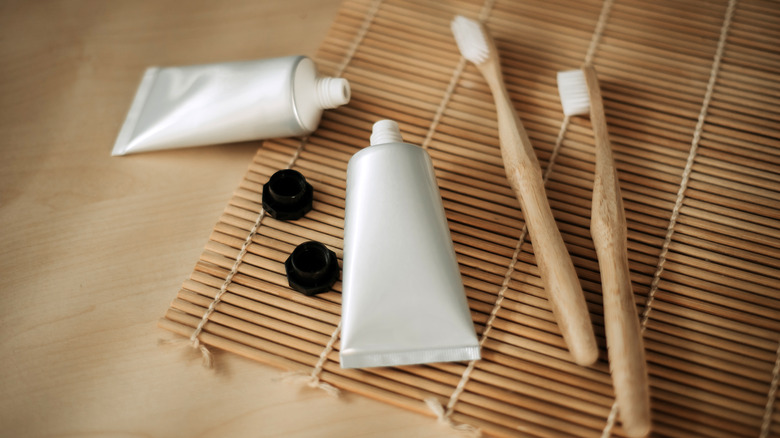 Marcus Chung /Getty Images
We may receive a commission on purchases made from links.
Do you want to make more sustainable decisions about the things you buy and the way you lead your life? Switching to bamboo-made products is a great way to start! Did you know that bamboo is one of the fastest-growing plants on the earth? The Guinness World Records says that some species of bamboo can grow up to 2.91 feet per day – that's 1.5 inches every hour! Not only can this awesome, sustainable material help to protect the environment by being used to make so many of the products we use in our homes and everyday lives, but it's also having a positive impact across the world – helping to economically empower women in Africa and reduce poverty there by creating jobs.
September 18th is World Bamboo Day. What better a day to acknowledge and learn more about the significance of bamboo and how important it is on a global scale? Everyone can get involved in helping to raise awareness about the sustainability, usefulness, and versatility of bamboo. Plus, we have some fab ideas for incorporating more bamboo into your homes and life, from reusable and compostable products to everyday staples that would be normally made from other, less sustainable materials.
1. Bamboo reusable dish cloths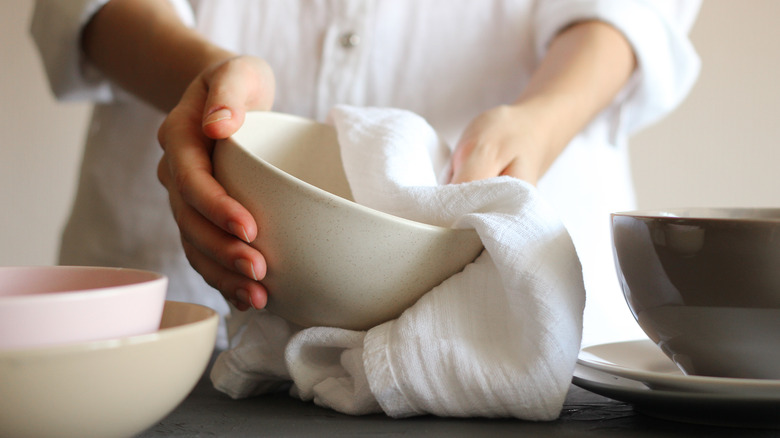 false/Shutterstock
When it comes to incorporating more sustainability into our home lives, reusable household products are definitely the way to go! But why not go one step further and choose ones that are made from a sustainable material like bamboo? Bamboo reusable dishcloths are a great value for the money and gentle on your dishes. They are washable, of course, they dry quickly for convenience, and they're super hygienic. In fact, bamboo is known for its naturally antibacterial qualities because the "bamboo kun", which is found in the bamboo fiber is an antimicrobial bio-agent.
2. Bamboo cutlery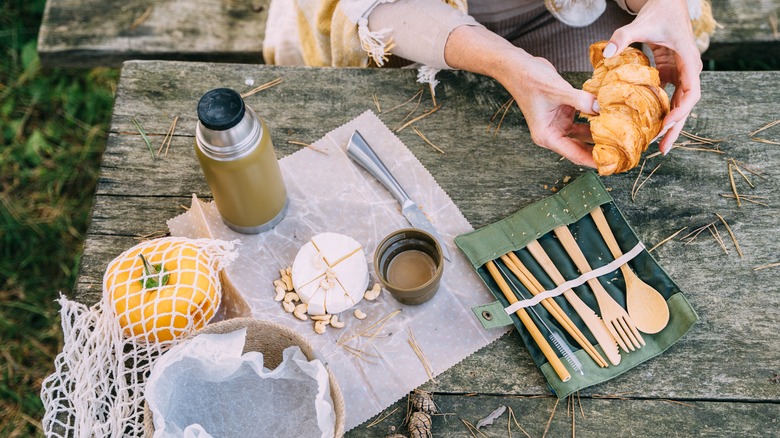 Iryna Inshyna/Shutterstock
Don't be fooled into thinking that bamboo cutlery has to be disposable or just for picnics. You can get bamboo utensils that are hand-carved by fair trade artisans in rural areas in countries like India that boast durability so that you can use them again and again, just like your normal cutlery! Plus, with every bite, you and your kids will have the satisfaction and feel-good factor of knowing that you are contributing to the reduction of deforestation and plastic waste. They come in super cute designs too, making dinner time even more fun and creative fun for the kids.
3. Bamboo drawer organizer
This one is for minimalists who live for functionality: a bamboo drawer organizer is the perfect solution for organizing your reusable food storage container lids, making it a pleasure to use, clean, and put them away. Made from bamboo, this drawer caddy has adjustable dividers too, making it even easier to adapt the product to a variety of different uses; just slide them out and put them back to transform it into an organizer for towels, underwear, and all sorts of other things. Or take the dividers out completely and use the container as a pantry organizer tray instead!
4. Bamboo plant stand
Plant lovers will love how useful this pop-up multi-tier indoor plant stand can be to house a number of houseplants indoors or in the garden. It is beautifully natural-looking and can bring a small-space balcony to life with leafy plants. Because it's made from bamboo, the stand is lightweight for easy maneuverability and collapses for easy storage under a bed or in a closet if you're using it seasonally as a temporary propagation or seed-starting station.
5. Reusable bamboo straws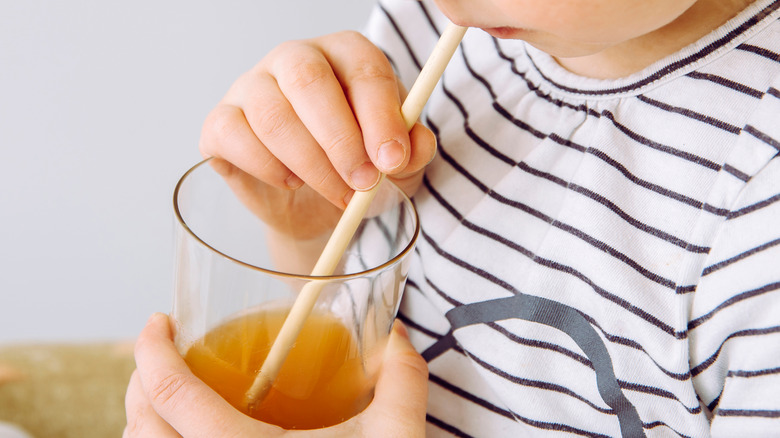 FotoHelin/Shutterstock
Who says straws have to just be for kids? They make drinking your healthy breakfast smoothies fun, and they help to direct staining liquids like tea and coffee away from your teeth... if you don't mind drinking your hot drinks through a straw! Environment-conscious straw lovers only go for reusable straws to reduce plastic waste. The "Bambu" durable, dye-free bamboo straws were winners of the Eco-Choice Award for the newest and innovative product in 2015, and are the only straws that are 100% USDA certified organic. They come in a set of six, so there's plenty to go around the whole family.
6. Bamboo air purifying bags
If you love sustainable products, and you have pets, prepare to get excited about these air-purifying bags. They're filled with 200g of naturally-activated bamboo charcoal and are perfect for effectively deodorizing your home. They work by absorbing pet odors through moisture in the air. You can also use them in your kitchen or bathroom, or even pop one in your teen's sports bag — anywhere where strong smells need to be eliminated. They look cute too and come in packs of four with attractive muted colors that'll blend into your home environment!
7. Bamboo compostable planters
Plastic plant pots may be cheap, but eco-conscious plant lovers will prefer alternative bamboo planters that can be composted. Made from sustainable bamboo, rice starch, and resin made from naturally occurring organic compounds, they even look good, so you don't necessarily have to buy an expensive outer pot. They're perfect for growing herbs on your windowsill. Despite being biodegradable, the Tierra Garden Haxnicks pots available on Amazon are durable and have the potential to last for more than five years, but they break down when composting in just 6-12 months when you break them up into small pieces to speed up the process.
8. Bamboo soap dish
Bamboo always looks good in the bathroom, elevating your decor and providing those spa vibes. This well-designed and durable eco-friendly soap dish by the Net Zero Company is made from bamboo that can be composted when you no longer need it! It'll make transitioning from liquid soap in plastic dispensers to bar soap an absolute pleasure, keeping your bathroom surfaces free of soap slime. Plus, the vents incorporated into the soap dish design enable your bar of soap to dry out properly, which will make it last even longer.
9. Bamboo lamp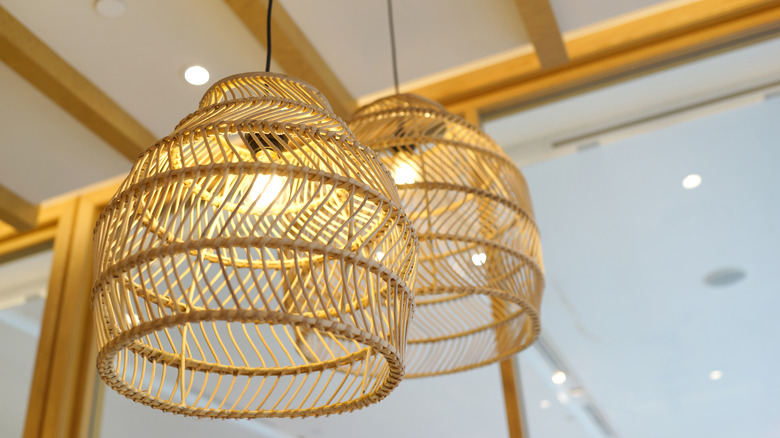 Thai Liang Lim/Getty Images
Bamboo lamp shades give off the most beautifully warm and welcoming glow with handwoven rattan designs letting light filter through to light up the room, creating mesmerizing shadow patterns on the walls. Anyone who loves nature-inspired decor will appreciate the organic, earthy designs that bamboo lamps exude. With an eco-friendly LED bulb, you can enjoy the luxury of lighting up your home with a sustainably made bamboo lamp guilt-free.
10. Bamboo rolling patio shade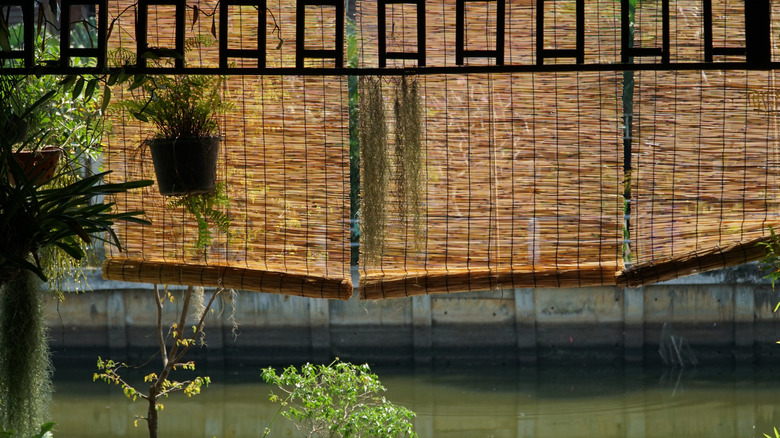 finchfocus/Shutterstock
What better material to use in your garden to transform your outdoor space into a tropical paradise than planet-friendly bamboo? Rolling patio shades made from bamboo are an affordable way to elevate patios and create a comfortable beach-hut nook in your garden. They provide plenty of protection from the sun but also enough ventilation to let cool breezes through. Simple hook installation lets you hang the blinds in less than 15 minutes, and cord-free designs make them kid- and pet-friendly.
11. Bamboo cutting board
Bamboo cutting boards are an affordable, eco-friendly alternative to traditional wooden chopping boards, and they look great in modern kitchens. Bamboo is strong and durable — perfect for cutting on! They're multi-functional essential pieces of kitchen equipment, too. Place them over your sink or hob for extra working surfaces in small-space kitchens, and they're super useful as serving boards for fresh hot bread and cookies.
12. Bamboo bath mat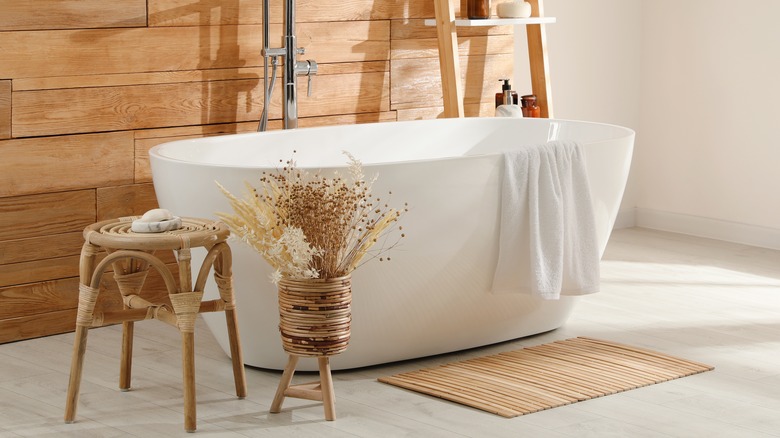 false/Shutterstock
One of the best things about a bamboo bath mat, aside from it being made from a sustainable material that is better for the planet, is that it is so much safer and hygienic than a regular soft bath mat. Bamboo naturally dries out quickly, with plenty of airflow due to the vented designs available. They're low-maintenance and easy to wipe down and clean, so you don't have to worry about having a spare mat while you wash the dirty one. Plus, who doesn't love that classic spa look in their bathroom?
13. Bamboo cutlery tray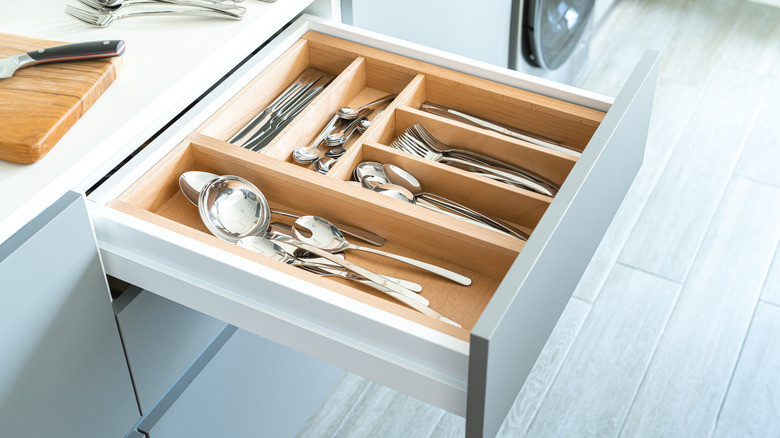 Fcafotodigital/Getty Images
Cutlery drawers without dividers are a universal pet peeve because nobody enjoys digging through sharp knives and forks looking for a teaspoon! There's just something so elegant about a well-fitting wooden cutlery tray though, don't you think? If you're trying to be environmentally conscious, why not go for one made out of sustainable bamboo? They have that minimalistic vibe, they'll last forever, and you'll love setting the table for dinner! Look for one with an expandable design to fit your drawer.
14. Bamboo derived blanket
Having extra blankets around the house is always useful for snuggling up on the sofa or keeping off the chill when sitting in the garden. This large queen-size waffle-design blanket by Bedsure on Amazon is made from a blend of cotton and rayon, which is derived from bamboo. This combination makes it lightweight and breathable. These bamboo-blend blankets come in a variety of colors and the fabric is soft enough to use against baby's skin, with thermoregulation and moisture-wicking properties.
15. Bamboo bread slicer
If you're looking for an eco-friendly housewarming gift, or just something unusual yet useful for your own home, this bamboo bread slicer available on Amazon might be just the thing. It comes with a premium stainless steel bread knife and has a crumbs catcher. To top it off, it's lightweight and foldable, making it easy to store when not in use. It's perfect for making homemade sandwiches or slicing bread to toast for fussy kids who prefer thin slices!