What Paint Finish Should You Use When Repainting Your Deck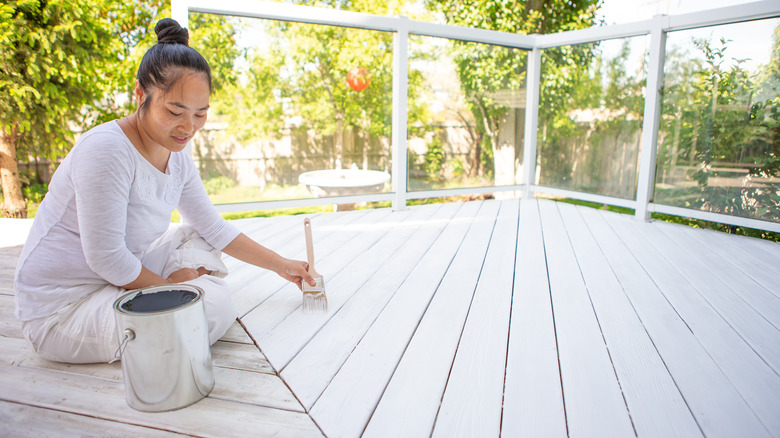 Christopherbernard/Getty Images
Deciding whether to paint or stain your deck can be a challenging choice, as both options have noticeable advantages. However, if you are looking for a deck color that complements your home's exterior, paint is the better choice, as it is available in far more color options than stain. You can improve the look of the finished product by using the right type of finish with your paint job, where the main options include eggshell, satin, semi-gloss, and high-gloss. The high- and semi-gloss finishes provide a higher level of reflectivity than the others. Beyond affecting the look, the finish greatly affects the amount of required maintenance. Select more reflectivity if you want to spend less time having to clean the area, and select less reflectivity when you need to hide imperfections in the existing deck surface.
We must mention that the finish you select isn't quite as important to the longevity of the job as selecting among oil-based, acrylic, latex, and epoxy paints. These all work nicely on decks, although oil-based and epoxy delivers the greatest level of durability when dampness is frequently present. Acrylic and latex are less expensive options, but they may not last as long in harsh weather locations. Although a professional paint job on a deck can last as long as 10 years, you may find that you need to do the job more often if the space has heavy foot traffic, significant temperature extremes, excessive exposure to sunlight, or a lower-quality paint.
When you should use glossy paint finishes on your deck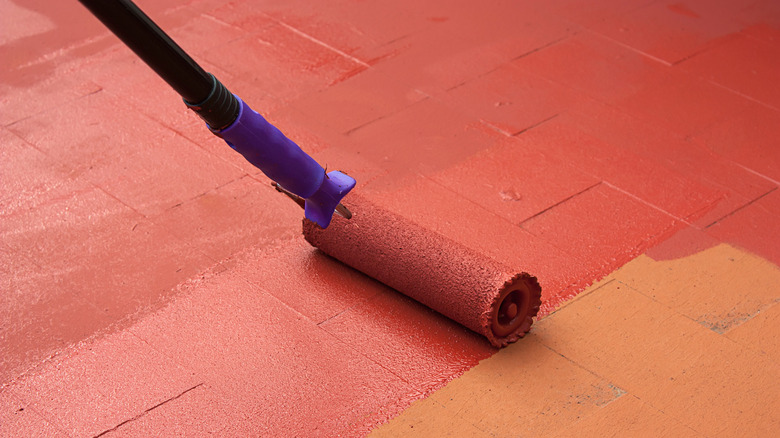 maicasaa/Shutterstock
The most common types of deck paint you can use that have a noticeably glossy finish are semi- and high-gloss. Each of these options has a reflectivity of at least 41%. These options deliver the highest level of reflectivity among deck paints, which some people prefer in the finished product while delivering a few other benefits.
When the deck area receives a lot of foot traffic, the glossy finish protects from scuffs and scratches better than other options. This means that you should not have to repaint the deck as often, as it will maintain a like-new look for a longer period of time. The reflectivity aspect of the finish also helps it to avoid absorbing water, which should provide an improved lifespan for the wood of the deck. As another advantage, using a reflective finish in the deck paint gives you a better chance of matching the deck color and finish to the exterior trim on the surface of the home, which often features glossy paint.
However, with a high reflectivity in the paint, it may clearly show scratches in the wood and other imperfections that occur during the application process. Such finishes are also more difficult to apply than less reflective options, which makes it challenging to do as a DIY job, so you may want to hire a professional to do the work.
Best situations for using non-glossy paint on your deck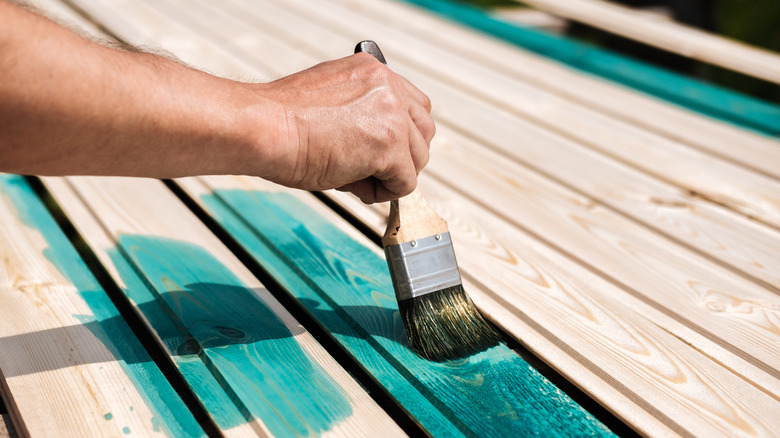 Lia_Tsvet/Shutterstock
The most common surfaces that have a minimal amount of gloss for painting your deck are eggshell and satin. These low-sheen options have a reflectivity of less than 40%. Eggshell has a look that resembles a flat paint with a slight gloss, generating a minimum amount of luster. A satin finish delivers a natural appearance for the deck close to a matte while still delivering a slight gloss. When you have a wood deck that has constant sun exposure, the lack of glare from the eggshell or satin paint finish is a benefit.
Other benefits of using eggshell and satin include hiding imperfections in the actual wood surface better than glossy finishes. For an older deck that has a lot of scratches, a flatter paint finish is helpful. It also is an easier finish to clean than those with a lot of reflectivity. Eggshell is especially good at holding its color when you must scrub the deck material while cleaning. It is not susceptible to burnishing, which can be a problem with matte paint, where the color of the surface seems to change with significant scrubbing.
One disadvantage of a flat paint finish is that it can be difficult to hide dirt and grime, meaning you may need to clean it frequently. Additionally, some people simply prefer to have a glossy look on the deck, which isn't as obvious with eggshell and satin.