The Nailless Way To Hang Garland Off Your Fireplace This Spooky Season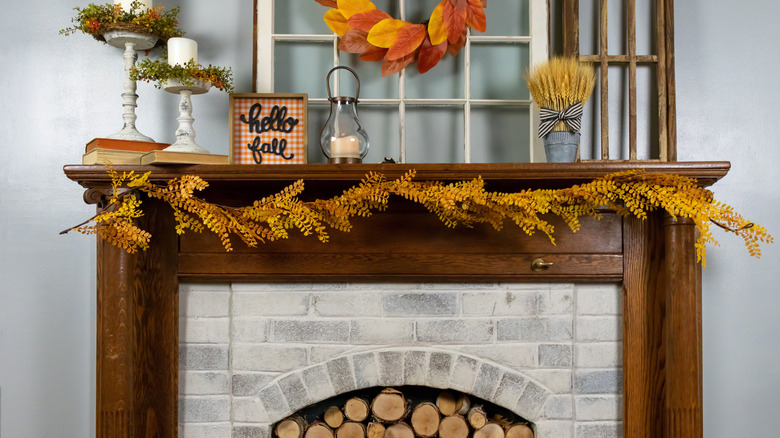 Kristen Prahl/Shutterstock
We may receive a commission on purchases made from links.
Fall is the beginning of garland season, and if you have a fireplace mantel, that's prime real estate for all manner of cheerful decorative items. During this time of year, you might begin by hanging Halloween garlands, and then in no time at all, you'll be putting up festive holiday decor for Christmas or simply strings of berries and pine needles to celebrate the start of cold weather. Luckily, modern advances in adhesive-backed temporary hooks mean you don't need to use nails on your fireplace mantel, which would leave permanent holes that may be unsightly once the season is over.
The nailless way to hang any type of garland is to use adhesive straps from the Command Brand that are temporary, won't lift paint off your mantel or make holes, and which you can easily remove. You'll want to use several across your mantel to securely hold a long garland. If you don't already have these, you may want to invest in a few packs. Their original purpose is to hide your tangled mess of computer cables, and who doesn't need to do that in their home?
How to hang your garland the low-risk way
Commonly referred to as "straps," you'll find the item you need listed on Amazon as Command Cord Bundlers. Purchase as many as you'd like for your specific mantel's size. In order to use this product, your garland needs to have some sort of cord or branch you can wrap the strap around. To use these straps, simply adhere the sticky portion to the top of your mantel, wrap the strap around your garland, and then attach the strap inside the clip. Besides saving your fireplace from nail holes, this could also benefit those who have a narrow mantel, as you'll attach the garland on the top instead of from the front. 
In addition to garlands, you can use these cord bundlers on your fireplace with Christmas stockings, strings of fairy lights, a Happy Birthday sign, decorative crepe paper, or tinsel in case you've decided not to get a tree this year. If you're looking for ideas on garlands to hang this spooky season, try stringing up pumpkin lights, autumn leaf branches, or beaded garlands in Halloween colors. As an alternative, you can even add charming decor to your mantel with a genius pool noodle hack and save the garlands and Command straps for later in the season.