This Budget-Friendly Art Hack Will Give You Gallery-Worthy Prints For Your Home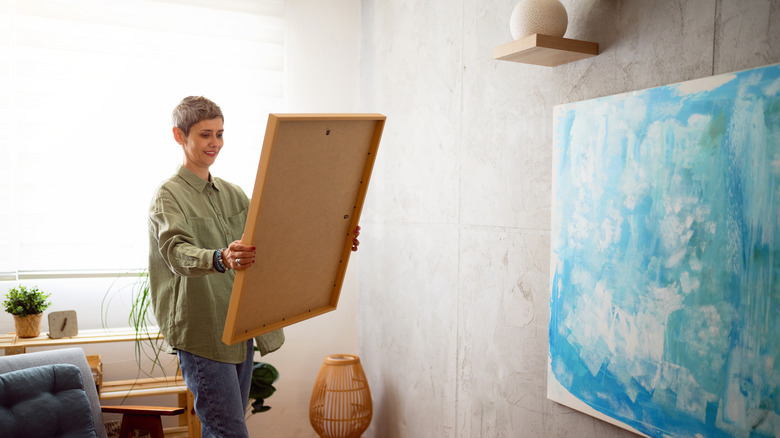 Srdjanpav/Getty Images
Be it a gallery wall, a key piece to accent a particular space, or a painting you've had your eye on for a long time finally within your grasp, artwork takes home decor to a new level. Whether you're an art connoisseur or just vibe with certain colors and styles, filling your walls with visual stimulation has become an art form of its own. However, not all budgets are made for original Van Goghs and Monets, which is why the internet has once again come to the rescue with a handy hack for finding free art. You might be aware that The National Gallery of Art website allows you to download famous pieces of artwork for free, but did you know that once you've downloaded them, you can create a gallery of your favorite museum pieces in your own home?
Creating a gallery or drawing people's attention to just one piece is easy with this trend, and it won't break the bank either. The first step to nailing (no pun intended) this hack is to pick your print and frame. Picking these out and pairing them up will give you an outline for the size of print you need. Framing a piece of art amplifies its visual effect, making it stand out on your wall and creating a sophisticated eye-catcher. Your frame doesn't have to be expensive, and to save a few hundred dollars you could just pop over to a local thrift store to repurpose an old frame.
Prepping your art and frames
Depending on the condition of the frame you find, it might need to be sanded or repainted to cover chips, scratches, or discolored areas. After cleaning your frame, try using sandpaper or a sanding sponge to help even out the surface and rejuvenate the wood before painting it a new color (or just to help give it a shabby chic finish). The most important part of upcycling secondhand frames is to ensure it is still sturdy enough to hang. Check the build by wiggling each edge and corner — otherwise, you could end up with a broken frame soon after hanging it. While your pieces don't need to have glass, intact glass coverings can protect your prints. 
Lastly, consider the artwork you plan to place inside before painting the frame, so you can match your color choices with elements in the artwork that will accentuate both. Once you've downloaded your piece or pieces, you can use FedEx or local print shops to get good-quality prints. You can also do this step on a home printer, but you want to ensure your sizes are correct and that your machine is up to the task. The best way to gauge what size download you need is to measure your frame so everything matches up.
Tips for making the most of this hack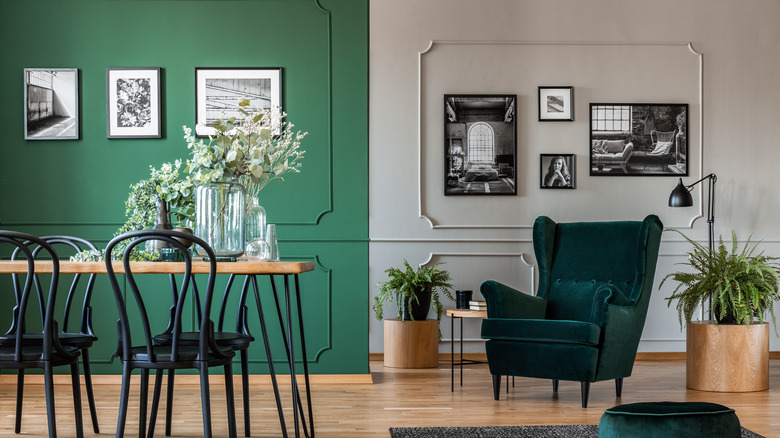 Ground Picture/Shutterstock
Most FedEx printers can produce high-quality photos in varying sizes, which will sit nicely under your refurbished frame even if no glass is inside. While a glass layer protects the paper underneath from humidity and other elements, it is not strictly necessary if you can't find a frame with an intact addition. The biggest perk of using this art hack is that you can change your pieces as often as you want, matching your downloaded artwork to your home's motif, decor, or even the seasons and holidays. Instagram user @theshowgals even tried the ghost trend on her gallery wall, swapping out staple pieces for these spooky additions.
When ordering your prints, try to opt for a sturdier cardstock rather than standard lightweight paper, as these materials will stand up to wear and tear better than standard sheets. One added bonus of downloading and printing art rather than purchasing it from a store (or an actual gallery) is that you can cut or trim your choices to fit specific frames if they don't match your selections. This gives you more space to design outside the box and plan a wall around different shapes, adding more dimension! Now you only have to worry about finding enough blank walls in your home to accommodate all your artwork.