The Picture Frame Cleaning Tricks You Should Be Using Yourself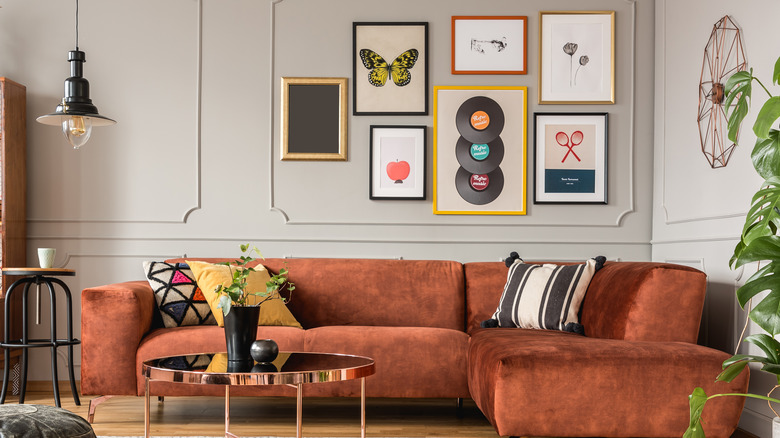 Photographee.eu/Shutterstock
One of the easiest ways to decorate your home is with trendy wall art or photographs. Adding framed work to your design is a great way to personalize your space and make it feel more complete. If you have multiple art pieces you want to display, a gallery wall may be right up your alley. The perfect gallery wall allows you to create a collage of many different pieces of meaningful art. 
Maintaining your frames will protect your artwork and make your home appear tidier. So, of course, picture frames need to be cleaned regularly. The good news is that this important-yet-easy task should only take you a minute, per E Frame. Simply adding it to your regular dusting routine is a great way to remember to clean your frames. To ensure the best care, it's important to understand how to clean each type of frame and which practices could potentially damage them.
How to clean your picture frames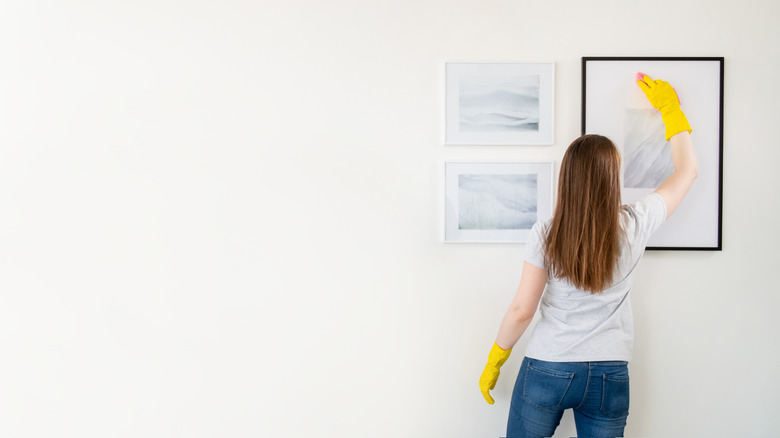 Golubovy/Shutterstock
According to Frame It Easy, picture frames are low maintenance. However, they do need to be regularly cleaned. Picture frames are made up of two main parts: the outer frame, which is typically made of wood, metal, or plastic, and the picture cover, which can be made of glass or acrylic.
To clean a wooden or metal outer frame, E Frame explains that a damp cloth should suffice. Plastic frames can be cleaned with a plastic cleaner. If your frame needs a deeper clean, a mild soap mixed with warm water should do. For ornate frames, scrubbing them with a toothbrush is recommended. Frame It Easy says that glass or acrylic picture covers only need to be dusted, which can be done with a dry microfiber cloth or a duster. If you're trying to remove fingerprints or other stains, use mild dish soap on a damp cloth.
Potential dangers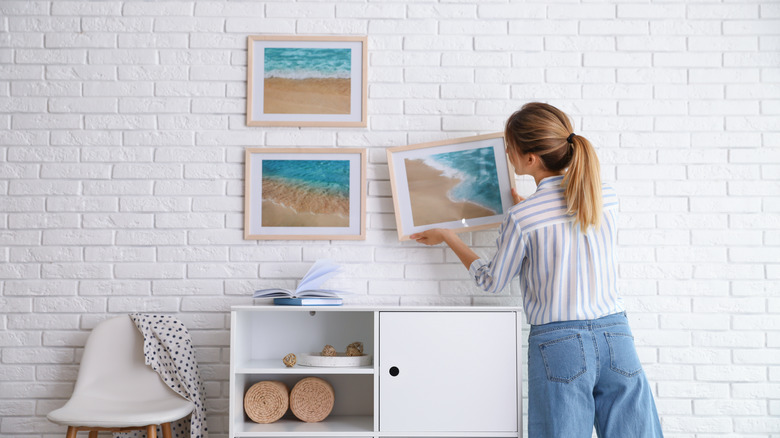 New Africa/Shutterstock
To maintain your picture frames, you need to know what could potentially damage them. According to Frame It Easy, it's important to keep your frames away from water. This is because water could leak into the frame and damage the artwork inside. Unless a frame is specifically made for the outdoors, it should only be used inside a home. Frames can also be damaged by drastically changing temperatures. Conditions such as extreme heat or humidity could cause them to warp or bend, therefore hanging them above the fireplace or in the bathroom may not be the best option. To avoid this, hang your frames in places where the temperature stays fairly consistent. 
Harsh chemicals can also damage picture frames. As Level Frames explains, solutions with ammonia can damage acrylic picture covers or plastic outer frames. This is why only mild cleaners and water should be used to clean picture frames. You'll also want to avoid over-cleaning your frames. A routine dusting and occasional deeper clean is all your picture frames need to stay in great shape. Finally, using a microfiber cloth to clean your frames is best, especially on those with acrylic covers. This is because materials like paper towels could scratch the cover or leave small pieces of lint behind.