Why You Should Mulch Your Garden In Late Summer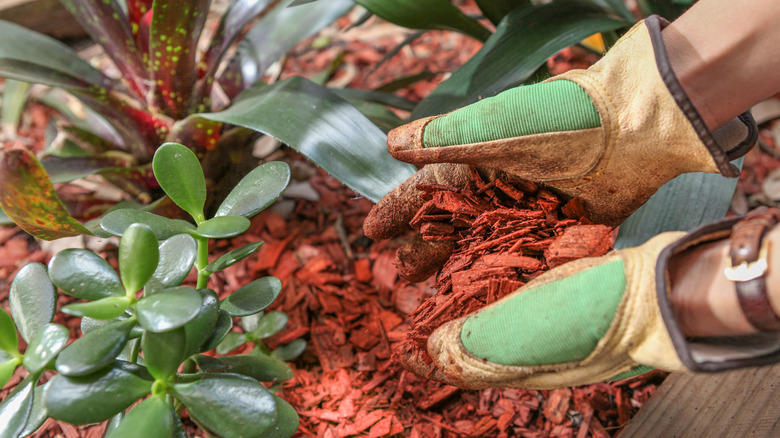 Ozcameraman/Getty Images
Most gardeners are familiar with the reasons for mulching, but may not necessarily consider the best time to do it. Mulching in spring prevents weeds, and in summer it can help preserve moisture during hot dry days. Mulching in the fall can give protection to cold-sensitive plants. But should you mulch in late summer? There are a few reasons why this is a good idea. You can protect plants against late season heat, lock in moisture during spells of drought, and replace any mulch that has been washed away or moved by weather or other factors.
Mulching your flower beds and other garden areas serves two general purposes: decoration and protection. By the time late summer arrives, mulch has a tendency to fade, wash away, or generally start to look less fresh. You may also lose coverage needed to protect roots and prevent weeds. In some areas, the late summer into autumn months can be the most pleasant season to spend time in the garden — there are cooler temperatures, fewer insects, and a cacophony of color and textures as plants shift in their growth cycle. Mulching at this time can revive your garden's beauty before the season ends.
The best mulch to use in late summer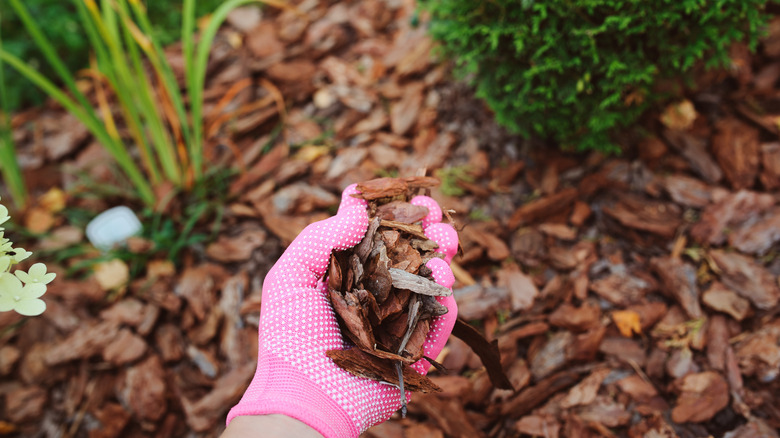 Maria Evseyeva/Shutterstock
Most mulch is made of wood chips or bark. You can refresh your existing mulch with the same kind you used in spring, but some choose to use a natural mulch (such as pine bark or untreated wood chips) that will break down into the soil as winter progresses. These mulches add nutrients to the soil because they lack dyes, herbicides, or other chemicals that can impede the breakdown of the wood chips.
The type of mulch you choose to refresh your beds in late summer depends on your needs and preferences. If you want to keep the bright, uniform look of dyed mulch you applied in spring, keep in mind you may need more of it than you think to achieve that same consistent coloring. This is because dyed mulches can fade a bit from sun and rain over time, and the fresh mulch will look brighter and more vibrant. Over the winter, the dyed mulch will again fade and need to be replaced in spring. Some gardeners scoop off some of the old mulch to make room for the new.
Natural mulches applied in late summer will tend to decay a bit faster and will add their nutrients to the soil. This can benefit your garden plants over the winter and give them a good start for spring. In fact, it's a great idea to apply a bit more mulch just after planting your spring bulbs, too.
Which plants benefit from mulch in late summer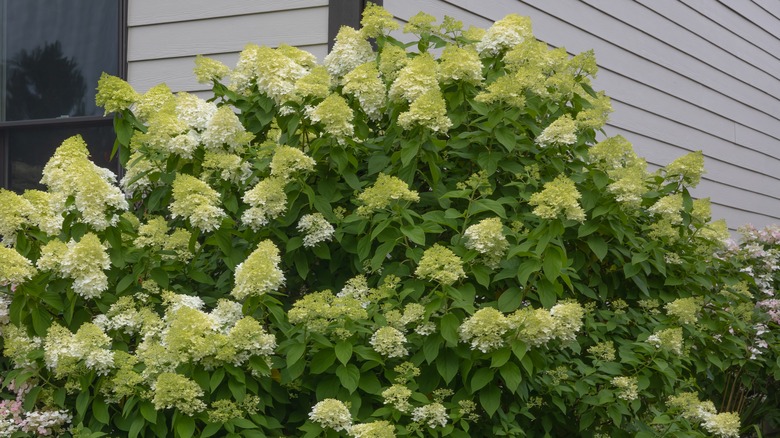 Molly Shannon/Shutterstock
You may choose to refresh your entire flower or shrub beds with mulch in late summer, or maybe focus on specific areas or plants. There are a number of plants that really benefit from a late season application of mulch, and if you do it in September, you can get ahead of your garden tasks before the end of the season. While some plants like special mulch later in the fall (like pine straw for roses), a light layer of natural wood mulch benefits many plants that are still in the midst of their growing cycle.
Shrubs that benefit from mulching in late summer or autumn include hydrangeas (especially paniculata, such as limelight, which are just starting their pre-autumnal color shift from green to white to rose), rose of Sharon and other hibiscus, caryopteris (with flowers loved by late summer pollinators), and reblooming roses such as knock out roses. Many perennials that have been deadheaded or trimmed to keep them looking neat can also get a fresh layer of mulch now, like day lilies, bee balm, phlox, hostas, yarrow, echinacea, and columbines.
Protection and decoration go hand in hand. Let your late blooming perennials shine now by accenting their colors with a light layer of mulch. This includes sedums, perennial ageratums, mums, and asters. Don't forget also to mulch any annuals still flowering in your garden, including zinnias, cosmos, sunflowers, dahlias, snapdragons, portulacas, and coleus.