DIY A Dollar Tree Moss Pole And Your Plants Will Thank You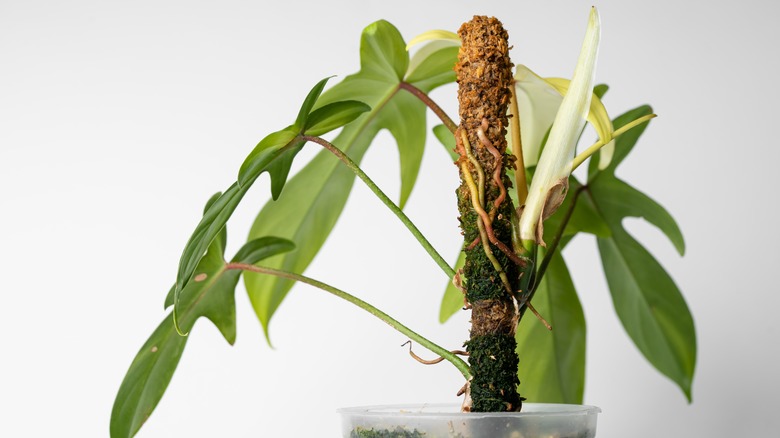 mokjc/Shutterstock
If you have climbing plants, then you might be intrigued by the idea of adding a moss pole to your home, which is literally a pole that will grow moss and give your plants a branch-like support. You can create your own using a few simple tools and supplies, as well as a Dollar Tree paper towel holder. TikTok user ThePlantManCompany posted a video with a caption that told followers, "Create your own hanging moss poles with this simple Dollar Tree hack! Turn your garden into a vertical wonderland."
"You leveled up for sure! I would love to make some of these, thank you for sharing!!" one person commented while echoing what plenty of others expressed in their own responses to this clever idea. If you agree, you'll be thrilled to find out that ThePlantManCompany provided all the info you'll need to tackle this project.
Along with 16 gauge multipurpose wire, half-inch wire mesh (curled into a pole), garden clips, and a paper towel holder, you'll also need a plastic plant pot that's around the same size as the base of your paper towel holder. Grab yourself a metal paper towel holder from Dollar Tree in order to follow the tutorial to a tee. On top of that, you'll want a soldering iron on hand (or something to punch holes), zip ties, and protective gloves, as well as sphagnum moss and perlite. Now that you have everything you need, you can get to work on your own DIY moss pole.
Steps to create your DIY Dollar Tree moss pole
When you've gathered your tools and supplies, then you may want to set up to D.I.Y. your moss pole like ThePlantManCompany's in a spot where you can make a little mess like outside in your yard. You can then get started by using the soldering iron (or another tool) to create a few holes in the bottom center of the plant pot in line with the inner base of the paper towel holder. Now, use these holes to make an opening large enough for the upper section of the holder to slide through. Next, add the wire mesh pole around the holder and secure it with a zip tie. Grab the 16 gauge multipurpose wire and put it inside the pole. Make sure to create a curved end on the wire first so that it can hook around the top of the paper tower holder.
Once that's complete, take the sphagnum moss and mix in the perlite as well as just enough water to dampen the mixture. It's probably best to do this in a large container or bucket if you have one to keep things tidy. Finally, stuff the mixture into the mesh pole until it's filled. Shake off any excess, and you're ready to go. At this point, you can pop a houseplant in the pot and hang it up in a place where you can admire both the set-up and your handiwork.