Build It Forward's Shane Duffy's Best Tips For Keeping A Shower Curtain Rod From Falling Down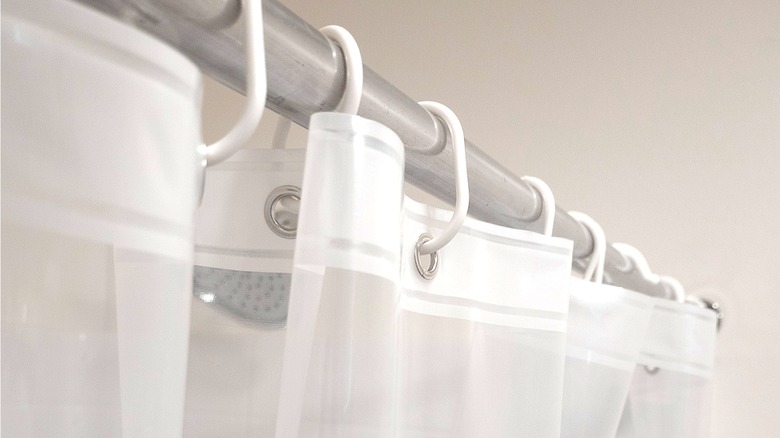 LifeisticAC/Shutterstock
We may receive a commission on purchases made from links.
If you're lucky, you have a shower setup that stays in place and doesn't budge year-round. Besides routine cleanings and the occasional curtain swap, you find there isn't much you have to do in order to keep everything where it needs to be in your bathroom shower. Unfortunately, however, many people aren't so fortunate. A shower curtain rod that refuses to stay put can be a nuisance at best and a jumpscare while you're sudsing up at worst, but, thankfully, HGTV star Shane Duffy shared in an interview with The Washington Post some solutions that can prevent this issue from happening altogether.
Duffy's experience as a renovator and a builder might leave you a bit nervous that the solution will involve a large-scale demo or hefty investment, but it's nothing that serious. Instead, both of the options require little to no effort and a budget of only a few dollars — a small price to pay to avoid the embarrassment and annoyance of a structurally unsound shower setup.
Solution 1: Buy a new tension rod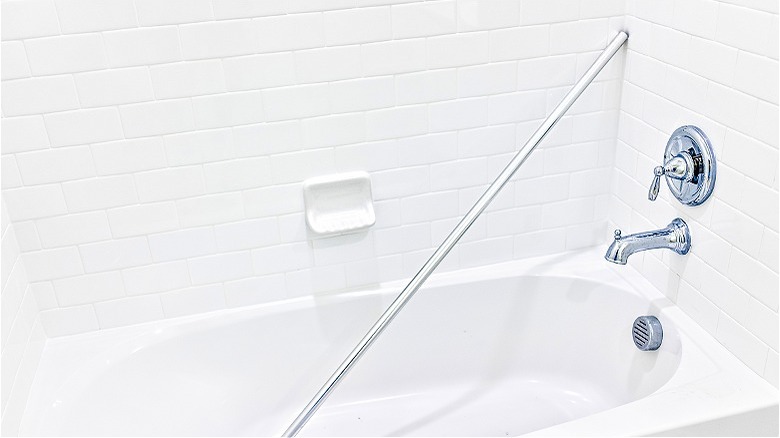 Kristi Blokhin/Shutterstock
Sometimes, the answer is almost deceptively simple. If your shower curtain rod keeps falling down, you might just need a replacement. After years of wear and tear in a room full of humidity, the springs in your existing tension rod can deteriorate. Such a rod will support the weight of a curtain for anywhere from a few hours to a few months, but, eventually, the rod will slip because it's no longer providing enough force. As Shane Duffy said to the Post, "Buy a new tension rod curtain; the new springs should be able to hold up most curtains."
This, obviously, is the easier of the two solutions in this article, so if your existing rod is more than a few years old, it's worth a shot. Make sure you buy one that fits the measured length of your shower so you can avoid having to go through the annoyance of an attempted install and immediate return. Basic tension rods, like this 28"-48" Round Spring Tension Curtain Rod from Target's Room Essentials line, should cost under $10, and they don't require tools to install either, so it's an incredibly simple fix.
Solution 2: Install a wall-mounted rod instead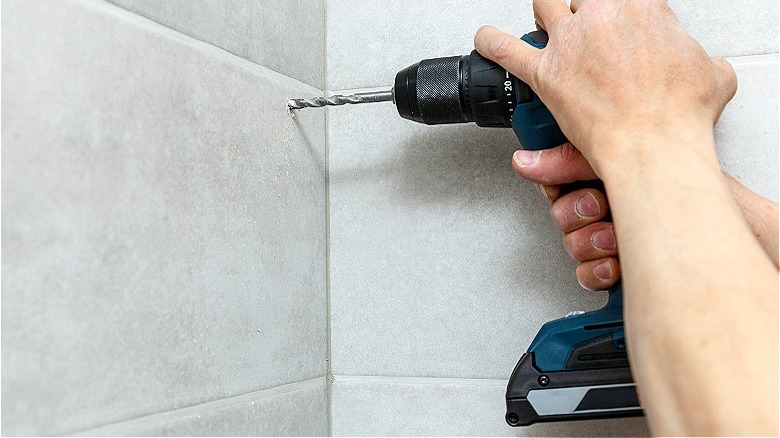 Vladimirgerasimov/Getty Images
If a tension rod, even when bought new and correctly sized, is still falling down from the shower walls in your bathroom, it might just be time to install a wall-mounted curtain rod instead. This is a bit more difficult because it can include having to break out the power tools to drill tile without cracking it, but, with the proper bit, Shane Duffy says it shouldn't give even a beginner DIYer any issues (via the Post).
"Buy a curtain rod that mounts into the wall," said Duffy. "If you feel comfortable with your DIY abilities, then you should have no problem mounting it through tile (use a diamond bit or tile bit). If you are not comfortable, phone a friend who is or hire a local handyman." This shower curtain-rod setup will give you more stability than a tension rod alone and eliminate the issue of slipping altogether.