Avoid This Questionable Wall Art That Joanna Gaines Selected On Fixer Upper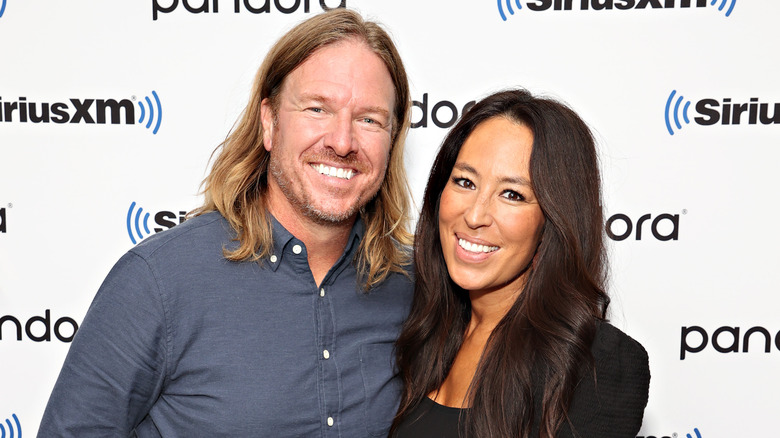 Cindy Ord/Getty Images
Every popular designer may have a few decorating skeletons in their closet. Some are the product of trends that have come and gone, while others are just a bit too much of a good thing. HGTV and Magnolia Network hosts Chip and Joanna Gaines have long established themselves as experts in creating beautiful, yet cozy and casual, homes. Most boast their signature modern farmhouse aesthetic, a style which they and other designers have put on the map over the past two decades.
Realtor.com recently recounted some of the major missteps in Chip and Joanna's history, including an early episode where Joanna Gaines paired a salvaged antique window frame with hanging mason jars and birds. The combined effect seems frivolous and overly fussy. While salvaged frames have emerged as a popular and enduring design element, particularly in farmhouse and cottagecore aesthetics, Gaines' assemblage tips a bit too far into a variety of shabby chic that has seen better days.
What to avoid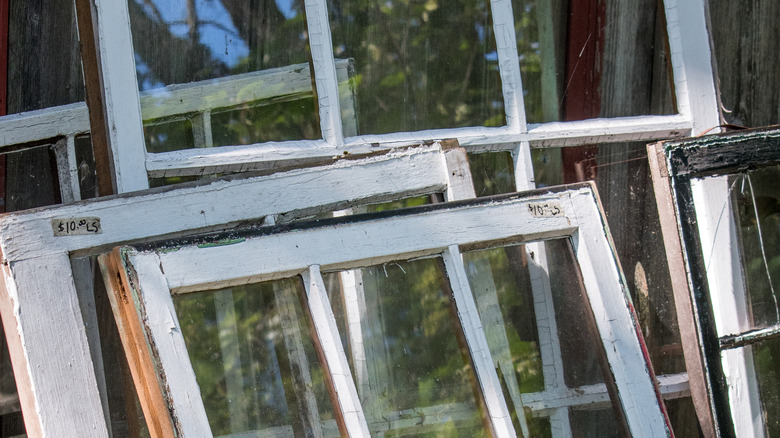 Susan B Sheldon/Shutterstock
While all of these things together may look a little dated and overwrought, there are many examples, from both the Gaineses and other contemporary designers and DIY-ers, that use antique window frames to their best advantage. They are often a perfect vertical element for a shelf or mantel, or, when hung on the wall, can create a great focal point, particularly if you lack actual windows in a space. Old windows also make a great DIY base for creating functional items like hanging peg boards and coat racks. The danger comes in combining too many accents with the same whimsical feel in too small a space. 
When dealing with salvaged pieces like windows, it's best to be cautious and avoid anything that may harbor chipping lead paint, broken glass, pests, or splintering. Rather than a beautiful accent, an unattractive and broken window frame can become much more of an eyesore or hazard than a work of art. Good pieces, however, can still be found at salvage yards, estate sales, and flea markets in abundance, often for very little money.
How to use salvaged windows in your home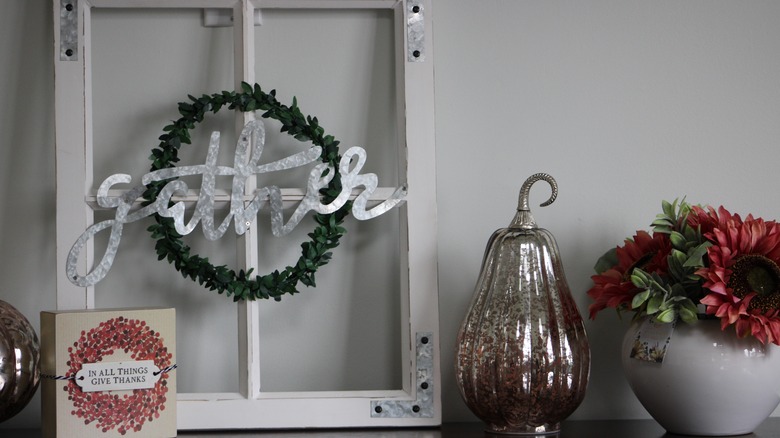 Jaclyn Vernace/Shutterstock
While the fluttering birds, the jars of daisies, and the weathered window scream an aesthetic that may be past its prime, you can use a salvaged frame in a stylish way in modern rooms. The key is allowing it to shine without too much adornment, particularly when placed with other objects like on a mantel or shelf. With or without glass, an attractively weathered frame may be the perfect solution and focal point for a wall that lacks architectural interest.
If you want to use your window in a functional way to avoid the frivolous feel of Gaines' window mistake, try backing it with chicken wire to create a perfect spot to tuck snapshots and other ephemera. If you add a few screw-in small hooks, you can create an organizer great for hanging necklaces and other jewelry for display. Use larger hooks to create a great spot for hanging totes, jackets, and keys. You can also use the windows as background for other display items like plates, artwork, and mugs.