Raise Your IKEA MALM Nightstands For A High-End Look On A Budget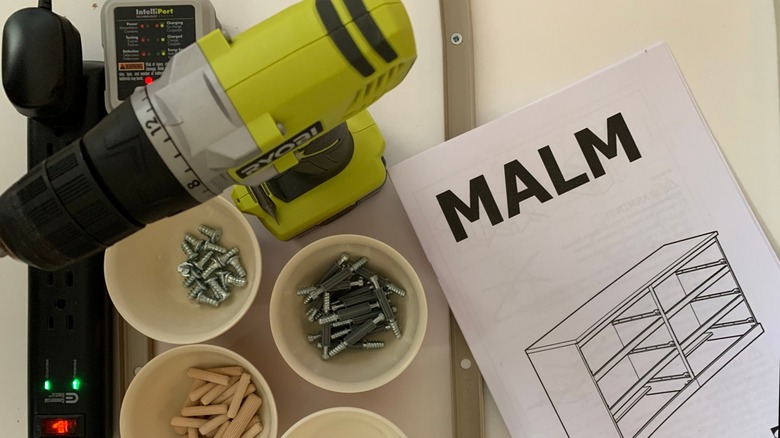 Heerapix/Shutterstock
We may receive a commission on purchases made from links.
While it's nice to have high-end furniture, that kind of quality will cost you. If you're a renter, making that type of investment might not be worth it if you're going to move at some point, as having furniture moved can be extremely expensive. It can also be lost or damaged in the process. So, you might want to opt for the next best thing: Inexpensive furniture that you hack to look expensive. That's exactly what TikToker @home_decor_more did by hacking an IKEA MALM two-drawer chest to make a swanky nightstand. Turning a piece of furniture into something that looks high-end can be as simple as adding legs to raise it off the floor.
To transform her IKEA chest, all she did was give it a new coat of paint, a supportive bottom, legs, and some chic pull handles. The piece looks unrecognizable from its original form! The nightstand was paired with decor to match its accents and looked like something you'd see on HGTV. And you can make one just like it for under $150.
How to make an IKEA hack look high-end
For this hack, you'll need a two-drawer MALM piece at $89.99, two gold drawer pulls that come five in a pack for $12.73 on Amazon, four table legs at $5.97 each from Home Depot, a piece of plywood cut to the size of the bottom of your chest (this should cost a few bucks at the hardware store), black paint for $8.98 from Home Depot, and gold paint from Amazon for $6.17. You'll also need a drill, hammer, nails, and sandpaper or a sander.
The MALM chest comes in multiple colors, including a black-brown shade. TikToker @home_decore_more went with the black-brown and gave it a coat of black paint for a more elegant look. If you're painting your chest, you'll have to sand it down first. Next, you'll drill holes into the drawers to fit the draw pulls. Now install a piece of plywood at the bottom so it has extra support. 
Use gold paint to paint the legs of your chest. Then drill holes into the bottom and screw the legs into them. Once you finish, you'll see for yourself that this simple hack turns an ordinary piece of furniture into something that looks high-end and luxurious just by infusing it with rich colors and raising it off the floor.