The IKEA Hack That'll Create An Open Closet In The Smallest Bedroom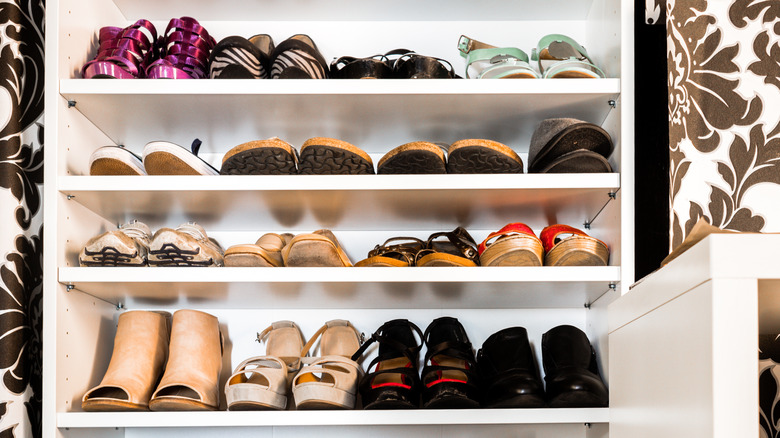 GillianVann/Shutterstock
Designing a tiny bedroom requires a lot of intentional mapping to ensure every inch is maximized. When you have such a room with no closet for additional space, how you plan out storage space is crucial to keeping it organized so you don't feel cramped. Some of the best storage solutions you can consider are tall bookshelves, floating shelves, wall-mounted cabinets, and anything else that makes use of the vertical space in your room. With IKEA items like the BILLY bookcase and BRIMNES wardrobe, you can easily create an open closet no matter how tight your room is.
Strapped for space in their San Francisco apartment, Shelbie and Blake had to find ways to make things work, as seen in Apartment Therapy. Not having a closet to store things away meant having to have everything out in the open, so they opted for slim, sleek storage pieces for their clothes and shoes. By using vertical wall storage, they were able to create a sense of height and spaciousness.
How they did it
Grzegorz Czapski/Shutterstock
Their no-closet closet includes a small floating shelf to store some bulky items, a rack under it to hang the rest of their clothes, a low, wide chest of drawers under the rack, a tall BILLY bookcase for their shoes, and a BRIMNES wardrobe. By installing all these against the walls, they were able to make space in the corner for a small work desk setup facing the window.
The hanging rod, floating shelves, and desk are very simple and slim, instead of bulky, while the drawer chest is smooth with no handles. The bookcase takes up wall space horizontally and vertically to accommodate the shoes instead of protruding out, which would have claimed up more floor space than necessary, and the wardrobe stands next to the rack storing a suitcase on its top. Another key part of the entire setup is that everything is white to match the walls, apart from the desk which is a very light cream, and that cohesion makes everything blend well together.
How to recreate this hack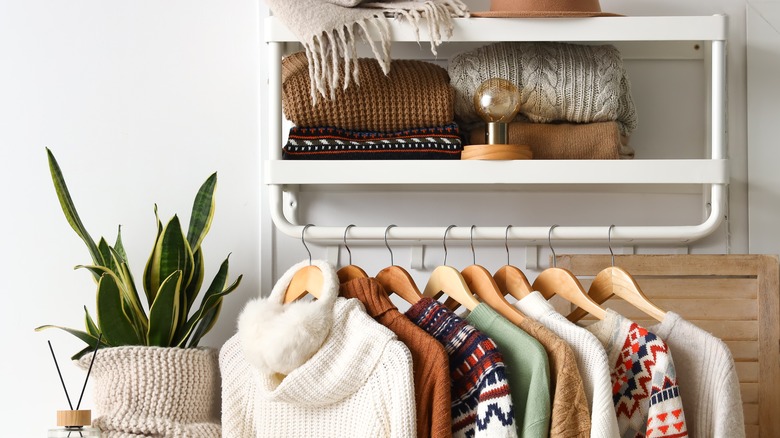 Pixel-Shot/Shutterstock
To have an open closet in your own small bedroom, start by choosing the corner of your room where you can set up your BILLY bookcase and BRIMNES wardrobe so they won't affect traffic flow or block light from the windows. Note that placing them against the walls saves space. When you've chosen the corner, install your floating shelves and hanging racks around them. Just like a normal closet, you want all your clothes and accessories to be in the same area.
Place baskets and bins on the shelves to put things together instead of cluttering the space with loose items. If you don't have space left over for items like bags, hats, and belts, add hooks to the wall. Bigger, bulkier items that you don't need frequently can go on top of the bookcase or wardrobe to keep them away from the floor. Color coordination is key to feeling organized in a tight space, so it helps to stick to the same neutral color or tone, even with little details like the hooks on the wall and your clothes hangers.