The TikTok Hack That Shows All You Need To Stain Wood Is In Your Kitchen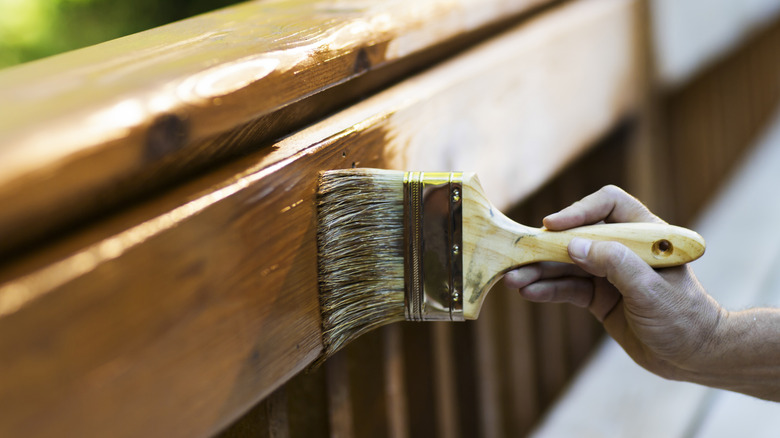 Stevecoleimages/Getty Images
There's a DIY solution for pretty much every product out there these days, and the following TikTok hack, which utilizes a few common items to stain wood with, is no different. We're already well aware that vinegar is a versatile cleaning tool, but did you know it can be used for DIY purposes, too? The next time you're ready to buy a pre-made treatment for your wooden furniture, think again. 
In fact, this hack utilizes ingredients you probably already have in your kitchen like white vinegar to produce an end product that will stain wood effectively. Using a wood stain to treat your wooden furniture isn't necessarily a must-do task, of course, but it's generally a good idea for several reasons. First and foremost, it stops water from seeping into the wood and damaging it over time. 
Likewise, a stain will protect against harsh sunlight and other weather conditions. Finally, treating your wooden furniture with a stain is smart simply because it can add a nice look to it and even cause your furniture to appear more expensive than it actually is. Here's everything you need to know about using white vinegar and a couple of other handy household items to stain wood.
Stain your wood effectively with just three base products
As laid out in the above TikTok, by @thesoutherncraftsmen, you'll need some white vinegar, steel wool, and a mason jar with a lid to pull off this trick. This staining hack also requires something sharp to pierce the lid of the mason jar with and a brush or sponge so you can apply the concoction to the wood. Add the steel wool to the jar, pour in the white vinegar until the bundle is almost covered, and then put the lid on the jar. Shake the jar firmly to mix everything together and then poke a small hole in the lid using the aforementioned sharp object.
After a few days, the mix will be ready to use as a stain. Use your preferred sponge or brush and dab it into the white vinegar solution, then apply it to the wood like you would any other stain. You should be left with a wood surface that's extra dark in color. Though this method is demonstrably effective, as pointed out by one commenter, a potential downside is that the stain will continue to get darker instead of remaining as it is. However, overall, it's ideal for using up items you already have and for upcycling on a budget too.