A Real Estate Agent Is Guaranteed To Love This Paint Color For Your Office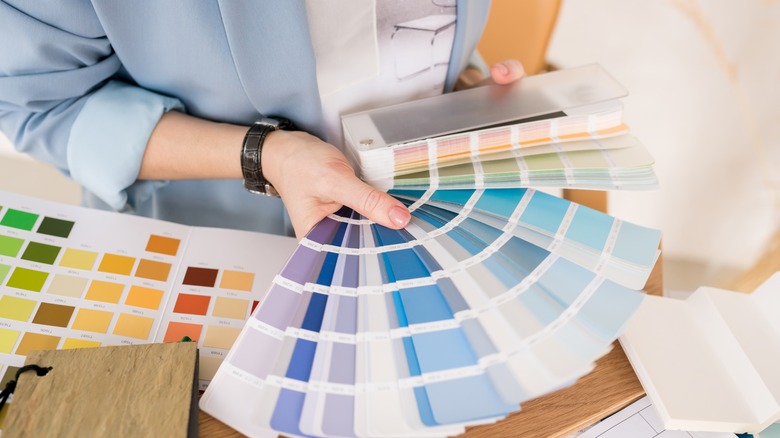 Tatiana Gordievskaia/Shutterstock
If you're looking to sell your home, make sure you add that home office to your listing. According to Zillow, it can add 1.6 percent to your home's asking price. But what color should you paint it? Real estate agents have one color in mind for your home office.
The COVID-19 pandemic brought a big shake-up to office life, forcing many to work from home. But not everyone went back to the office after health officials deemed it safe to return. Many U.S. workers still work remotely or have a hybrid model where they only head to the office a few days a week.  It's estimated that 12.7 percent of full-time employees in 2023 were remote with 28.2 percent working in a hybrid situation. And his trend is predicted to continue into the future with an estimated 36 million employees working from home by the year 2025. 
What color should you paint your home office to entice buyers? Realtors say that painting your home office white will definitely appeal to remote workers looking for a serene space to boost productivity.
It's offers a great environment for productivity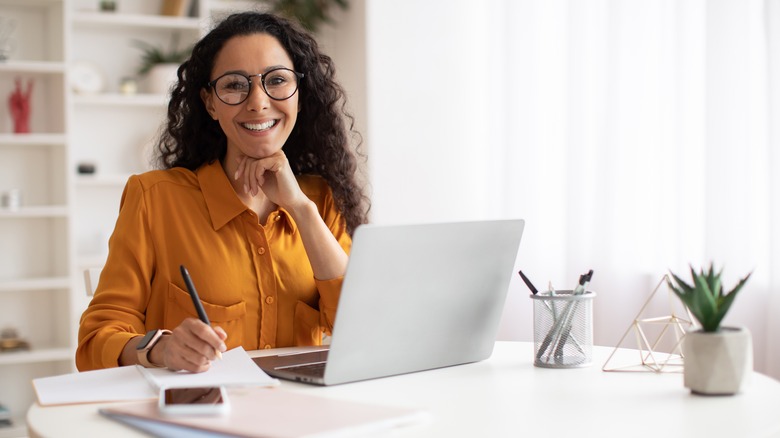 Prostock-studio/Shutterstock
Janet Anderson, a real estate agent with Keller Williams Realty, says white is her first choice when it comes to the color you should paint your home office when it comes to appealing to buyers. "It's just such a great clean color," she tells HomeLight. White rooms give the impression of being tidy, which the mind can relate to efficiency. And if there's one place you want to be efficient, it's in the office.
Rooms that are painted white can invoke a sense of calm that helps you to slow your mind down. It is associated with providing "breathing room" or being a neutral space between two or more elements. White also helps to eliminate distractions helping one to focus deeply and stay committed to the task at hand, which can increase productivity.   This can come in handy when it's time to problem-solve and deal with stressful work situations.
In addition, white is related to safety, which can help you feel like you're in control. And that's not a bad thing when you're in the office working on important matters. Since white is also considered to be a "clean slate" it's the perfect space to spark creativity.
White is perfect for smaller spaces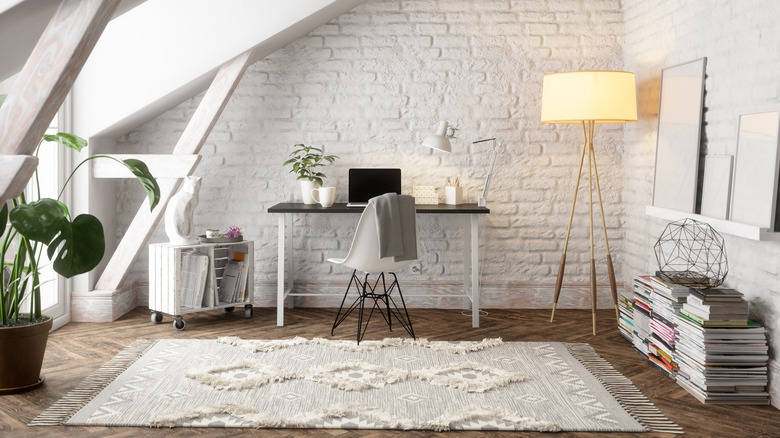 Imaginima/Getty Images
If you want to avoid having your home office look too institutional or sterile, which can sap creativity, try going with warmer shades of white as opposed to brighter ones. Colorful decor, furniture, plants, curtains, and rugs that will bring in some texture and give the room more personality.
In addition, not everyone can dedicate an entire room to an office. So, some of us will section off an area of a larger room and designate it as the office space. White, and variations of it, work wonderfully for smaller offices as it will help the space look larger since it evokes a sense of airiness and reflects light. 
"If you want a minimal and modern look that isn't too stark, off-white is a great choice. It is buttery enough to give you a sense of calm, but still bright enough to open up a smaller office space," advises Freedom 512 Real Estate Groups.