The Gorgeous Kitchen Countertops HGTV's Jenn Todryk Chose For Her Own Home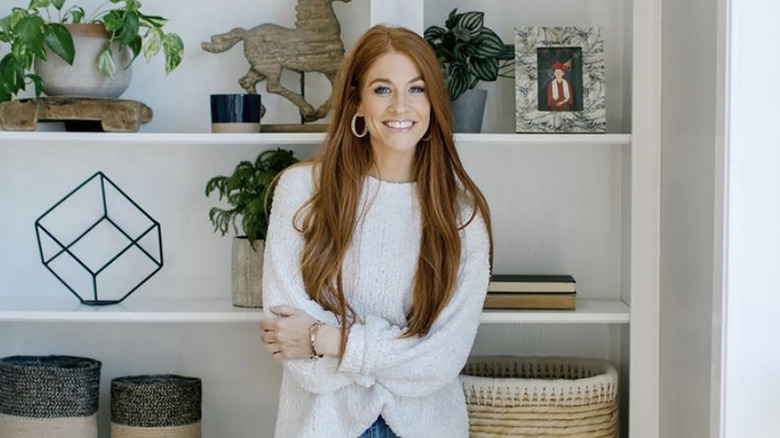 Instagram
Let's face it: Over the past few years, consumers have moved away from granite kitchen countertops in favor of other types of materials like quartz and marble. That's not surprising since many granite colors — especially browns, blacks, and pinkish tones — have started to feel dated as homeowners seek to brighten up their spaces. Given this trend, you might be surprised that HGTV star Jenn Todryk selected granite countertops for her own kitchen makeover. What makes them stand out? Todryk chose Lennon granite for a look that's a total departure from what you might traditionally think of when this material comes to mind.
Another name for Lennon granite is Bonno. It comes from Brazil and has a bluish-gray background with darker mineral deposits that give it eye-catching graining, ranging from darker gray to brown, depending on the slab selected. Like other types of granite, it is resistant to heat and doesn't stain or scratch very easily. That makes it a perfect choice if you want a bit more color in your countertops to balance the brightness of white cabinets.
More on Jenn Todryk's granite countertops
Jenn Todryk's kitchen is done in a style she personally describes as "rustic modern farmhouse," per her Instagram. That is, it has farmhouse elements like shiplap and exposed natural wood beams and rustic details, such as exposed brick. She, along with her husband Mike Todryk, came up with the design, which she describes as "exciting and terrifying all at the same time."
Since Todryk's kitchen includes a mixture of blue, white, and gray paint she concocted especially for the project, the color of the granite they picked works perfectly with it. They used Lennon granite not only around the stove and sink but on a large central island as well. The color of the Lennon granite also contrasts beautifully with the Sherwin Williams Pure White paint on all the cabinetry. So, while you might think you're personally over granite, don't discount this durable countertop choice without taking a look at Lennon granite, just like Todryk and her hubby.