Keep Your Floors Protected As A Pet Owner With This Simple Trick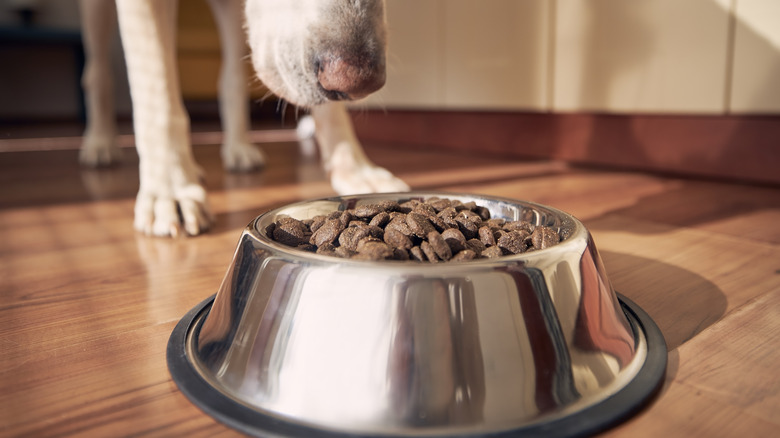 Chalabala/Getty Images
We may receive a commission on purchases made from links.
For many of us, our dogs and other pets are beloved members of the family. We take them to the doctor, get them outfitted in booties and raincoats, and invest in high-quality dog food to ensure their health and longevity. Breakfast and dinner time for dogs can be a raucous few minutes in the kitchen — there's growling, tail wagging, speed eating contests, and then a pleading look as if you hadn't just fed them. Your dog's enthusiastic chomping can slide their bowls several inches (or feet?) across the slippery surface of the kitchen floor. While amusing, over time it will scratch up your floors. A great, simple trick you can use is to protect your floors with a non-slip shelf liner.
Normally, this is a product you should be using in your kitchen cabinets and in cutlery or utility drawers. It stops the items from moving around and keeps the drawers and shelves well-ordered. It's also perfect for reducing the scratches and wear and tear from twice-daily roving bowls.
How to protect your floors as a pet owner
First, gather your supplies. We found a couple of options, and there are more to choose from beyond these. This EasyLiner Select Grip Shelf Liner for Drawers & Cabinets is one version, and Clear Classic EasyLiner is another. What you're looking for is a material that grips yet is non-adhesive, which both of these are. Choose the appropriate width — you can always cut it down to a smaller size if needed so that it's large enough but no humans are stepping on it.
Place the correctly sized liner on the floor and your dog's food bowl and water bowl on top. You might also consider pairing a liner with a dog bowl mat or tray. The liner keeps the mat or tray from sliding around, and the dog bowl mat helps you easily clean up spilled food and keeps water off the floor. The liner will grip any surface, whether it's a tile or hardwood floor. If you've been putting off protecting your floors and your hardwood floor has gotten all scratched up, a fast DIY fix is using mineral spirits, sanding, and wood filler.