If Your Cut Flowers Are Too Short, Give Them A Boost With One Easy Hack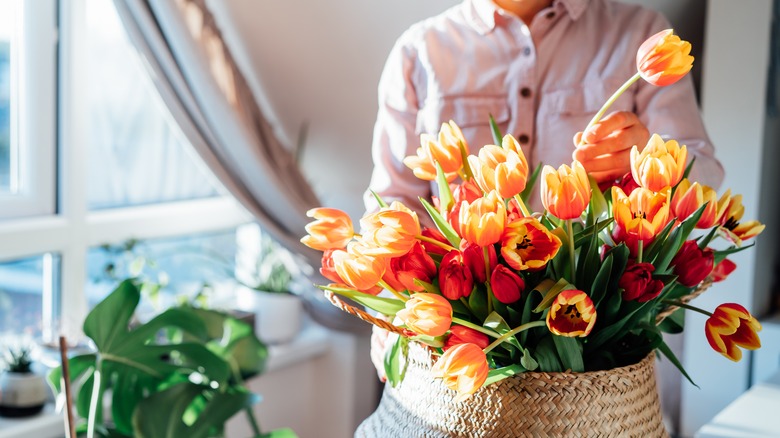 Okrasiuk/Shutterstock
There's something undeniably enchanting about receiving a bouquet of fresh-cut flowers or bringing them in from your own garden. Their vibrant colors, delicate fragrances, and the instant touch of nature they bring to our homes is unmatched by any other design elements. However, it can be a bit of a disappointment when some of the flowers have short stems. They may be pretty, but it can be tricky to arrange them in a vase because they fall too low into the container. 
You're not alone if you've found yourself wondering how to make these short-stemmed flowers stand tall and proud. Luckily, there's a simple and brilliant trick that you can use with an everyday household item that you probably have on hand. Common plastic drinking straws can be a secret weapon in transforming your cute but stubborn flowers into refined and long-lasting arrangements. All it takes is a quick and easy technique to be able to enjoy a stunning bouquet for days, with each bloom standing up straight.
Give your flowers a lift with plastic straws
This hack will require a few everyday household items and a bit of patience. Standard-sized, flexible plastic drinking straws are ideal for this purpose due to their ability to accommodate various stem sizes. A pair of sharp scissors will come in handy for cutting the straws to the appropriate length. Of course, you'll need the star of the show — your short-stemmed flowers. Choose your favorite blooms and gather them for the transformation.
Gently insert the bottom of a flower stem into one of the plastic straws. Slide the stem into the straw until it feels secure and reaches the desired length. Repeat this step for each flower in your bouquet, adjusting the size of the straws accordingly. If the straws make the flowers too long, cut them so that they are just long enough to heighten the short flowers. If you are using flexible straws, you can insert the stems into the straight ends and then bend the straws to shorten them. Arrange the flowers in a non-clear vase (to hide the straws) filled with fresh water or insert them into floral foam.
Tips and variations of this hack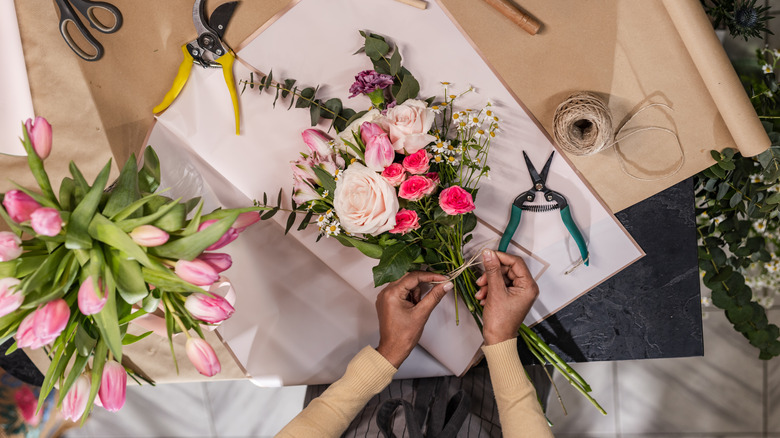 Riska/Getty Images
The plastic straw hack works like a charm for a couple reasons. First and foremost, it provides the necessary height to your flowers, allowing them to stand tall and proud in your vase. This enhances the visual appeal of your arrangement and makes it easier to arrange and display your blooms effectively. The straws also prevent the flowers from sitting too deep in the water, where they might become waterlogged and start to rot.
For the best results, make sure the straws and scissors are clean and sanitized before using them on your flowers to help prevent contaminants from affecting the bouquet's longevity. While using plastic straws on every single stem in your bouquet would work, an alternative is propping up just a small number of the stems with straws and then tying the flower arrangement together. To do this, arrange the flowers with the shorter ones higher than the ones elongated by the straws, then bind the stems with twine or wire. The taller flowers will prop up the rest of the bunch and give them some much-needed height.