Seamlessly Hide Your Kitchen Trash Can With This Brilliant IKEA Hack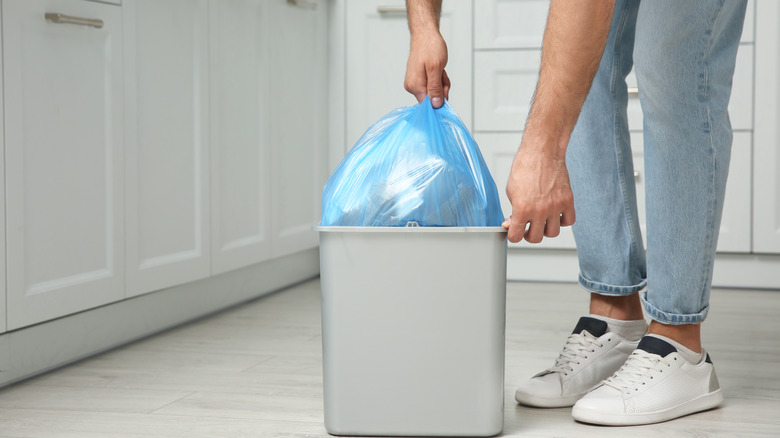 New Africa/Shutterstock
We may receive a commission on purchases made from links.
Garbage pails can be a real eyesore when they stand out in the kitchen. They also give off a stinky smell. That's why many of us hide them away under our sinks or in some other cabinet. But some of us have small or oddly shaped spaces that make it difficult to hide trash bins the way we'd like to. Thankfully, DIY Instagrammer @rachel__cooney has a hack for that! She came up with an incredible way to hide her garbage in a sleek and stylish manner by creating a built-in bin holder using IKEA pieces.
Instead of placing the hinges on the sides of the door, she placed them on the bottom. Attaching a chain to the back of the door and inside the cabinet allows the door to be pulled in and out. Then she bent some hooks so they would slip into the standard garbage bin she bought in the same slots where the garbage pail's top would have been. 
This hack looks like a custom installation for a fraction of the price! It keeps that unsightly trash bin out of sight, reducing clutter and freeing up space in the kitchen, while also keeping the stink at bay.
How to hack a built-in garbage bin
For this hack, Rachel Cooney used a 40 x 60 x 80 cm IKEA METOD base cabinet, which is only sold in Europe, inside a Plykea cupboard. You can also use IKEA's 15 x 24 x 30 inch SEKTION base cabinet, which retails in the U.S. for $53.
You can get cabinet door hinges for $7 on Amazon, a chain stop for $10 on Amazon, and a slim plastic trash can that will fit inside the dimensions of the cabinet you use. These mounted hook fasteners for $11 on Amazon allow you to attach your bin to the cabinet (heavy-duty picture-hanging Command strips are another option). The door Cooney used for her cabinet is also from Plykea, but you can find a variety from IKEA for under $50.
To start, you'll place your cabinet inside the cupboard to create a built-in look. Next, install the door hinges at the base of the cabinet door. Attach the chain stop to the inside of the cabinet and the inside of the door. Next, you'll screw the wall-mounted fasteners into the door so that they line up with the holes for the lid of your trash can (you won't be using the lid). If your bin doesn't have a lid, you'll have to make holes to fit the fasteners or use the Velcro Command strips. Bend the fasteners so you can hook your bin in. Finally, secure it and you're done!