The Top 13 Greatest Floor Lamps For Brightening Up Your Living Room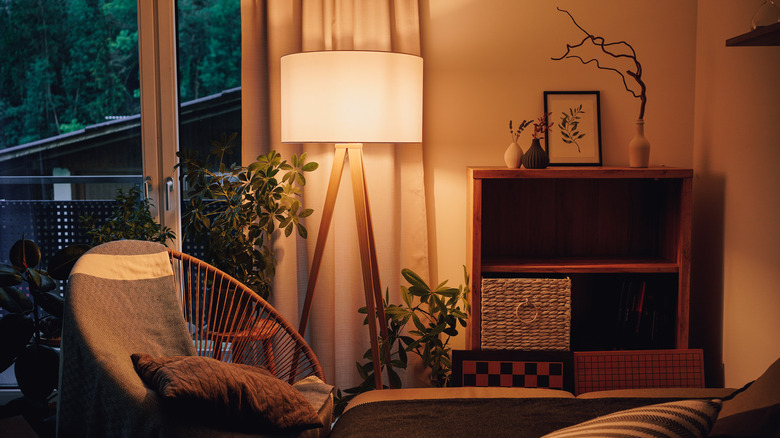 Tg23/Getty Images
We may receive a commission on purchases made from links.
When you're spring cleaning your home or working on a big project, overhead lighting can be necessary at times. But in general, the stark brightness of a ceiling bulb is not a good way to create a balanced, cozy mood in your living room. Some homes don't have enough overhead lighting to begin with, in which case a good floor lamp is crucial to help you function in the evenings. But a floor lamp is much more than just a practical way to brighten up your home; it's also a statement piece of décor and requires a little more forethought and planning than other light fixtures. 
Your floor lamp will draw the eye to it anytime you're in the living room, but especially when it's lighting up the space at night. Don't let your floor lamp design become an afterthought; a well-chosen fixture can really transform the vibe of your space! To help you find the perfect glow, we've gathered up 13 of the best floor lamps on the market, so you're sure to find one that fits your style and your budget. 
How we selected the products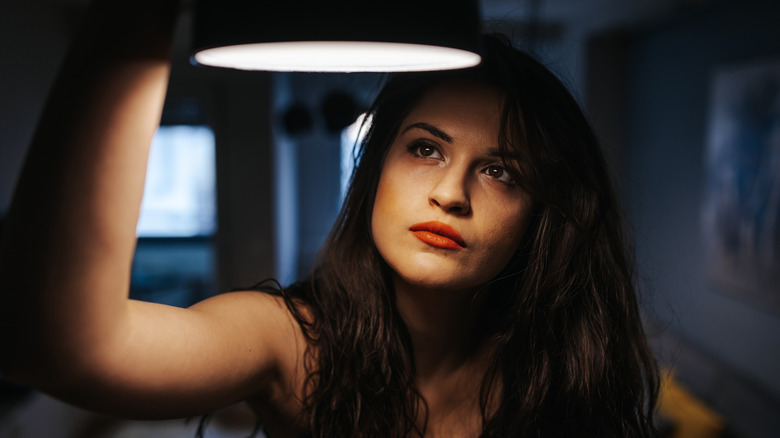 Constantinis/Getty Images
How is it possible to narrow down all the lamps out there to just 13 great products? To help us create this list, we read through dozens of online reviews and considered the overall trustworthiness of each brand. We also looked at general customer reception for similar products and assessed the material quality, craftsmanship, durability, and stability of each lamp. If you're going to invest in a new statement fixture, you'll want to know that it works! 
But as previously mentioned, a great floor lamp has to do much more than just light up a living room. It should also add to the overall vibe of the living room and make your face light up when you see it! Each lamp on this list offers an attractive design that will enhance your room while also making it more functional. We also feel that these picks are trendy and stylish yet timeless pieces. This means they won't look too "dated" in a matter of years and could potentially last a lifetime with proper care. Whether you're looking for a funky mid-century modern lamp, a lamp with built-in storage, or a colorful ambient piece, we're sure that one of these products will be just what you need.
Best overall: Nintiue Dimmable Floor Lamp
If you're looking for a standard, reliable floor lamp, the Dimmable Floor Lamp by Nintiue on Amazon is an excellent choice overall. This versatile 65-inch lamp comes in five colors and includes an LED light bulb with dimmable settings — perfect for setting the mood at any time of night or day. The lamp also has an adjustable swivel head, so you can point the light exactly where you need it while keeping it out of your eyes. 
You can purchase Nintiue's Dimmable Floor Lamp on Amazon starting at $49.99.
Best affordable: Partphoner Modern Standing Lamp
Saving money on your floor lamp doesn't have to equal sacrificing your style. The Partphoner Modern Standing Lamp looks a little more unique than your average budget lamp, with a good height of 66 inches and a unique columnar lampshade. This lamp uses a convenient floor button to turn on and off, so there's no need to fumble around for the switch or find a remote. The lampshade also comes in five versatile colors — even purple — so you're sure to find one that suits your style and your budget.
You can buy the Partphoner Modern Standing Lamp on Amazon starting at $21.99.
Best splurge: Rejuvenation Brentwood Floor Lamp
If you're looking for a solid and luxurious statement piece, the Brentwood Floor Lamp is sure to earn compliments from your house guests. This stunning lamp features a sturdy 41-pound base crafted from polished American walnut and brushed brass. This lamp comes with an LED bulb operated by two pull chains for a classic-meets-modern appeal, and the polished base reflects the light of the lamp beautifully. This is one solid investment piece that's destined to become a coveted family heirloom.
You can purchase the Brentwood Floor Lamp from Rejuvenation for $899.
Best antique-looking: Capulina Tiffany Floor Lamp in Blue Dragonfly
The Capulina Tiffany Floor Lamp in Blue Dragonfly lends an old-timey charm to any living room, perfect for reading on a rainy day or watching old mystery movies by the fireside. Reviewers love the real stained glass in the lampshade, which can tilt to cast light at the angle you need it. This product also has a discreet footstep switch so as not to detract from the vintage look. 
You can purchase the Capulina Tiffany Floor Lamp in Blue Dragonfly on Amazon, currently listed at about $134.
Best farmhouse: Sand and Stable's Paige 64 Arched Floor Lamp
A lantern-esque floor lamp is one of the best options for a modern farmhouse look. Exposed bulbs are a key element of this design style, but the cage and subtle shade around the Paige 64-inch Arched Floor Lamp by Sand and Stable helps to soften and direct the light where it's needed. Reviewers love that this lamp is easy to assemble yet sturdy and features a floor pedal to turn on and off. 
You can buy the Paige Arched Floor Lamp by Sand and Stable on Wayfair for $123.99.
Best midcentury-inspired: Hsyile Modern Floor Lamp
There's no other way to put it: this lamp is just cool. LED globes climb organically up the shiny brass base and emit a soft, warm glow on the Hsyile Modern Floor Lamp. On top of being visually stunning, reviewers say that the fixture is easy to put together and has a surprisingly sturdy marble base. This funky lamp looks fabulous on its own or as part of a duo on either side of the couch.  
You can purchase the Hsyile Modern Floor Lamp on Amazon, listed at $109.99. 
Best minimalistic: AllModern's Ericson Dimmable LED Floor Lamp
The Ericson Dimmable LED Floor Lamp keeps an extremely low profile, blending seamlessly into any minimalistic living room. When turned off, the lamp almost looks like a sculptural piece with its sturdy marble base and sleek metal pole. When it's turned on, however, the lamp emits a soft light against any nearby surface, giving the room a healthy touch of brightness without any obvious, clunky bulbs. This lamp comes in two styles: antique brass with a black marble base or stainless steel with a white marble base.
You can purchase the Ericson Dimmable LED Floor Lamp at AllModern for $270.
Best lantern style: IKEA's Ökensand Floor Lamp
Lantern floor lamps are wonderful for emitting soft, soothing light, but they can look a bit flimsy if they aren't made of the right materials. The Ökensand Floor Lamp from IKEA is a great option to make your living room feel less like a college dorm and more like a zen and cozy high-rise. This 61-inch fixture features solid beech wood legs and a white pleated lampshade body. The fabric is even removable and machine washable for easy maintenance! 
You can buy the Ökensand Floor Lamp at IKEA for $59.99. 
Best arching design: West Elm's Overarching Floor Lamp
West Elm is known for making sustainable, timeless, and high-quality pieces, like the Overarching Linen Shade Floor Lamp. This lamp comes in three metallic finishes and is the perfect size for placing it beside a sofa or reading nook. The generous arch seems to defy gravity, but the lamp isn't just an eye-catching design; it's also practical for casting light exactly over the space where you need it. 
You can purchase the Overarching Linen Shade Floor Lamp from West Elm for $399.
Best sculptural base: Vakker Lighting's Twisted Pleated Floor Lamp
If you love the curvy decor trend for bubbles, squiggles, and wiggles, you'll enjoy this Twisted Pleated Floor Lamp from Vakker Lighting. Purchasers love the curvy design and heavy base of this lamp, which instantly elevates any living room. Some even enjoyed the lamp so much that they chose to purchase another. While it might seem like a hefty investment, this unique piece is handcrafted and durable. 
You can purchase the Twisted Pleated Floor Lamp from Vakker Lighting for $477.
Best torch lamp: Brightech Sky Dome Floor Lamp
You really can't go wrong with a staple torch lamp. Don't worry; torch lamps don't actually contain any fire. They're named after their upside-down lampshade style that casts light toward the ceiling. This gives the living room a balanced glow and ensures that the lamp won't shine into your eyes — unless you're unusually tall. The Brightech Sky Dome Dimmable LED Floor Lamp from Amazon comes in three colors: platinum silver, gold brass, and jet black, which will complement most décor styles. 
You can purchase the Brightech Sky Dome Dimmable LED Floor Lamp on Amazon starting at $39.99. 
Best with built-in storage: Brightech Maxwell Drawer Edition
If you're limited on square footage, you might feel like you have to choose between storage and style, but with this Brightech Maxwell Drawer Edition lamp, you can have the best of both worlds! The two-in-one shelf lamp combo comes in three versatile colors: classic black, Havana brown, and rustic wood. Each lamp has four shelves and three drawers beneath the soft lantern-style light, perfect for storing books, remotes, or other living room essentials. 
Find the Brightech Maxwell Drawer Edition floor lamp on Amazon, starting at $79.99. 
Best smart lamp: Govee Cylinder Floor Lamp
With the Govee Cylinder Floor Lamp, you won't have to deal with any tacky strip lights, clunky bulbs, or lost remotes. This fixture offers a smooth, soothing light that radiates into your living room. This fascinating floor lamp is compatible with your smartphone and Amazon Alexa voice controls. The mobile app allows you to adjust the brightness, choose from dozens of color combinations, select special color-changing modes, or even sync the light to music so you can create your own dance club atmosphere at home!
You can purchase the Govee Cylinder Floor Lamp on Amazon for $169.99.