This Simple IKEA Soap Dispenser Upgrade Will Give Your Home A High-End Look For Less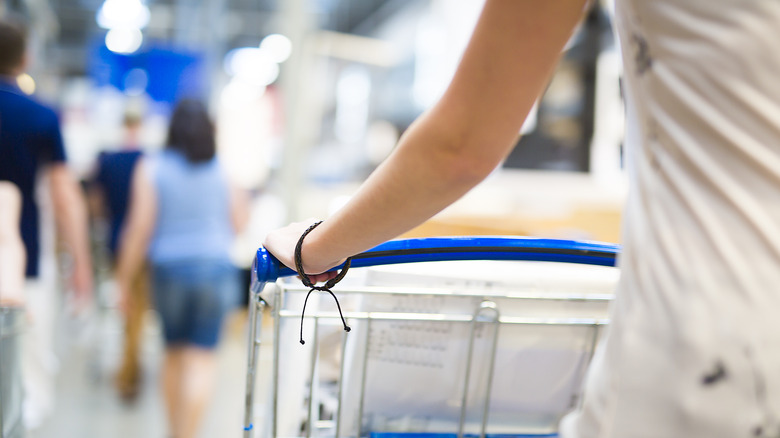 Lopolo/Shutterstock
Social media has given DIY projects the chance to go viral. More and more people are looking to make their decor reflect their personality and look picture-perfect without spending too much money. Even the small, unexpected, and often overlooked places are getting their own mini makeovers. That's the case with the standard kitchen soap dispenser. Some people use the plastic container that dish soap comes in, while others prefer reusable dispensers. But a simple DIY can elevate this small kitchen detail even further.
In a TikTok video, @grillodesigns uses the TACKAN soap dispenser from IKEA as the base of the design. The glass dispenser with a white top is a blank slate perfect for a DIY upgrade. And at only $1.29, it's an inexpensive project to take on. Medino Grillo, who is behind the hack, uses two soap dispensers: one for dish soap and one for hand soap. She then uses minimalistic labels to distinguish the two from each other. To complete the look, she styles soap dispensers on a wood tray with a wooden scrub brush next to her kitchen sink. While Grillo does not link to the exact labels she used on the soap dispensers, similar ones can be found on Etsy. Personalized square labels for hand soap and dish soap come in sets that can also include other cleaning supplies such as laundry pods, dishwasher detergent, or fabric softener.
Sink styling details
This trend of styling around the sink is both aesthetically pleasing and functional. It creates a clean vignette that makes often-overlooked details look more high-end. This DIY is also highly customizable, allowing you to match the soap dispenser to your overall kitchen's design style. For a sleeker look, try IKEA's black RINNG soap dispenser. Or, opt for the store's wooden DRAGAN version for a more natural look.
Similarly, you can find customized labels from Etsy with a variety of designs. Minimalistic square labels with a simple font are popular options for a clean and modern look. There are also black versions of these simple square labels. If the box label isn't the shape you're after, there are transparent versions, so the word is front and center. Many creators offer a variety of font options like script, handwritten looks, and modern serifs in a variety of colors, allowing you to express your unique style. There's also a wide variety of label options, including metallic, holographic, glitter, and chrome finishes. No matter the look, it's important to choose labels that are waterproof so they don't start peeling. Applying these labels is a quick and easy DIY that doesn't require any special tools.