Seamlessly Disguise Your Dog Crate With This Genius IKEA Dresser Hack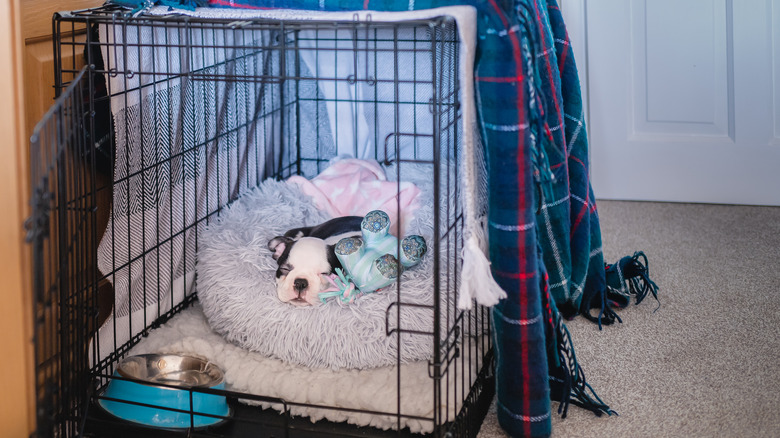 Christine Bird/Shutterstock
Gone are the days of dreary cages when it comes to crating your pup. You can make your dog's room match your own by turning the IKEA MALM dresser into a five-star suite for your dog with a little bit of woodworking. Grab your tools and your favorite paint and wallpaper, and spend a day turning a plain dresser into a unique space for your pet.
Crate training is a great lesson any dog should learn, so they can be well-behaved and comfortable. It provides them with a safe space to go when they feel anxious, and it can give you peace of mind when they need to stay there for a few hours so you can run some errands. You might as well put time and effort into making their safe haven as cozy as possible so they'll want to stay in there — and so that it looks good in your home too. This IKEA MALM dresser hack with accomplish just that. 
Turn the IKEA MALM dresser into a chic dog hangout
Lisa from Garrison Street Design Studio took the IKEA MALM dresser she had and turned it into something pretty and functional. You'll need the 3-drawer MALM dresser, additional wood, fasteners, and a few different saws, among other tools listed on the Garrison Street site. This dresser measures 31 ½ inches by 30 ¾ inches and therefore is most suitable for smaller dogs. Whether or not your dog will like it depends on their size and personality; if they often chew up wood, this probably won't work for them.
Remove the drawers and drawer sliders from the MALM dresser, and if you're using a brand-new one, just don't put these things in when you're building it. Reinforce the hollow bottom with some sturdy wood and top it with plywood to create a floor. Fill in any nail holes and decorate the space as you wish, provided it's safe for Fido. Lisa used peel-and-stick tile, but you can use paint, wallpaper, or flooring. Create the doors with wood slats, then paint or stain them, add some latches, and attach them to the dresser.
Please be aware that the material IKEA uses is lightweight and there is the potential of the dresser-turned-crate tipping over. Knowing your pup's temperament and limits is important in deciding if this DIY project is safe for them.