Here's What Material IKEA Cabinets Are Really Made From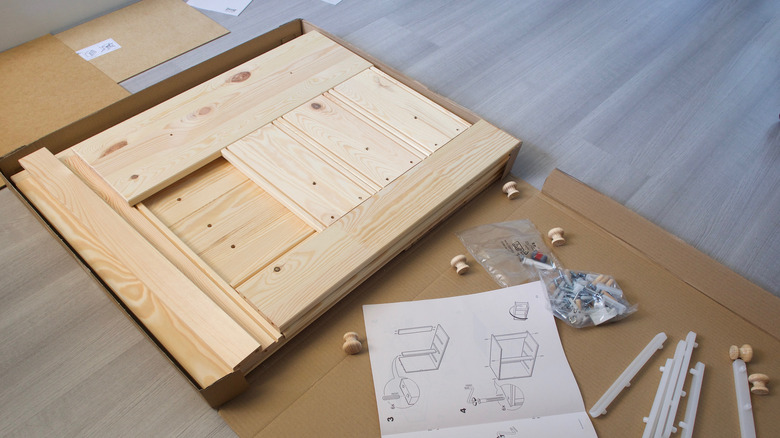 Krzysztof Pazdalski/Shutterstock
Ikea is a staple brand in affordable furniture and home design, but the materials they use for their kitchen cabinets may not be what you think. Ikea's cabinets are not generally made of solid wood but a combination of fiberboard, which is medium-density, particleboard, which is low-density, and other materials, such as steel, plastic, and melamine foil. "Choosing materials for us is about making responsible decisions. When we're not able to use renewable resources, we aim for recycled or recyclable ones. In all that we create, we strive to keep prices low and quality high," Ikea's website claims.
While particleboard and fiberboard might sound like the same thing and are often thought of as flimsy, fiberboard is heavier and stronger than particleboard and are a common material for cabinets. Particleboard is made of sawdust, resin, and wood chips, while fiberboard is made from pulverized wood fibers and resin and can be used as a cost-effective option for projects that require plywood.
Common materials used in cabinetry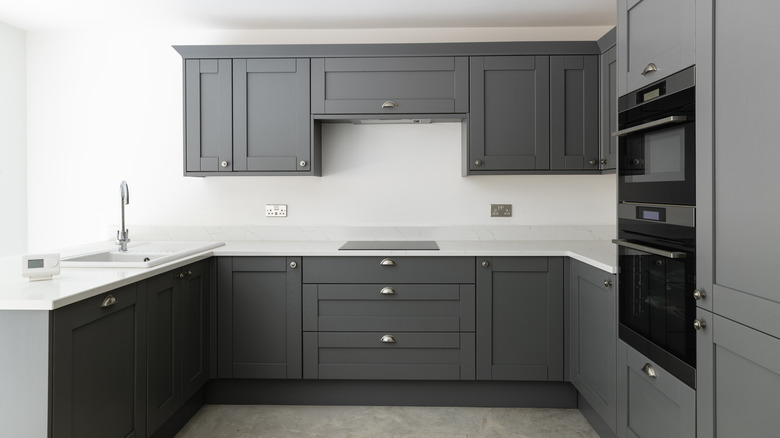 Solstock/Getty Images
Generally, kitchen cabinets are constructed out of hardwood or products made from wood, such as fiberboard, particleboard, plywood, and wood veneer. The materials used in Ikea cabinets are rather common, though many people think they are of lower quality. While solid hardwood may seem like the best option, it is typically the most expensive and it creates very heavy cabinets. If you use solid wood for wall cabinets, you'll need to be careful when installing them and ensure that the structure of your kitchen can support them.
What makes Ikea's cabinets inexpensive yet durable is their use of both fiberboard and particleboard. While medium-density fiberboard, which is typically used in the doors and back panels, is more durable, the particleboard used for the frame and shelves is one of the most cost-effective options for constructing cabinets. While particleboard is often flimsier than plywood or fiberboard, higher-quality particleboard can be fairly strong.
What to know about Ikea's cabinets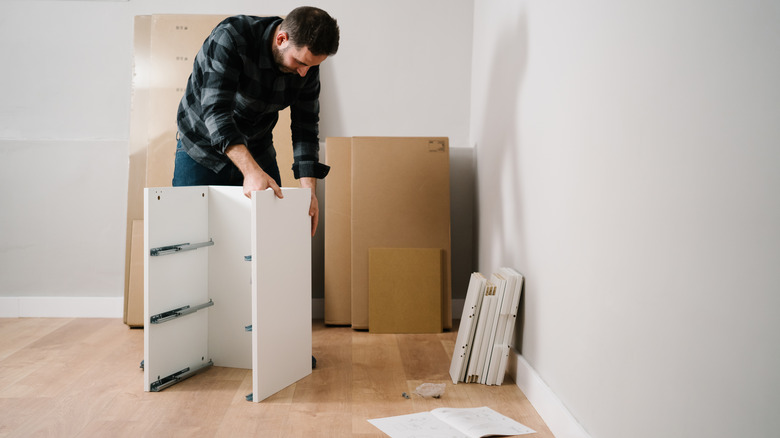 Manu Padilla/Shutterstock
The materials used to construct Ikea's cabinets are not particularly luxurious or high-end, but the company takes measures to make them sturdy. According to Ikea's website, a polypropylene plastic is used to coat the particleboard of both the frames and shelves of their cabinets. This helps to make them more resistant to moisture and general wear and tear. Their cabinets also come with a 25-year warranty, so if you happen to get a set that breaks, there's no need to worry.
The Sektion line of Ikea cabinets is also customizable. Because they are individual units, you can join them together while building, connecting the interiors of the cabinets. This line features a variety of wall cabinets, base cabinets with options that include drawers or a spot for a sink, and cabinets to store appliances like microwaves, refrigerators, and ovens. While they aren't crafted from solid oak or pine, Ikea's cabinets can help you design your ideal kitchen at a low cost and will last for a long time if taken care of.