The Smart Advice HGTV's Emily Henderson Has For Transforming Bad Grass In Your Backyard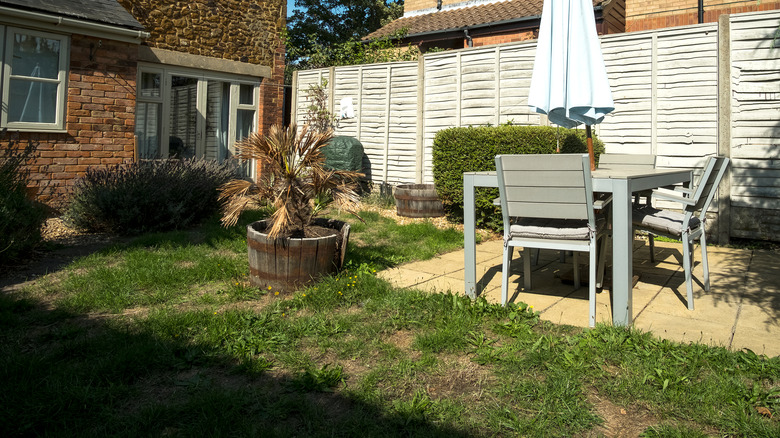 Simon Annable/Shutterstock
If you're looking for inexpensive ways to improve the appearance of bad grass on your backyard, there are several budget-friendly options to consider. Planting ground covers is one option that is simple and low maintenance compared to a normal lawn, but it still requires some effort. Mulch, gravel, or stone are very easy to lay and maintain but don't have an attractive appearance. This is why HGTV's Emily Henderson's recommendation of pebbles is much better.
Pebbles poured over bad grass can create an interesting landscape with virtually no maintenance. In one Emily Henderson blog post, she explains how "small smooth beach pebbles" can be used to create zones and turn the area into an oasis. "It's an instant solution that you don't need to water, let grow in (like sod), and frankly, it looks pretty dreamy ... Masonry, decking, grass...it's all far more expensive than some bags of pebbles," she says via her blog.
How to DIY a pebble ground cover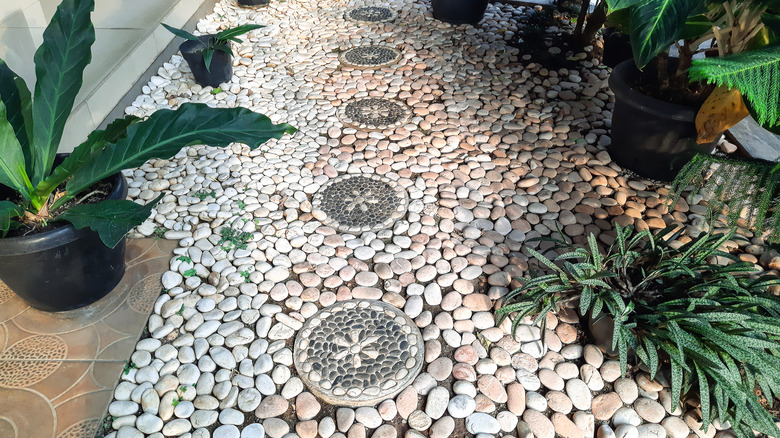 Fadfebrian/Getty Images
To create a pebble cover, you'll need landscape fabric or weed barrier, garden tools, and your packs of pebbles. Emily Henderson suggests checking out your local hardware stores, like The Home Depot or Lowe's, for pebbles. They come in various styles, so feel free to be creative with the colors, sizes, and shapes. One design tip is to plan a specific design for your pebble lawn with paths and zones. This way, you know the different types of pebbles you need.
The first step of the process is to prepare the area by clearing any debris or existing plants and removing their roots. Next, cut down the landscape fabric or weed barrier to fit over the prepared area, and then lay it so it can prevent weeds from growing up through the pebbles. It helps to get the biodegradable type so it can decompose. Now, you can spread your pebbles in a layer 3 to 5 inches thick to prevent any seeds that happen to fall in from taking root. If you've mapped out your desired zones, spread the pebbles according to the pattern and use a shovel or rake to even them out. You should now have an attractive pebble ground cover on your backyard.