This Is The Best Season To Install A New Sprinkler System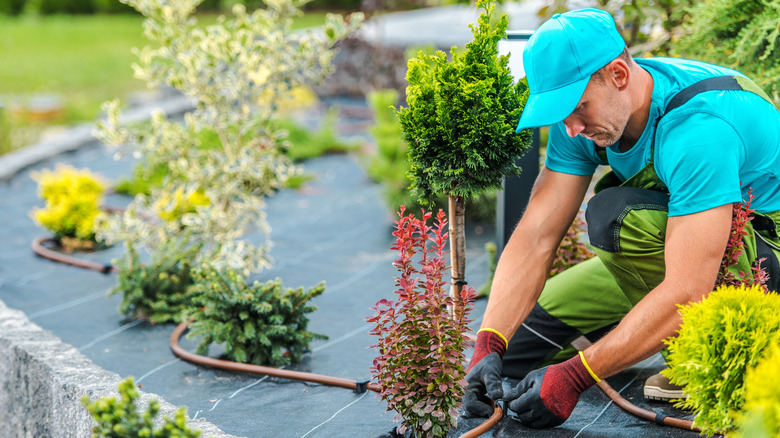 Virrage Images/Shutterstock
If you have high-maintenance plants or a new lawn you're looking to grow, they may demand a lot of attention. The best way to ensure your grass and garden receive adequate amounts of water is with a sprinkler system. Think of it as your yard's "set it and forget it" insurance policy for when you're not home to water your lawn or plants. Sprinkler systems are also ideal if you're planning a vacation but still need your lawn watered. But what's the best time of year to install this useful system? You might think it's the spring when everything is in bloom, but it's actually the fall.
Keep in mind that you can install a sprinkler system any time of the year, but the fall proves to be advantageous. Once your sprinkler system is in place, you can create the best watering schedule for your lawn and garden, working to help your prized plants grow and thrive all year long. And the best part? When you use your irrigation system efficiently, you'll reduce the amount of outdoor water used, working to help your wallet and the environment. 
Wait until the fall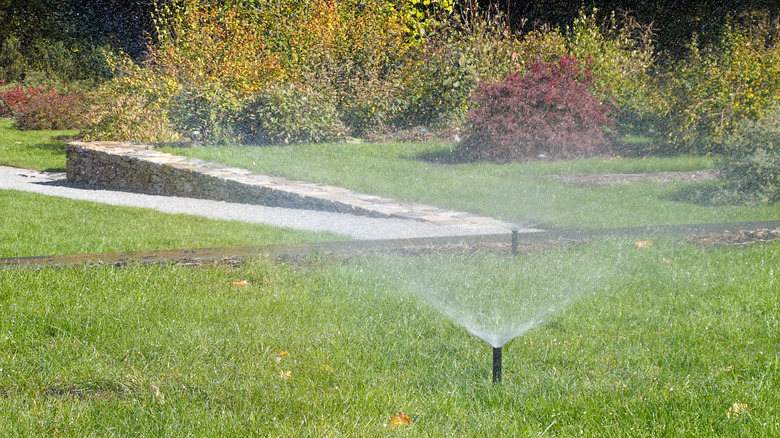 Alison Hancock/Shutterstock
The fall weather is cooler and there's less chance of a drought, which means your plants and lawn will have plenty of naturally occurring water while you incorporate your new irrigation system into its routine. If you wait to install your lawn sprinkler system in the winter, you may find that digging is a challenge if the ground is frozen. This also increases the cost of installing your sprinkler system if you do it professionally. Besides this, you run the risk of pipes freezing. This can lead to broken or cracked sprinkler lines. 
The fall is the best time of year to install your sprinkler system because water doesn't evaporate as quickly as it does in the summer, thanks to cooler temperatures. Even better, you might find that professional installers have more availability in the fall, which means you can have your sprinkler system up and running faster than if you installed it in the spring or summer. However, you might opt to install your sprinkler system yourself, saving time and money. 
Installing your sprinkler system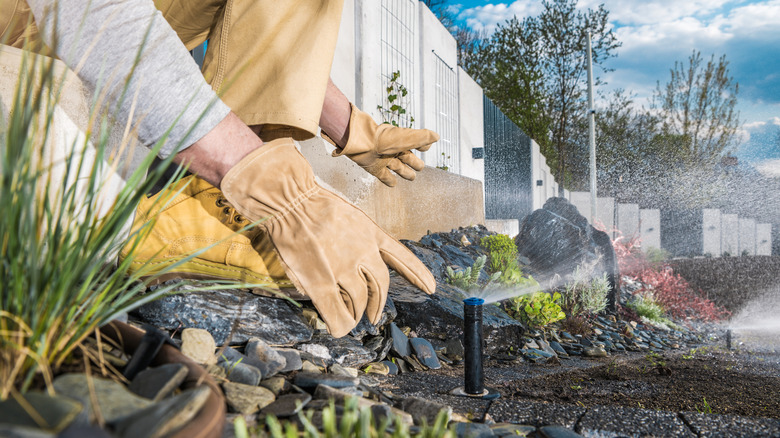 Welcomia/Getty Images
Although there are a lot of steps involved with installing your own sprinkler system, the overall process is something you can tackle yourself. You'd need to first construct a layout of where you want to install your system. It's a good idea to check with your local ordinances before digging out the trenches — you may need to contact a mark-out company to ensure you don't affect underground lines. You'll then select your sprinkler system, connect your water supply to a spigot and your main water line, ensure your sprinkler system works, and later fill the trenches. 
Once your sprinkler system is installed in your yard, you need to maintain it just as you would the rest of your home. Regular maintenance prevents the sprinkler heads from clogging or malfunctioning. Begin by adjusting them so water flows sufficiently. You can also use filters to remove debris, which will prevent clogs. Clogged sprinkler heads mean your lawn might experience too much water in certain areas and not enough water in others. Taking these steps will ensure your lawn has the water it needs when it needs it.