HGTV's Christina Hall Shares A Bathroom Color Palette That's Never Going Out Of Style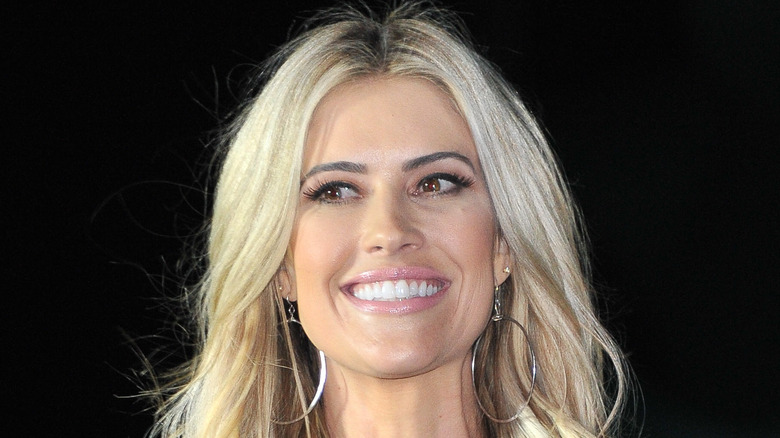 Allen Berezovsky/Getty Images
If you're renovating a bathroom anytime soon, HGTV's Christina Hall has a color palette that will never go out of style. Known for her love of neutrals, the "Christina on the Coast" host has revamped a number of California homes using modern, minimalistic design trends. In season 4, episode 9, Hall showcases a sophisticated palette of white and champagne in her clients, Teri and Bradley's, master bathroom. Certain the scheme will maintain its appeal over time, the designer explains to the couple, "I don't think you'll ever get sick of it" (via Realtor.com). Hall continues with the subdued pairing of white and champagne throughout the kitchen and living room, which presents a timeless look. 
Reminiscent of sparkling wine, champagne is a warm hue with hints of yellow or orange that offers a subtle, yet uplifting contrast when partnered with white. To take it a step further, Hall might include bath decor in a champagne color with a white foundation among the furnishings. In another episode of "Christina on the Coast," the designer highlights a mostly white bathroom with lustrous brass hardware and light fixtures for a sleek dynamic. "This is the most (like) detailed bathroom I've ever done...it was so dark," she says (via HGTV). From paint to flooring, a white and champagne color palette may work with a variety of designs like vintage, coastal, or Scandinavian. Whatever you imagine, Christina Hall shows us how the neutral combo creates a consistently classic vibe.
A white and champagne bathroom is timeless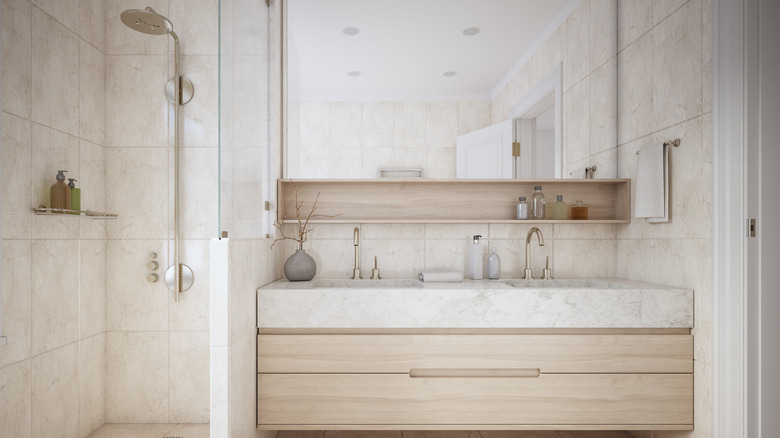 Creativastudio/Getty Images
Throughout Christina Hall's career, she has designed several bathrooms that feature a chic white and champagne palette. Simple and balanced, you can display the duo in a variety of ways. Choose pine or white oak to incorporate light wood elements within cabinets and floors alongside your purest pieces. Within Teri and Bradley's remodel, Hall installed light wood flooring to accent the white elements within the bathtub, backsplash, and vanity. With a white base, a faint wooden bathtub tray with champagne-colored pieces like scrub brushes and bath salts placed nearby can also give an exquisite contrast. Additionally, you can place an accent table made of brass or gold metal next to a freestanding tub or shower. A rattan towel basket or organizer would also define a significantly blank background. 
A white and champagne bathroom color palette may also be sticking around for a while because it blends easily with other neutrals and colors. Hall might lay down a dark gray shower tile to juxtapose white subway-tiled walls and bronze shower heads for comparison. Black-rimmed vanity mirrors, including dark window-pane shower doors and windows, would also add depth to the modest bathroom palette. Bring in greenery with bathroom-friendly plants like ferns, pothos, or succulents to stand out against a white windowsill or beige and/or champagne-painted wall. However you showcase the essence of bubbly with white, Christina Hall proves that their synergy provides a level of style that's not going anywhere.