The Best Oven Cleaners For Removing Stubborn Grime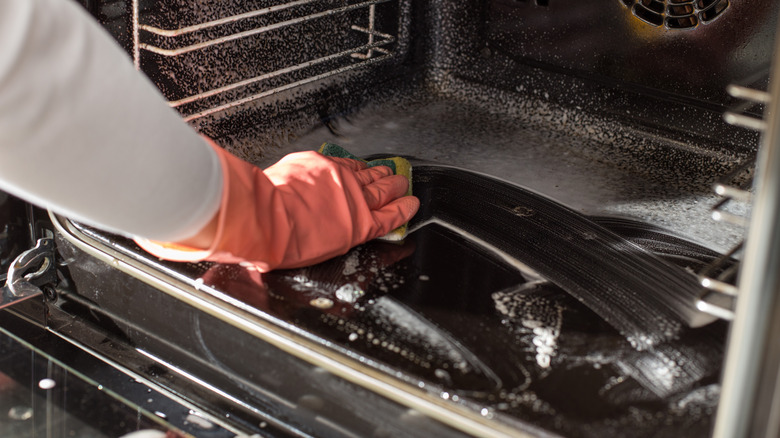 Jevtic/Getty Images
We may receive a commission on purchases made from links.
Cleaning the oven isn't most people's idea of a good time, but this dreaded chore is actually quite important to keep your kitchen in good shape. Unfortunately, however, many people aren't cleaning this appliance nearly enough, likely due to the fact that removing all of those burnt drips and splatters requires some serious elbow grease. Selecting an oven cleaner that is effective, safe, and easy to use won't completely remove the annoyance of this chore, but it can certainly help make the process much easier and less strenuous. After browsing the selection at popular stores, reading customer reviews, and checking out products' ingredient lists, we've compiled a list of the 10 best oven cleaning products fit for each and every kind of customer.
You should deep clean your oven at least every three months — even more if you're a big fan of baking or slow-roasting your favorite dinner dishes. If you wait too long between scrub downs, you could be left with burning debris that alters the flavor of your food, damages the finish on your surfaces, and creates an unpleasant smoky smell each time you cook. By choosing a cleaner that can effortlessly cut through this grime, however, you'll be back to preparing high-quality dinners in no time.
How we selected products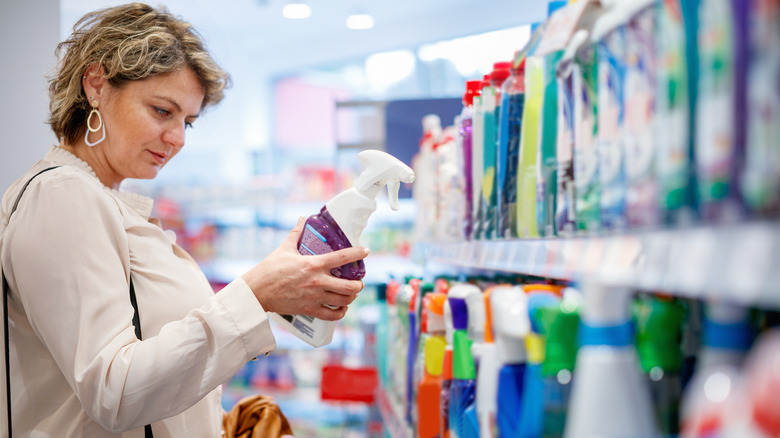 Zoranm/Getty Images
Choosing the best products out of any category can quickly veer into personal preference territory, but we've committed to bringing you suggestions that fit your specific cleaning needs. Because of that, we will be judging oven cleaners on a few different characteristics, like their price, cost, ease of use, safety, and general availability. The best oven cleaners should be easy to purchase in-store or online, powerful enough to cut through burnt-on grease and grime, and safe for regular use in the home.
Each of the cleaning formulas we selected includes these characteristics, but different cleaner varieties are a better fit for different potential consumers and their respective goals. Take a look at our list to ensure you get the best bang for your buck, and make an otherwise-dreaded chore a much simpler and quicker task by choosing the best cleaner for your specific preferences and situation.
Best overall: Easy-Off Fume Free Oven Cleaner Spray
Our top overall oven cleaner pick, Easy-Off Fume Free Oven Cleaner Spray, checks all the boxes. It's easy to find, moderately priced, safe for regular use, and popular with reviewers. On Walmart's website, it's earned 4.5 out of 5 stars, with many people impressed by its ability to clear away debris without having to use heat or deal with harsh fumes. Unfortunately, some customers didn't quite achieve the result they wanted on ovens that had serious grease buildup, so this product is recommended for more routine cleanings rather than heavy-duty jobs.
You can purchase Easy-Off Fume Free Oven Cleaner Spray at Walmart for $4.97.
Best Value: Great Value Fume-Free Oven Cleaner
Many bargain brand products are disappointing versions of the original product they're intended to copy, but some hit the ball out of the park with the similarities. This Great Value Fume-Free Oven Cleaner falls into the latter category and features a similar cleaning power as the crowd-favorite Easy-Off Fume Free Oven Cleaner Spray, but in a larger bottle and slightly lower price point. Simply spray the product on and wipe it away with a cloth to reveal a shiny, clean oven — no scrubbing, heat, or hazardous fumes required.
The Great Value Fume-Free Oven Cleaner is available for purchase from Walmart for $4.28.
Best Plant-Based Formula: Method Heavy Duty Degreaser
Making changes to your daily routine that prioritize the environment can be a challenge, especially when it comes to finding eco-friendly kitchen products that still pack a punch. This Method Heavy Duty Degreaser, however, has everything you need in a plant-based product. Method is known for its more environmentally friendly approach, and this degreaser is no exception: the formula is plant-based, it's not tested on animals, and the bottle is primarily made of recycled plastic. Plus, reviewers say its formula cuts through stuck-on grease just as well as other options on shelves.
Method Heavy Duty Degreaser is available for purchase from Target for $4.79.
Best Refillable Oven Cleaner: Everneat Oven Scrub Cleaner
If you're committed to reducing your waste and plastic usage, refillable and concentrated cleaning products are a game changer. Everneat took this idea and ran with it, and the brand offers an oven scrub cleaner in a choice of a plastic or glass jar with affordable refill packets. The formula is filled with naturally gritty ingredients like baking soda and pumice stone, and it's vegan, cruelty-free, and Leaping Bunny Certified. This simple ingredient list, however, does mean that you have to use more elbow grease than other options on this list.
The Oven Scrub Cleaner (Glass Jar) is available from Everneat for $24.99. 
Best Option for racks: Kona Grill Cleaner Spray
If your point of focus when cleaning your oven is more on the racks in the appliance than the walls and door, you need a formula with a bit more sticking power. More fluid oven cleaners will briefly adhere to the racks and then drip down through the spaces to coat the bottom of the oven, but the Kona Grill Cleaner has a more gel-like consistency that ensures the product will stay precisely where you spray.
Kona Safe/Clean Grill Cleaner is available for purchase from Amazon starting at $16.50.
Best Oven Window Cleaner: Weiman Glass Cooktop Cleaner and Polish
If you're in need of a product specifically designed to leave the glass parts of your oven clean and streak-free, consider opting for a glass cooktop cleaner like this one from Weiman. This product is great for polishing up glass stovetops, but it's also helpful for cutting through burnt-on splatters and grease on the doors of ovens. Of course, this use is slightly off-label, so it's always best to perform a spot test on your surface to ensure you won't be left with any damage.
Weiman Glass Cook Top Cleaner and Polish is available for purchase from Amazon for $9.99.
Best Paste Formula: The Pink Stuff Miracle Cleaning Paste
If you're a fan of satisfying cleaning transformation videos, you're likely already familiar with The Pink Stuff. This distinctive all-purpose cleaning product contains ground-up quartz, sodium silicate, and soap and works as a mild abrasive to help cut through the gunk. To use, simply apply a dab of the product with a soft rag or textured sponge, then scrub and wipe away to reveal a clean surface. As an added bonus, this simple formula has plenty of other uses around the house, from cleaning grout to polishing jewelry.
The Pink Stuff Miracle Paste is available for purchase from Amazon for $5.97.
Best Scouring Pads: Mr. Clean Magic Eraser with Dawn
If you're looking for an all-in-one product to spot clean oven messes, a scrubber like Mr. Clean's Magic Eraser with Dawn is a solid choice. Melamine sponges are well known for their ability to clear away stubborn stains, and Mr. Clean's kitchen-specific line also includes Dawn dish soap in the sponge that activates with the application of water. The combination of magic eraser and grease-fighting suds can help thoroughly scrub away grime.
Mr. Clean Magic Eraser Kitchen with Dawn is available at Target for $5.59.
Best Scent-Free Formula: Goo Gone Oven and Grill Cleaner
Sometimes, fresh scents in cleaning products are a welcome addition to the formula. Other times, like when you're spraying a product in an appliance where you'll be cooking food, overpowering fragrance isn't the best option. If you're looking for something that will give you all the cleaning power you need without a lingering smell, Goo Gone Oven and Grill Cleaner is a safe bet. This formula is unscented and doesn't release heavy fumes, so you'll be able to cook without any worry of a tainted final product.
Goo Gone Oven and Grill Cleaner is available for purchase from Goo Gone for $7.99.
Best Heavy-Duty Solution: Easy-Off Heavy Duty Oven Cleaner
Occasionally, you need to bring in the big guns. If you haven't been having much luck with regular cleaners, or it's time for a seriously deep scrub, consider the Easy-Off Heavy Duty Oven Cleaner. This spray is essentially a more intense version of the Easy-Off Fume Free Oven Cleaner, and it promises to deep clean burnt-on messes in as little as three minutes. With added power comes added responsibility, however, so make sure you spray with caution, wear gloves, and properly air out your kitchen to avoid inhaling fumes.
The Easy-Off Heavy Duty Oven Cleaner is available on Amazon for $4.97.
Best grease remover: Zep Heavy-Duty Foaming Citrus Degreaser
Grease, especially after it's been baked on, left on the stovetop, or exposed to heat, is one of the most difficult things to remove. Thankfully, this Zep Heavy-Duty Foaming Citrus Degreaser was specially designed to help cut through this stubborn buildup with ease, meaning you won't have to work nearly as hard to clean. It's safe for stainless steel, aluminum, and porcelain, will stick to vertical surfaces without dripping thanks to its foamy formula, and, according to reviewers, smells great.
The Zep Heavy-Duty Foaming Citrus Degreaser is available at Walmart for $6.02.
Best professional option: Advantage Chemicals Oven & Grill Cleaner
If you're working as a professional cleaner or routinely having to tackle major messes, you need a cleaner that will get you the best value for your money, ensure you're able to complete your task easily, and will still be safe for consistent use. This Advantage Chemicals Oven & Grill Cleaner checks all of those boxes. It's non-flammable, doesn't leave behind a film, and can be diluted if you're looking for a gentler formula.
The Advantage Chemicals Oven & Grill Cleaner is available for purchase from Webstaurant Store for $22.02 per case.
Best stain remover: Bar Keepers Friend
Sometimes, even after scrubbing down your oven, you're left with small stains, stuck-on gunk, and rust spots on your metal surfaces. Bar Keepers Friend offers a solution. This multi-purpose formula is well-known for being able to tackle messes that other formulas can't, but it's still gentle enough for use on most non-porous surfaces, from glass to aluminum. Sprinkle a bit of this powder on troublesome areas to spot treat them, and, with a bit of elbow grease, they should look as good as new.
Bar Keepers Friend is available from Target for $2.29.