TikTok's Trick Makes It Easy To Add A Portable AC Unit To Casement Windows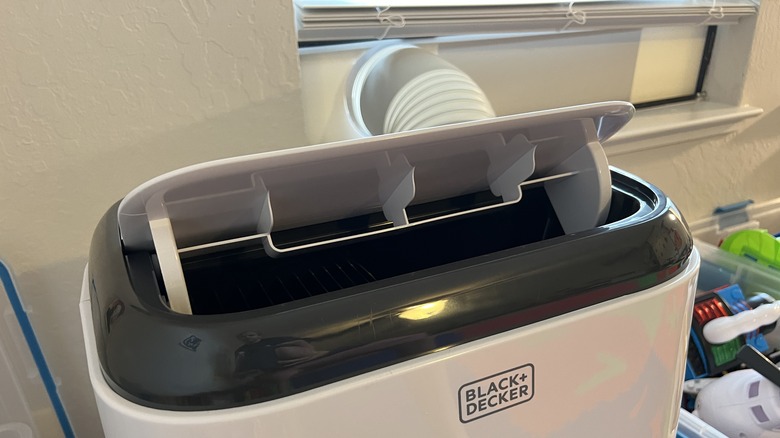 Gado/Getty Images
Staying cool during stickier summer months can be challenging, particularly when there are roughly six heatwaves annually, according to the United States Environmental Protection Agency. However, it can be even more difficult if you have casement windows. While it's easy to lose hope, there is a solution. If you have a portable AC, then using plexiglass could be the solution to all your summer woes, reveals one TikTok user who goes by the username @want.somora. Once you insert this magic remedy into your window, you should be as cool as ice in no time at all. Not only that, but the whole process is much less hassle than figuring out how to attach a window kit to your wall, and can help everything to look more seamless.
Likewise, this method shouldn't cost a fortune, making it easily accessible for anyone with a portable air conditioning unit. Perfect, eh? Of course, there are a few rough steps for you to follow to achieve this feat. Below, we'll break down step-by-step the process you need to follow to quickly get your space as cool as a cucumber.
Purchase the correct size plexiglass
For this hack by @want.zomora, you'll need to purchase some plexiglass specially crafted for your air conditioner hose. Of course, you should always double-check that you have the correct measurements for your windows, as it will need to fit like a glove. Additionally, you also need some caulk on hand. So, what do you do next? First, you need to remove the glass panel where you want your air-conditioning vent to exit. Once that's done, just grab your specially-designed plexiglass and fit it firmly inside. You can take your time with this part; there's no need to rush. However, you should make sure that the hose will reach before doing so; otherwise you may end up costing yourself more money to fix it.  
To secure your plexiglass, add your caulk around the outline. This part is essential, so make sure that you don't skip it. Likewise, you should try and refrain from bashing the hose around too much for the first day, as this may affect the caulk while it sets. Likewise, you must also check to ensure no gaps between the hose and the plexiglass. This hack works because the plexiglass gives the hose somewhere to exit, while sealing off the rest of the window. This allows the room to effectively cool down. Of course, if this doesn't work for you, there are still ways to keep cool without air conditioning.