Bargain Block's Keith & Evan Share Their Best Tips For Reupholstering A Couch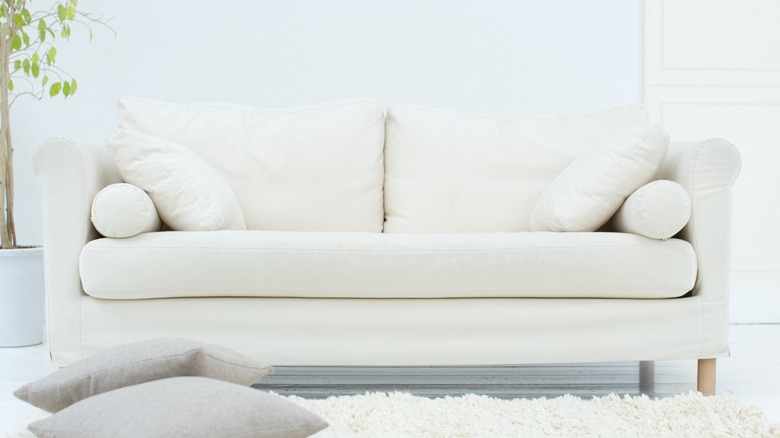 Image Source/Getty
Couches are expensive, so extending the lifespan of your old sofa or breathing new life into a thrift store find is a smart idea when styling your home on a budget. Don't assume that a faded or ripped couch is junk — while the upholstery might be worn out, the frame of the couch can still be in really good shape. If your old couch has a sturdy frame, it's time to look into DIY reupholstering.
Reupholstering furniture is often not as difficult as it seems and typically focuses on the simple task of ripping off old fabric and replacing it with new material. That said, if you want the best results for your reupholstered couch, it doesn't hurt to listen to advice from the experts. Keith Bynum and Evan Thomas, hosts of HGTV's home restoration show "Bargain Block," offer some helpful tips on how to reupholster a couch properly. The key takeaway: Slow and steady work will get you a polished finish.
Prepping the couch for reupholstering
There's no reason to rush through the reupholstering process. It's tempting to start your project by swiftly ripping away all the existing fabric, but this can cause unnecessary damage to the couch. Instead, Keith and Evan encourage folks to carefully peel back the fabric to avoid pulling out any padding or other structural elements. Another clever tip from the "Bargain Block" team: Lay out the discarded fabric pieces as you go, so you can visualize how much new upholstery material you'll need.
Peeling off the material is fairly straightforward, although you may need pliers or a hammer to loosen certain areas of the upholstery. To make your reupholstering job easier, Keith and Evan suggest finding the point where the seat cushion upholstery meets the couch frame and cutting a line through it. This creates a convenient slot for feeding through your new upholstery and securing it neatly without having to remove every bit of old upholstery.
Once you've gotten rid of the unwanted fabric and checked for any lingering sharp staples or nails, you're ready to spruce up your couch. Keith points out that "most things can be fixed by adding more layers," so hold onto any old batting you've removed, which can be used to restuff your couch cushions before installing the new upholstery. You may also need a fresh roll of batting, depending on how much reshaping is needed.
A smooth and tight finish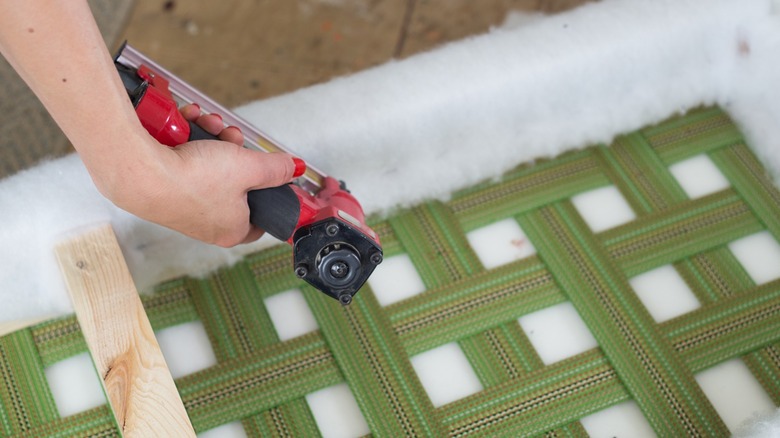 Kat Om/Shutterstock
As you reupholster your couch, focus on creating a smooth and tight finish, free of awkward bunching or loose fabric. Drape and tightly pull your batting across the couch, tuck the excess underneath, and secure it with a staple gun. Keith and Evan say to be generous with staples — the more points of attachment, the more secure the material will be. The same advice applies to the upholstery fabric, which should be pulled taut across the seat cushion and neatly folded and tucked at the corners before getting stapled into place. Take advantage of the slots you cut in the sides of the couch frame to feed the upholstery fabric through and tuck it underneath the frame, out of sight. For attractive folds, Keith recommends a roll-and-fold approach, where you tightly roll the extra material to get a clean edge before you fold it under the couch frame. 
After the seat upholstery is done, cover the back and arms of the couch with one continuous piece of fabric. Pull any extra fabric through the side slots so that the draping is neat and sits smoothly on the couch frame. For inexperienced DIYers, Evan and Keith give a reminder to staple any parts sticking out of the slots first before securing the outer layer of upholstery, as this will produce a better finish. With these tips and some careful folding and stapling, you'll have a beautiful reupholstered couch that feels brand new.