Design Pros Can't Get Enough Of The Way Nate Berkus Adds Extra Light To His Living Room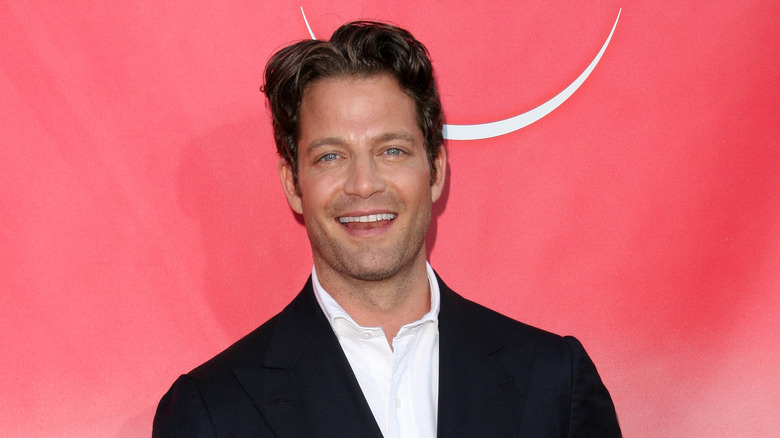 s_bukley/Shutterstock
With a wealth of lighting options available for your living room, it's often difficult to choose sometimes what best fits your space. Not only do you need functional lighting to see what you're doing, but you may also want to use lighting to highlight certain areas and aspects of the room. Design expert Nate Berkus was recently spotted on his Instagram discussing his love of decorating with souvenir pottery from his travels, but the plate is not what is catching the eye of fellow designers. The row of picture lights perched atop his shelves is what is stealing the show.
Berkus' bookshelves, painted a creamy white and stacked with all manner of books, art, and objects, are lit from above by picture lights, often used singularly over paintings. For the shelves, the lights serve to cast a soft ambient glow that highlights the contents of the shelves. The addition of the small lights also offers a more layered approach to lighting the overall room. 
Using picture lights
Many in the design world are applauding Nate Berkus' choice. Jo Plant, head of design at Pooky Lighting, tells Homes & Gardens: "Picture lights are great for much more than their names give them credit for. They are primarily used to highlight artwork but placed strategically, they can highlight architectural details, sculptures, or even bookcases." The shadows cast on the shelves below create depth and dimension, as well as allow what is on the shelves to remain fully visible. They fulfill a similar function to track or puck lighting in many homes, but have the more timeless and classic feel of an old library.
Try using picture lights above your own shelves or cabinets to cast a cozy glow beneath and highlight certain objects or collections. While many are wired, you can also choose battery-operated LED models that turn off and on with a remote. Not only do they provide extra light, they also instantly elevate the look of any room.