We Tried The Cheapest Cordless Handheld Vacuum At Target With Impressive Results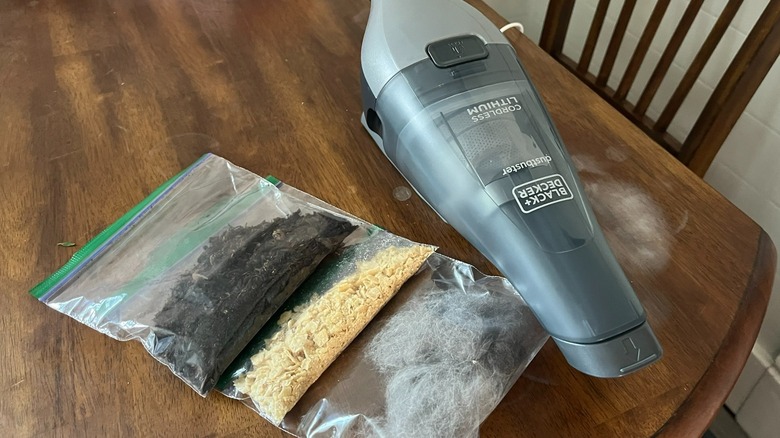 Kailen Skewis/House Digest
We may receive a commission on purchases made from links.
Handheld vacuums are great for cleaning up small messes and getting in between your couch cushions. However, some homeowners still decide not to add the miniature appliance to their cleaning supplies arsenal. After all, we have a perfectly good vacuum at home with a hose attachment that can clean up most of the same messes. Is a cordless handheld vacuum a must-have in your home? This is the question we set out to answer with our experiment.
Product listings for the Black+Decker handheld vacuum note how the small but powerful gadget is portable, lightweight, and quick. You don't have to plug it in before use. Simply lift it off of its mountable charger and get to work on cleaning up the mess. The vacuum is also bagless, so you simply pop off the dirt bowl with a press of the button and empty it into your trashcan. This all makes the Black+Decker appliance sound like an amazing tool, but we needed to put it to the test to see if it lives up to the hype. Does it make for a useful addition to our cleaning supplies closet, or will it end up collecting dust in the back of the closet?
Unboxing our new handheld vacuum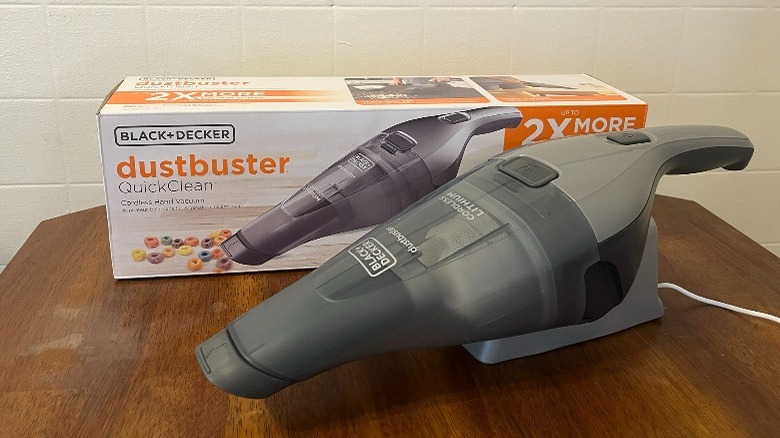 Kailen Skewis/House Digest
For our experiment, we purchased the Black+Decker Compact Handheld Vacuum. It was just $34.99 at our local Target, making it the cheapest handheld vacuum they had in stock. In the box, it came with a mountable charger, two screws, and a crevice attachment. Other options available at the time included a Dirt Devil Quick Flip Cordless Handheld Vacuum for approximately $40, or the Link Mini Wireless Handheld Vacuum Cleaner.
In testing the cordless vacuum, we wanted to try to pick up a variety of messes on a few different surfaces. As the vacuum charged on its mount, we set up small sections of dirt, food crumbs, and pet hair on our laminate flooring, upholstered couch, and low-pile area rug. For the dirt, we used some potting soil from our patio container garden. The food crumbs were made of crushed tortilla chips, and the pet hair came courtesy of our tuxedo cat, Serene.
Putting the cleaning tool to the test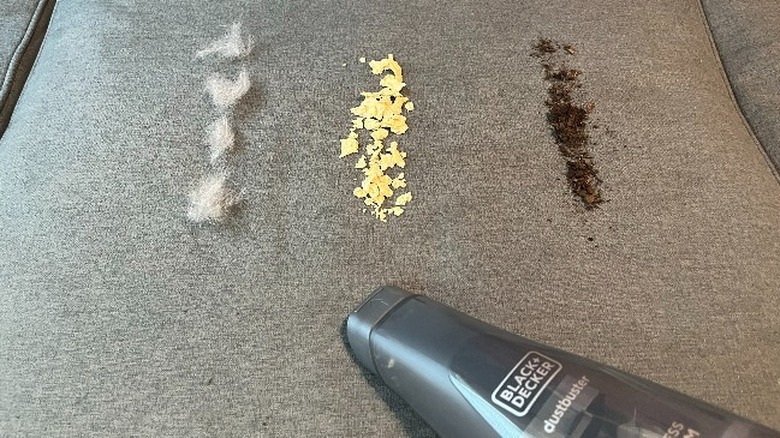 Kailen Skewis/House Digest
We started with the surface we were most confident the vacuum would clean easily: our laminate flooring. Three lines of our mess material – cat hair, food crumbs, and dirt – were laid out. One at a time, we sucked them up and our handheld vacuum did its job perfectly. Next, we tried the vacuum on our upholstered sofa. The messes were lined up in the same way and we started with the dirt. Immediately, we noticed that the fabric on our couch sucked into the vacuum somewhat which made it difficult to maneuver, but by using one hand to hold the upholstery down, the vacuum did its job.
Finally, we moved to our area rug — which was nerve-racking as the surface is the least smooth of the three. With the lines of debris ready, we began vacuuming the dirt pile up first. To our surprise, the line of dirt came up without an issue. The cat hair also vacuumed up easily, but some of the food crumbs got stuck in the fibers, with a few extra passes of the cleaning tool it was pulled up, too. Afterward, we opened up the vacuum and everything we had sucked up was caught in the collection area. Holding it above our garbage can we simply poured it out and then used our fingers to work the dust out of the filter before putting the device back together.
Our honest opinion of the Black+Decker vacuum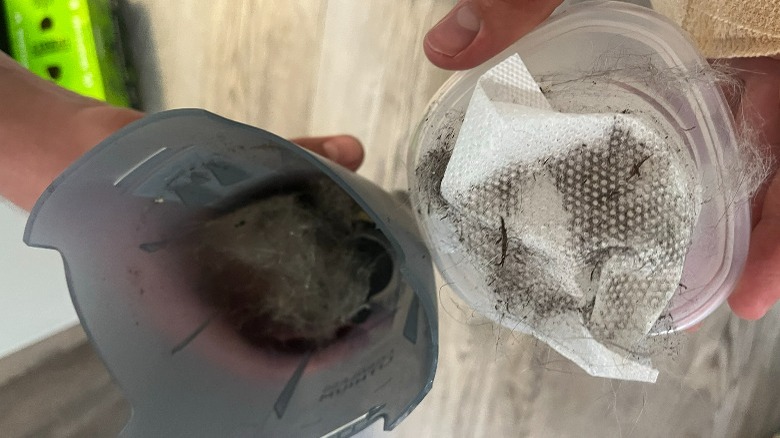 Kailen Skewis/House Digest
At the end of our test of the Black+Decker Cordless Handheld Vacuum, we were shocked at how well the inexpensive appliance performed. Despite being the cheapest option at Target, it still had powerful suction and cleaned a variety of surfaces without leaving a speck. It held up on its promises, and it will certainly be a tool that we use nearly every day in our household.
We would specifically recommend this device for its ability to quickly clean up messes that are too small or out of reach of your normal vacuum cleaner. The handheld appliance seems to be able to suck up many different types of spills, even those with somewhat large or heavy pieces of debris. In the future, we can see how it will be useful for cleaning the kitty litter that our cat kicks out of her litter box and the crumbs after nacho night. For us, it's a big thumbs up for this affordable cordless handheld vacuum.