This Brilliant IKEA Kallax Hack Will Totally Transform Your Living Room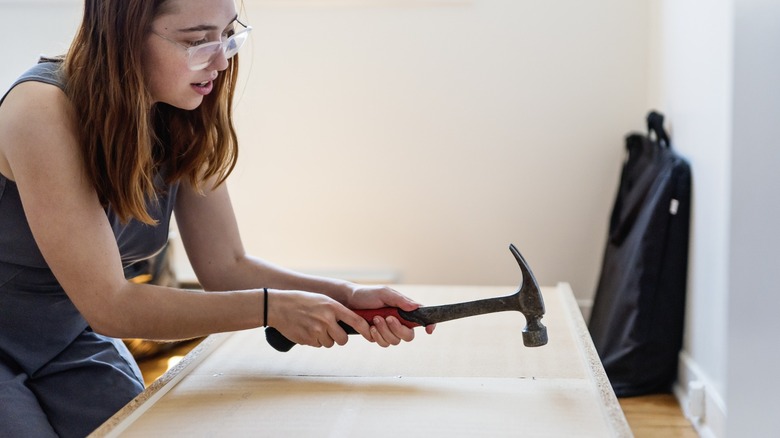 Martinedoucet/Getty
We may receive a commission on purchases made from links.
Styling your living room can be a lengthy process, and while you may have already found the perfect couch, rug, and coffee table, you're still left with some unsightly shelving and cabinets. Finding attractive living room storage that fits within your budget is a dream for many home decor enthusiasts, but it's rarely a reality. If you want to get the precise look you want out of a storage cabinet without breaking the bank, you'll need to roll up your sleeves and get ready for a DIY project.
As with many brilliant DIY interior design hacks, this project starts at IKEA. For a furniture piece that's ultra-versatile and budget-friendly, it doesn't get much better than the Kallax shelf from IKEA. Simple, relatively inexpensive, and available in several sizes, this cube-shaped open shelving unit is the ideal basis for all kinds of DIY furniture projects, from a clever room divider to a chic storage bench. And if you have a precise vision of your ideal living room cabinet, the Kallax shelf is a hidden gem. With a little handiwork, you can take a generic shelf and transform it into an ornate, custom cabinet.
How to DIY a decadent cabinet
The gist of this DIY idea is to use doors and decorative hardware to take a standard Kallax shelf from boring to stunning. Depending on your skill set and resources, there are a few ways to create attractive doors. If you're confident in your woodworking abilities — kudos to you if so — you can go ahead and make your own wooden cabinet doors in any style you wish and secure them with hinges, as demonstrated by TikTok user @asiazech. For a more readymade strategy, purchase IKEA's Kallax Door Inserts, which are little boxes with doors that fit inside the Kallax shelves, instantly creating a door for each cubby shelf. If you get the door inserts, don't just leave them plain — there are several decorative details you can add to level up your Kallax shelf, even if you don't have any furniture-making experience. 
You can keep things simple and paint the doors in a chic color, or you can experiment with new materials, such as adding a layer of woven cane or a border of wood molding. Aside from the color and texture of the doors, hardware goes a long way in giving a Kallax shelf a fresh look. For a sleek, modern vibe, use minimalist metallic handles. Give your cabinet an extra touch of elegance by attaching metal feet to the bottom, as well. The finished product will be a refined, cohesive cabinet. 
Style ideas
The best part is, you can use this Kallax IKEA hack to create a cabinet of any style. For a cottagecore aesthetic, consider ornate floral wooden decals, like the Muxsam appliques from Amazon. You can easily secure wooden decals with glue and paint them to match the cabinet color. And while plain metallic handles are classic, the Qinwuwu bird-shaped cabinet pulls will add whimsical charm to your DIY cabinet. Or, if you prefer a streamlined silhouette for your cabinet, opt for a simple set of feet that gives the piece a smoother vertical line, such as Weichuan's unfinished wood tapered feet, which can be painted with the same shade as the cabinet or in an accent color. 
These are just a few examples of how you can design your cabinet — from door design and hardware to color palette, the only limit is your imagination. With its simple, sturdy shape, the Kallax shelf is an excellent foundation for creating DIY custom furniture, no matter how you like to style your living space.