12 Important Questions To Ask Pest Control Professionals Before Hiring Them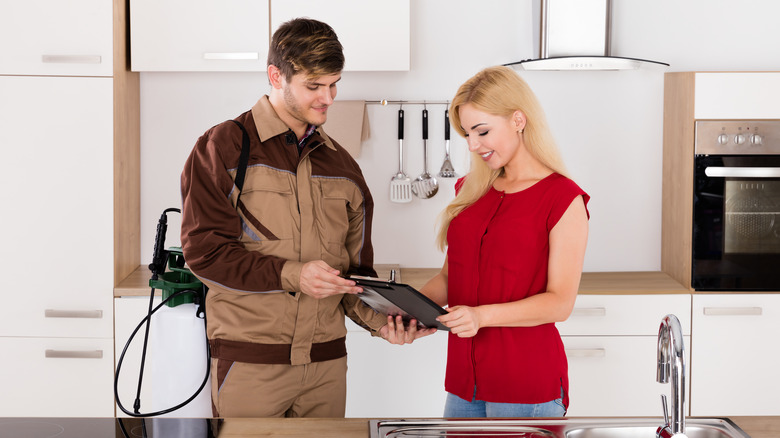 Andrey_Popov/Shutterstock
Few moments are more horrifying than finding droppings, chew marks, or insect trails in the sanctuary you call your home. At the first sign of a rodent or insect infestation, you should not hesitate to employ society's unsung heroes: pest control professionals. The sooner you hire a professional exterminator, the quicker you can evict animal intruders from your home. This leads to less damage and cleanup in the long run, preventing a small infestation from becoming a very large problem.
Many people know they need to turn to pest control to help them remove and prevent these problems. Yet not all people realize what they should be asking these companies beforehand. You can't afford to cut corners when it comes to protecting your family, home, and belongings. You must ensure you're hiring an educated, certified professional who is backed by the state to perform the work that they're doing.
Pest control isn't a simple business. It involves chemicals, mechanical devices, and extensive knowledge to do jobs correctly and without harming people, animals, and the environment. Learn more below about what you should ask a pest control agency before hiring them on to treat your home.
What types of pest infestations do you treat?
Pests are sorted into four main categories: rodents, insects, birds, and other wildlife. Rodents and insects are more common indoor issues, while birds and other wildlife threaten homes with outdoor spaces and gardens. Most pest control companies treat insect and rodent problems, but some have a niche they capitalize upon, such as termites or mice. Even if you're searching for a general exterminator, you shouldn't have much trouble finding one to treat mice, rats, ants, bed bugs, cockroaches, head lice, mosquitoes, or spiders, since these are some of the most common pest infestations. 
Before you sign a deal with a pest control specialist, ask them which pests they have the most experience, options, and success with. Make sure they offer indoor, outdoor, or versatile pest control solutions depending on your needs. Many pest companies offer free inspections and quotes, so don't be afraid to contact another specialist once you pinpoint the type of infestation.
Is your company licensed, bonded, and insured?
Pest control operations must be licensed, bonded, and insured like any other trade in the United States. Illegal pest control companies are more common than you think, and you must ensure your chosen company is working legally in your area. In most states, licensing requires that pest control businesses carry insurance and employ state-certified operators who've passed a written examination.
Ask for their name and license number, and you can check their legitimacy via state websites like Florida's pest control database and California's DCA license search. It's important to verify that their license is valid specifically in your state and county of residence. Different states and municipalities may have different qualification requirements for pest control agencies, and you want to make sure the company is working legally in your area.
Unlicensed pest control agencies are a danger to you, their workers, and the environment, as they are not guaranteed to protect and insure their workers or the work itself. It's also possible they use unregulated pesticides, which can harm both your family and the environment. In short, you need a service that you can rely on to do the job correctly, safely, and ethically, which is only certain if they're licensed, bonded, and insured.
Are your employees trained and educated?
Part of being a licensed pest control company is employing educated and certified workers. To qualify for the license certification test, employees must have at least a high school education and multiple years of total experience. The years of education must include one year of work under a licensee or having a university degree with semester hours in entomology, botany, agronomy, or horticulture. The exact number of years or degree hours may differ depending on the state but serves as an assurance that an individual is knowledgeable and qualified in their field.
Ask your pest control companies if they can show proof of licensing for team members, proving that they are educated or in the process of learning the job. Don't be afraid to inquire about how previously-certified employees are kept up to date on pest control practices. For example, they may take courses at the Certified Training Institute or PESTED Educational Services For The Pest Management Industry, which are private online learning tools in select states throughout the United States. Many reputable companies even invest their own time and resources into their employees as well, as seen in a YouTube video documenting a Viking Pest Control technician's typical workday.
How long have you been in business?
The ancient proverb, "Experience is the best teacher," applies to all aspects of life, even pest control. The best contractors may not have been running their business for long, but they should have a track record indicating years of apprentice experience. Unless you want to take a chance with a newcomer in the industry, look for established companies that have been in business for several years. According to statistics from the U.S Bureau of Labor, almost half of new businesses fail in the first five years of operation. Most people don't want to sign with a company that isn't going to guarantee service long-term. This is especially true for pest control, which is a routine service.
Ask your pest control service how long they've been in the industry. Their website should also clue you into this information. Take a look at their online presence, reviews, and professionalism; is their website up to date, are they easy to contact, and do they seem open about their methods and practices? All these details should clue you into whether they're a reliable service and if you can continue to depend on them in the future.
Do you have reviews and testimonials from previous and current clients?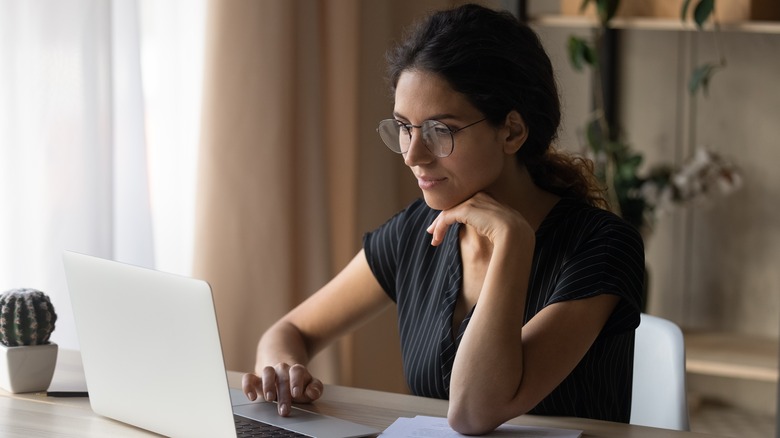 fizkes/Shutterstock
Any company can boast that they provide great customer service and have high success rates, but the truth lies in the testimonials. There is no greater tell of a company's reliability than feedback from other former clients. Ask for a link to their official website, and check out Facebook pages, Google business profiles, and the Better Business Bureau to scout out what other people are saying.
You can see for yourself if this pest control company has dealt with similar situations with other households and whether their treatments and prevention practices successfully eliminated pests. See how many of their reviews are return or routine customers. Regular customers indicate people trust them to keep their homes infestation-free throughout the year.
Look for reviews that mention actions indicative of good customer service. For example, testimonials that claim agents show up on time, are informative about the process, and are generally kind throughout the service. Remember that it's not only important that these professionals are knowledgeable in their line of work; they will have access to the exterior and interior of your home. They should have a friendly vibe and make you comfortable with allowing them around your premises throughout the visit.
Are your services guaranteed?
You want a pest control agency that is confident in their ability to keep critters out of your home. Many companies have an all-encompassing guarantee in their contract. They promise 100% customer satisfaction and provide compensation for jobs that don't meet expectations. Many pest control agencies will re-treat your home for free or offer a refund or credit if unsuccessful. These guarantees vary in time span and coverage, so check the fine print on your contract to ensure there aren't any loopholes.
This guarantee should be expressed orally and in writing. Remember that off-the-record conversations don't hold up legally. If your chosen pest control professional promises a guaranteed job in person but won't put it in the physical contract, they may not uphold their end of the deal. You won't have anything concrete to hold them accountable, meaning you'll have wasted your money on ineffective treatment. This case leads to a tedious situation where you'll have to find a new company to pay out for the same (but hopefully more effective) service.
What kinds of treatments do you use?
Contrary to common belief, pesticides aren't the only approach to removing and deterring infestations. A diligent pest control company will utilize multiple methods to catch and remove unwanted critters, and you should make sure they have an array of options at their disposal. They may even recommend lifestyle changes to help prevent future infestations. For example, you may need lidded indoor trashcans, sink drain covers, to repair water leaks, or to seal gaps in walls, windows, and doors. These methods prevent creatures from invading your home in the future.
When it comes to direct methods for dealing with current infestations, a pest control specialist may lay traps, set up mechanical deterrents, and place tape or screens to quarantine areas. They may sprinkle diatomaceous earth powder, which is dusty fossilized remains "generally recognized as safe" by the FDA. Small amounts of this dust are not harmful to adults, children, or pets, and eliminates insects by sticking to their exoskeletons and killing them. Pest control professionals may also use heat treatments, which heat certain areas of your home to 120 to 140 degrees Fahrenheit to kill bed bugs.
The above methods are the safest options if you don't intend to leave your home during and after treatment. However, for more serious infestations, pest control operatives may need to resort to more chemical means, such as pesticides, fumigation, and rodenticides. When these products are used indoors, home residents usually vacate the affected areas.
Are your treatments safe for pets and young children?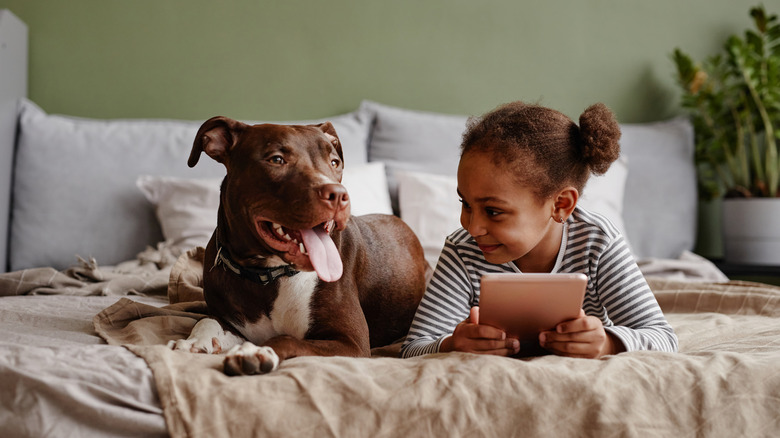 Seventyfour/Getty Images
If you have young children or free-roaming pets at home, the most important question you need to ask is if a pest control company's treatments pose any danger. They should be aware of your home situation (the presence of children and animals) before suggesting treating and preventing pest infestations. Unless the pest situation is extreme, the pest control agent should have a repertoire of methods that don't endanger your loved ones.
Chemical agents are dangerous for animals and humans to inhale or consume, making them an obviously perilous choice. On the other hand, some traps and mechanical deterrents can also pose harm. Inform your pest control professional to put these items in rooms off-limits to children and pets or in places that are out of reach. If you want to avoid these products completely, open a discussion with the professional to find alternative methods.
What direct and preventative treatments do you recommend for the situation?
You should be fully informed about your situation and what the pest agent thinks is best based on their previous experiences. All solutions vary in toxicity, potential danger, and success rate, and you should choose in tandem with the pest control professional. Many factors go into your decision: Do you have animals or children? Do you need to remain in your home during and after the treatment? Do you live in an area where pests are likely to return over time?
All of these questions complicate the treatment plan, and the pest control company should devise a personalized plan based on your lifestyle, house, geographic location, and the pests at hand. They should offer direct treatments in addition to preventative methods to properly approach the issue. For example, if you have bed bugs, they may use a heat treatment to kill the current infestation directly. However, for long-term prevention, they may also install bed bug interceptors on furniture legs and recommend buying encasements for your mattress and box spring.
As mentioned before, proper pest control is more than just fixing the problem at hand. Exterminators must look at extended solutions and preventative treatments to perform commendable work. You don't want a company that only deals with the direct problem, as this does nothing to reduce the probability of future occurrences.
How long will the quote, service, and waiting period take?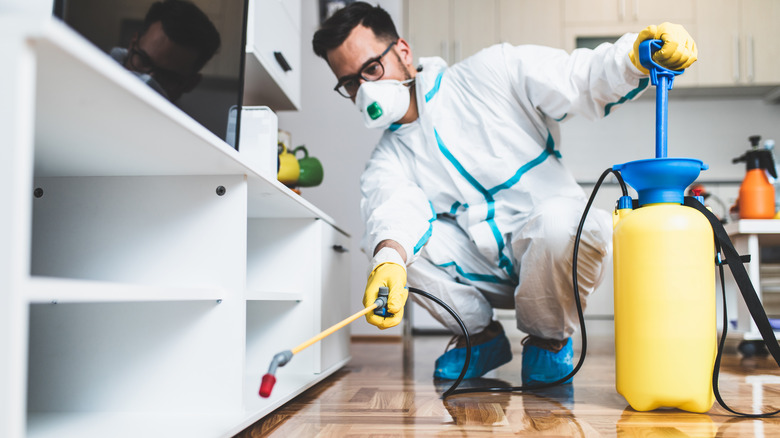 hedgehog94/Shutterstock
Many pest control companies offer emergency services 24 hours a day, 7 days a week, if your situation demands it. However, in non-emergency cases, they will drive out within a week's notice to give you a quote and sometimes treat the problem on the spot. There is no short answer for this question, as different treatment types have varying durations.
A standard bug treatment to a regular-sized home takes around thirty minutes. These services are usually called "general pest control," and they take care of roaches, silverfish, spiders, and other small bugs. If a pest company executes several plans of attack, provides preventative measures, and treats indoor and outdoor areas, it can take up to two hours.
More serious issues, such as full house termite fumigation, can take up to eight hours for two technicians to complete. Afterward, you may have to evacuate your home for up to three days to ensure no residual chemicals remain. Depending on the treatment, you may be safe from pests from a few months to up to a year before a re-application is necessary. An estimate on the total length of time should be discussed before services begin, so you have an accurate quote for the time, labor, and treatments you'll be paying for.
Do you offer routine services?
No matter how great a pest control company eliminates and prevents pests their first time around, you must remember that they aren't a one-time service. The most effective treatment plans mean they won't be back often, but they must make return visits eventually. You may need to schedule monthly or quarterly visits depending on where you live and how common pests are.
Inquire with your pest agency about scheduling routine visits. This makes it easier for you to maintain pest prevention plans and reduces the chance of full-scale infestations moving back in. Keep in mind that humid and warm climates tend to be more vulnerable to infestations, especially properties that are near forested areas. If you live in such climates, pest control might need to make regular visits, especially during spring and summer. Insects are less active during winters, but rodents and other small animals may take shelter in your home. 
Is there a written agreement or contract?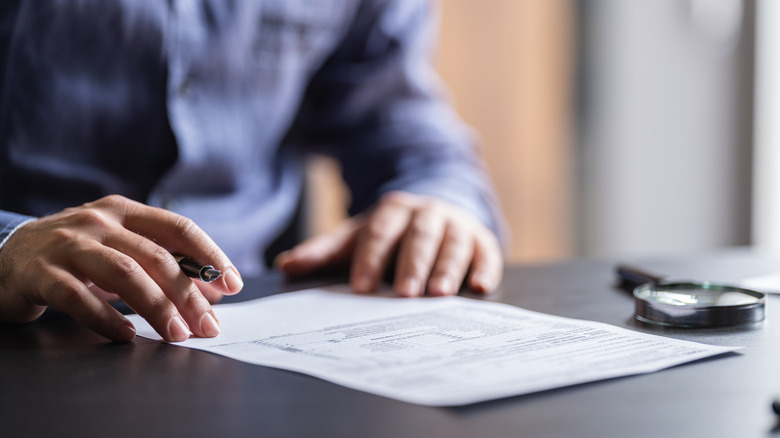 Ilkercelik/Getty Images
In today's day and age, legally binding contracts play a vital role in all arrangements or transactions. Creating a written agreement ensures both parties are aware of all aspects of the pest control service, including payments, potential risks, guarantees, and any other factors. Some pest control agencies reserve written contracts for their long-term clientele, but ideally, you should have a written agreement no matter how large or small the service. If both parties act ethically, the contract safeguards both the business and client involved, meaning there's no reason to refuse one.
Ask your pest control company if you can sign a written contract. This form should include several key elements: the extent of work, services involved, a pre-work property description, satisfaction guarantees, agreed pricing and due dates, insurance information, and a signed disclosure. Make sure you receive a copy so you have the original agreement on hand if any issues arise.