Martha Stewart's Brilliant Tips For Making Cut Lilacs Last Longer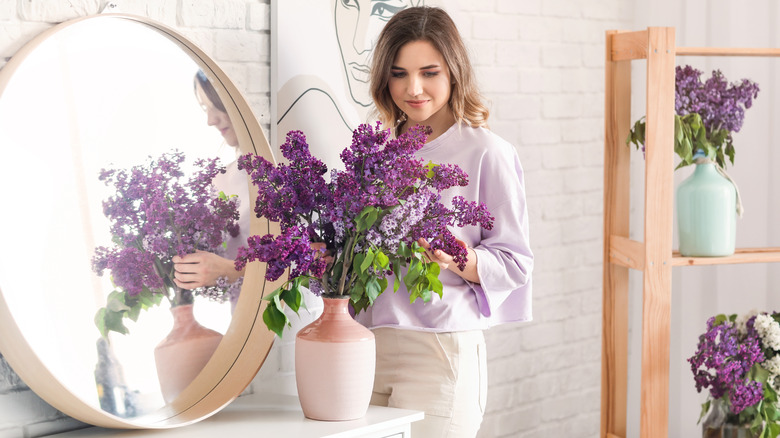 Pixel-Shot/Shutterstock
From their incredible, springy aroma, to looking like something straight out of a fairy tale, there are plenty of reasons why you'd want to have freshly cut lilacs from your garden in your home. Just one problem: they have a tendency to wilt fast, leaving your fairy tale bouquet looking haggard in no time. Luckily, however, Martha Stewart has a number of easy fixes. 
Part of what makes lilacs wilt so fast is their woody stems. In addition to being fairly dense, water from the vase needs to travel through the entire stem before it even reaches the flowers themselves. However, that's not to say snipping them shorter is the solution. In fact, doing so could actually make the flowers wilt even faster. The best way to go about keeping those longer lilac stems luscious, then, is with a clever hydration system — and in a TikTok featuring a lush lilac arrangement of her own, Stewart shared exactly what that would entail. 
As with most cut flower arrangements, Stewart's hacks include some snipping, removing of leaves, and, naturally, a vase filled with water. However, what makes her approach stand out is how you'll go about it. Hot water and cross-hatching, here we come. 
Use a cross-hatch and hot water for maximum hydration
In light of lilacs needing as much water as they can get, it only makes sense that Martha Stewart's first step is to remove the leaves. This will prevent the water being any further diverted from the blooms themselves. Next up: grab a secateurs (Amazon has these essential gardening tools for under $15), and create a cross-hatch at the bottom of the stem. Essentially, "X" marks the spot for water to enter the stem deeper and more easily. 
Speaking of the water, while it may be tempting to reach for room temperature, or even cold water, Stewart warns against it. Instead, she reaches for hot tap water. While she doesn't go into detail on the reasoning for that, other experts have also touted this method in the past. Speaking to Well + Good, florist Rick Canale explained that warm water softens the stem, making for easier absorption. Pair that with the benefits of the cross-hatching, and it's no surprise Stewart says this approach sees most lilacs last for up to three days.
One thing you will want to keep in mind, particularly when it comes to the hot water portion, is the emphasis on hot. Boiling water can do more harm than good — as can the wrong kind of vase. Opt for a slightly flared design like the one used by Stewart to let the steam escape,  rather than damage your flowers. Et voila, a lush lilac arrangement that lasts.