The Moody Wood Flooring Trend That's Predicted To Rule 2024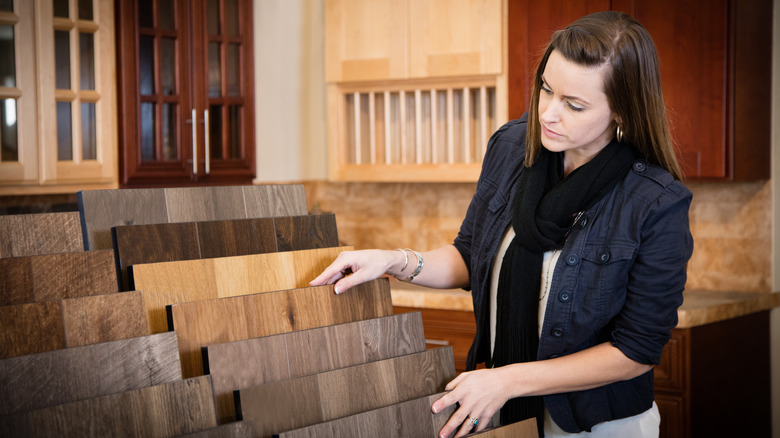 Bill Oxford/Getty Images
Retro vinyl flooring — a throwback to the zesty kitchens of the 60s and 70s — was a floor trend predicted to take over in 2023. Mid-century modern minimalism was among the top home design trends of summer 2022. In 2024, we're stepping back even further to the dawn of the 20th century. At least where our floors are concerned. Smoked (also called "fumed") wood flooring was discovered in Europe accidentally — people noticed that horse urine tinted the wood around the offending equines' stalls — and, in the early 1900s, was favored in America by furniture designer and Arts and Crafts proponent Gustav Stickley.
A return to mercurial smoked wood flooring for 2024 isn't that surprising when you consider other home design trends of the moment. "Moody colors [...] can create the right vibe before you set the table or ease into your favorite sofa," Amanda Barnes, founder of Amanda Barnes Interiors, told Insider at the start of 2023. Smoked wood flooring is making a 21st-century comeback as a favorite of designers and homeowners pining for mellower vibes.
The vibe: Warmth and comfort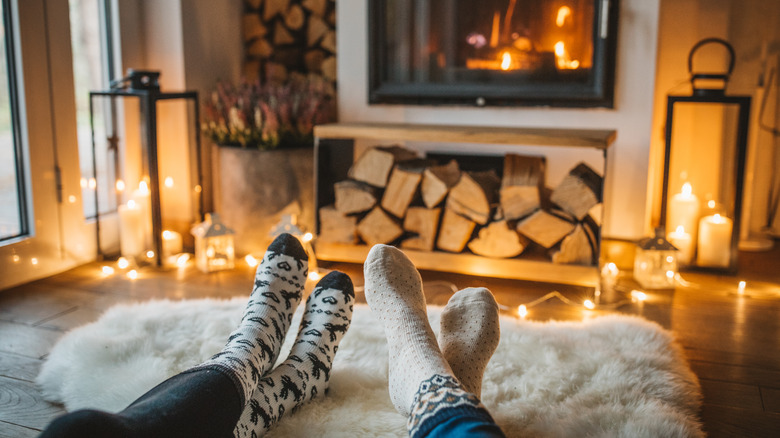 Svetikd/Getty Images
Way back in 2014, interior designer Catherine Skaletsky of Catherine & McClure Interiors chose "dark burnished smoked wood flooring" for her new Swampscott, MA, home because it typified subdued comfort, per Northshore Magazine. An Architect and Interiors India article from 2023 notes that designer Karan Desai of Karan Desai Architecture + Design selected smoked wood flooring by Havwoods UK for the living room of a luxurious Mumbai duplex for similar reasons: again, "warmth and comfort."
When asked to decorate the interiors of a newly built family home in Chicago, Style 1519 owner Mollee Johnson chose smoked wood flooring for its timelessness. "The homeowners simply wanted anything that is current and still classic," she writes in an article for City Lifestyle. UK-based Oak By Design recommended clients Michael and Phillippa floor the games room of their newly purchased home with fumed wood boards in a smoked white finish because it isn't "a flat, one-tone color, as a stain would give; it is a much more natural look." That unpredictable, one-of-a-kind, moody finish — a result of the fumigation process — is, it seems, what will make smoked wood flooring so desirable in 2024.
Is it right for your home?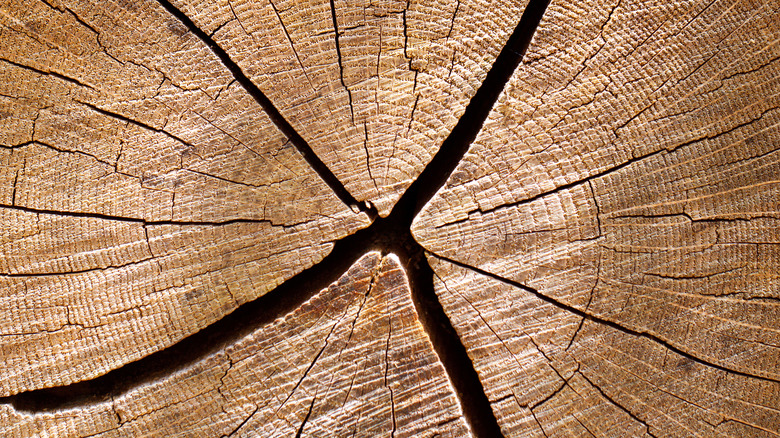 Rmcguirk/Getty Images
To create smoked wood flooring, planks or slices (for veneer) of timber are placed in a chamber and exposed to ammonia gas. The ammonia draws the tannins — a naturally occurring compound in trees — to the surface, darkening the wood and highlighting the grain patterns. Oak, especially white oak, is the go-to timber for this procedure, but other woods like beech and butternut are also smoked. The amount of tannin in any given piece of wood varies between species, regions, individual trees, and even the part of the tree the planks were cut from. This results in a lot of variation across the flooring, a uniqueness many designers and homeowners covet.
Most smoked wood flooring you'll see in new interiors is available in various-sized planks (solid or engineered), as you'd get with traditional hardwood floors. It's also available as petite chevron planks (laid in v-shapes) and parquet blocks (laid in geometric patterns). The practical benefits of fumed wood are similar to the pros (and some of the cons) of solid hardwood: it's easy to clean, and you can refinish it as it ages. One big difference, however, is that scratches are less noticeable than in stained wood since the color is embedded into the planks, not painted on the surface. Therefore, smoked wood flooring works well even in the most well-used parts of a home. The installation cost to put in wood flooring — smoked or stained — is similar, but smoked planks may cost more to purchase due to the additional processing.