These Are The Top Home Design Trends Of Summer 2022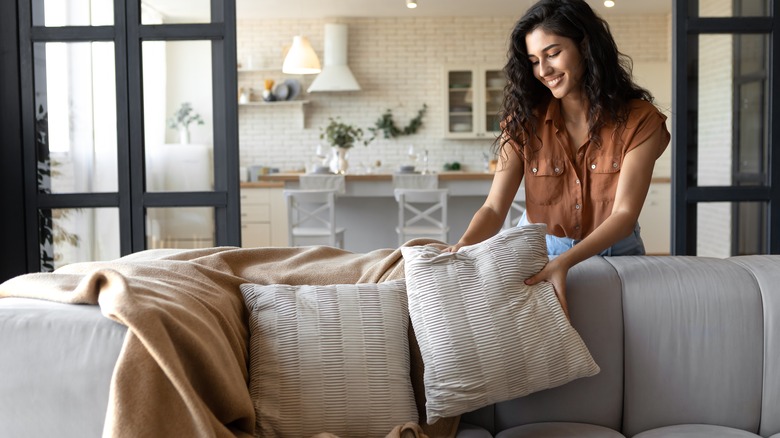 Prostock-studio/Shutterstock
Homes feel like a reflection of ourselves, signaling what we find important and what we want to surround ourselves with. That's why it's always interesting to pay attention to home trends. Ever-changing home trends don't mean people can't make up their minds. It means people are finding new ways to express themselves and figuring out how to make their home match their tastes and their lifestyle. Not every trend will appeal to everyone, but everyone can take little pieces of the top trends and incorporate them into their own spaces.
Trends show what the most sought-after styles are at the moment. And for this upcoming summer, you might be surprised what people are considering for their homes. Houzz published a 2022 trend report based on what people are searching for when it comes to designing their spaces. If you like to be up to date on what's happening in the world of home design, here's what people are searching for.
Defining interiors
Naming and defining your interior style is a popular home trend. Scroll through social media, and house influencers will have very specific descriptors of how they approached defining their space. And what's really interesting is that the top trends can be placed in two very distinctive categories: Minimalism and Maximilasim, per The Design Sheppard.
Houzz reported that searches surrounding mid-century modern and japandi –- two very minimalist styles -– have increased over the last few months. Mid-century modern focuses on clean lines, natural colors, and large windows to bring the indoors outdoors. Japandi has similar design tenants, though it's influenced by a mix of Japanse and Scandinavian interior design, says Barbulianno. Both focus on creating a simplistic, cozy, and uncluttered interior.
But on the other end of the spectrum is maximalism, a style that rejects the neutral and minimal aesthetic for bright colors and lots of decorations. Maximalism is more of a design philosophy than its own style, which is why maximalist exteriors can look so different. People are combining maximalism with descriptors like eclectic, boho, and academia. The key to maximalism is a personal approach that incorporates your interests and tastes.
Barndominiums
The popularity of farmhouse interiors and exteriors have been on the rise over recent years. So it should come as no surprise that people are searching for ways to take this trend one step further with barndominiums. Sometimes called a barndo -– a portmanteau of barn and condo -– barndominiums were traditionally barns that have been converted into a home. But now barndos are hybrid structures inspired by the original concept but now built with modern elements like energy-efficient features and contemporary design, says Metal Building Homes. While some people still convert barns to homes, contemporary barndos are built custom.
Barndominiums still have the look of a traditional barn exterior with high roofs and symmetrical design. However, they often utilize an updated exterior with clean lines and large windows. Inside, they feature open floor plans and exposed ceiling beams, features that are popular in most contemporary homes. Of course, moving to or building a new home isn't always possible. That's why barndominium interiors are also trending as people try to incorporate these design elements like high ceilings, open layouts, and clean straight lines into their current homes.