Try This Genius Paint Trick To Give Any Fridge A High-End Look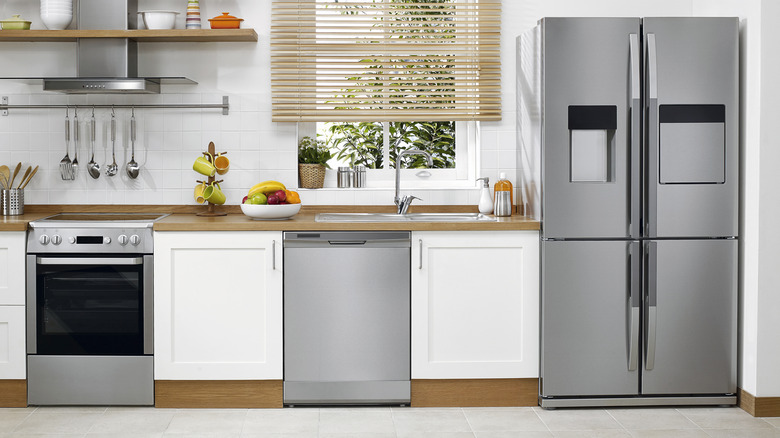 Gerenme/Getty Images
When you have a vision for what you want your kitchen to look like, it can be challenging to bring it to life if you're stuck with stainless steel or muted appliances. While stainless steel elevates a space to make it look luxurious, it's often overused. You might feel limited in pairing it with neutral colors or other stainless steel appliances. For example, a stainless steel fridge is typically matched with a stove, microwave, and dishwasher in the same material. Further, though you can buy a trendy vintage fridge like the popular SMEG refrigerators to brighten your kitchen, they can be expensive. Instead, painting your fridge is an inexpensive way to give it a custom look and help bring your dream design to life.
TikTok user Ashtyn Brooke (@ashtynxbrooke) painted her stainless steel fridge with a black shade and covered the handles with a copper color. The TikToker used ZINSSER's BIN primer, which made painting her fridge effortless. It's available at Home Depot for about $24 per quart. Using a suitable primer before applying any coat of paint will help the paint stick to the surface and prevent chips and scratches when it's dry.
Simply sand, prime, and paint your refrigerator
The ZINSSER primer that Ashtyn Brooke uses is shellac-based, making it a stain blocker, odor sealant, and fast-drying primer. It dries within 20 minutes, which is perfect if you're on a time crunch and need to paint your appliance the same day. The primer is made to be used on non-sanded surfaces, so if you don't own a sander machine, you can skip that step and go straight into priming. However, sanding and then priming the surface will ensure the primer sticks appropriately. Additionally, painting can sometimes be a little messy, so if you spill the primer on the floor, you can easily clean it up with denatured alcohol.
In Brooke's TikTok video, she shows her followers how she transformed her fridge. You'll need a sander, ZINSSER's primer, a small paint roller, and your paint color preference. If you want a high-end look, a black shade may be the best choice. Brooke started by sanding down her fridge to roughen the surface and ensure the primer stuck when applied. Then, after cleaning off the dust, she applied the primer to the refrigerator with a roller in three to four light coats for an even, fully-covered surface. Once she finished priming it, it looked entirely white, preventing the stainless steel surface from peaking through. Finally, Brooke painted her fridge black with an eggshell finish so it wasn't too shiny, and she spray painted the handles a copper tone.