Turn A Basic IKEA Shelf Into A Beautiful Hanging Cocktail Bar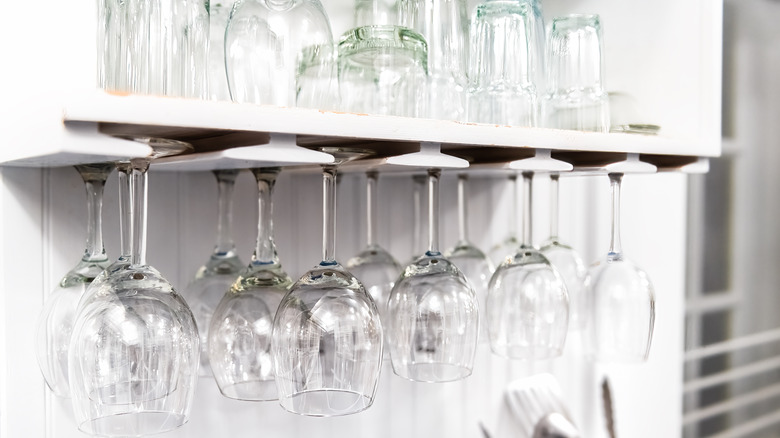 Ablokhin/Getty Images
Having a built-in bar in your home adds an air of elegance and sophistication. It offers a chance to display your refined taste in beverages and becomes a striking focal point in any room. But not everyone has the budget or space to pull it off. That is until now. This DIY hanging cocktail bar can bring your visions of a built-in home bar to life, all at a fraction of the cost. And it all starts with a basic shelf from IKEA.
Among the extensive range of wall shelves, IKEA's BURHULT/SIBBHULT style stands out as a great option for this simple yet effective DIY bar hack. What makes it even more appealing is its affordability and availability in stores or online for just a few dollars. While it comes in white, you can easily customize it with a coat of paint to match your desired aesthetic. This allows you to create a personalized and unique addition to your home without breaking the bank. Taking this stylish home bar to the next level is the addition of a hanging stemware rack, such as Walmart's DecoBros Single Rail Wine Rack. This addition easily fits underneath the shelf and offers a sleek and space-saving way to store wine glasses. With its practicality and ease, this DIY project becomes a must-do. So, let's delve deeper into the step-by-step process of bringing this innovative concept to life.
A top-shelf home decor addition
To begin, carefully consider the ideal placement of your chosen IKEA wall shelves, taking into account whether multiple shelves are necessary to achieve your desired bar setup. Once decided, it's time to transform these shelves into an actual hanging cocktail bar by adding a hanging glassware rack. Simply screw the hanging rack into the underside of each shelf you intend to use.
Next, it is time to securely attach the bar shelf to the wall. Opt for heavy-duty wall anchors and screws, ensuring that they are capable of supporting the bottles. It is essential to consider any weight restrictions imposed, as the last thing you want is for it to come crashing down, potentially causing damage to the bottles and glasses on display. By carefully executing and considering these steps, you can create a functional and visually pleasing hanging cocktail bar in the comfort of your own home.