HGTV's Erin Napier Has A Clever Solution For Fighting Mosquitoes In The Bedroom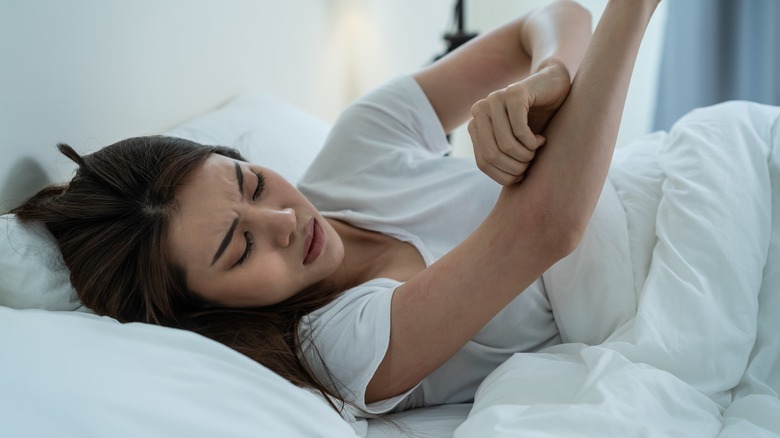 Hananeko_Studio/Shutterstock
We may receive a commission on purchases made from links.
While they may have their place in the ecosystems outside of our homes, mosquitos are unwelcome guests within our four walls. Not only do their bites agitate, but they also cause itchy and unsightly bumps. Mosquitos are also capable of transmitting nasty diseases, which in some cases have the potential of being fatal, especially in younger children. That's why Erin Napier, star of HGTV's "Home Town," uses this clever solution to safeguard her family from buzzing bloodsuckers. Though using a mosquito net isn't something new, it's something that works!
Many of us will forgo using pesticides in our homes in favor of gadgets that can help solve our pest problems, like plug-in bug zappers. Napier had tried several different options before finally using a mosquito net. But they all failed for her particular problem. So, she turned to a mosquito net that hung from the ceiling and covered her kid's bed. And her child absolutely loved it!
"Helen's bedroom has a mosquito problem we have been trying to solve for weeks. Today's solution may be her favorite thing EVER," Napier said in an Instagram post. These hanging canopies give off a fantastical princess feel that can offer a touch of whimsy or regality in the bedrooms of both children and adults.
How to incorporate mosquito nets in the bedroom
Mosquito nets come in a range of colors and styles, like this illuminated starry canopy for $23 on Amazon or this more elegant double-sided one for $18 (also on Amazon) that both hangs from a single point on the ceiling. Other options include a mosquito net from Amazon that retails for $21 and hangs from multiple points on the ceiling. It can be gathered at four different corners and tied back like drapes. There's also a pop-up tent option, which is a little pricier at $34 on Amazon.
It's important that you properly hang your mosquito net to ensure that you will be fully protected. Be sure not to sleep up against the net as a mosquito can bite through the material, even if it can't pass through it. Take care when using sharp or pointed objects that can snag or tear your net, and be sure to regularly check it for holes. Any opening in your net can leave you vulnerable to mosquito bites.
You will also want to tuck your net in under your mattress for extra protection to help keep mosquitos out or have one that's long enough to reach the floor. It's also crucial to never use mosquito nets near open flames or cigarettes as the nets can ignite or melt. Proper use of your net will keep you and your family safely protected from these pesky insects.