Instantly Elevate Your Living Space With Jenn Todryk's Simple Advice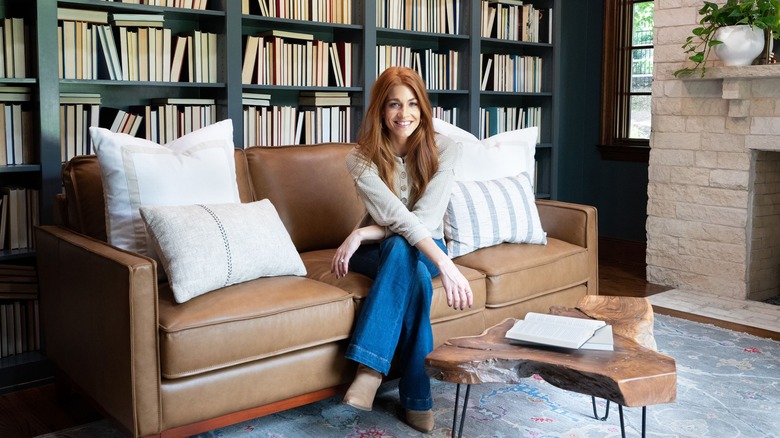 Jenn Todryk/HGTV
Jenn Todryk of HGTV's "No Demo Reno" has made a name for herself finding simple and inexpensive ways to transform homes on the show. She makes high-impact low-cost transformations for homeowners without knocking down walls or taking on major refinishing projects. These changes can be as basic as swapping out furniture pieces, lighting, or paint colors. But Todryk recently discussed with Realtor.com one of the chief elements she uses in her home to express her personality. When asked about her use of plants, both in her own home and on the show, Todryk says, "I love plants. I'm becoming a really good plant mom. I have 21 live plants in my home. I know the exact number — I'm not going to act like I don't, I counted the other day! I'm definitely in a phase where I'm swapping out my faux plants for real plants." 
These plants, a relatively small addition to any room, can be one of the biggest ways to elevate and make a space both look and feel good. Whether you have a green thumb or need to rely on high-quality fake versions, you can take a cue from Todryk and add indoor foliage to bring new life to your own space. Plus, with all of the varieties of plant life, there are options to fit every design style. 
The benefits of greenery
Jenn Todryk's love of plants is evident on her Instagram account, where she regularly shows off the proliferation of greenery in her home. An abundance of plants not only creates a space that feels nature-inspired but can also be good for you. Some varieties fulfill a natural filtration function and increase the oxygen in any room. Plus, plants can be calming and are also believed to improve focus, memory, and creativity. 
While some, particularly larger ones. can cost a pretty penny, many options are affordable and readily available, particularly if you propagate cuttings yourself. They are particularly great for filling spaces like overly sparse shelves and empty corners, where a pop of greenery can work wonders with very little effort. In Todryk's kitchen, they provide color and dimension to an otherwise white and neutral-dominated space, while also adding additional visual interest and texture. The draping plant over the stove successfully softens the white expanse of the hood and draws the eye upward.
Using plants in your home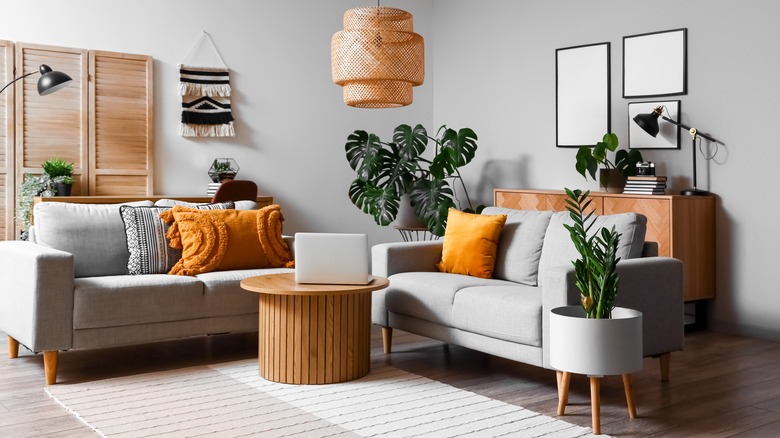 Pixel-Shot/Shutterstock
While greenery of any variety can achieve similar effects, Jenn Todryk mentions her love of swapping out artificial plants for real ones every chance she gets. While not all interiors have the right growing and light conditions for certain varieties, she suggests experimenting with the placement of your real plants to see where they thrive. She tells Realtor.com, "Plant staging is pretty simple: You place them wherever you want, where the lighting is. I love a flowing plant for a coffee table or a mantel, but whatever the plant wants, it'll tell you."
If certain plants fail to thrive in the current conditions, try moving them to another room or area where the conditions are more ideal. You can also add grow lights to help them along in darker interior spaces or choose ones whose growing conditions do not require as much direct sunlight. Even faux greenery, however, can help add visual interest to spaces and is a good solution if real plants are not an option due to allergies, pets, or children. Just look for fake plants with features like irregular leaves and natural-looking stems and dirt for a more realistic look.